Chris Evans Masters Q&A
Prior to last year's Masters Iain Carter caught up with Radio and television star Chris Evans on behalf of Golf Monthly as Evans prepared to present 5Live's coverage of the first Major of 2011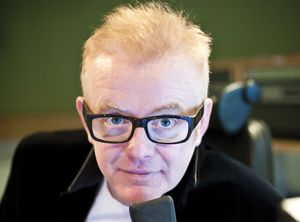 Radio and television star Chris Evans will fulfilled a lifelong ambition when he visited Augusta for the first time in 2011. The 44-year-old Radio 2 breakfast show host is switched stations to present 5Live's coverage of the first Major of 2011. For some this may be interpreted as another example of the BBC gratuitously following the 'celebrity route' with its sports coverage. But Evans is a golf fanatic who has been a part of the corporation's radio team at the last five Opens and the 2010 Ryder Cup.
Even so, BBC golf correspondent Iain Carter wanted to be sure of his new presenter's credentials, and so interviewed the 14-handicapper to make sure he was up to the demands of fronting the Masters last year. Golf Monthly was invited along to witness the exchange and found that although Evans no longer plays as much golf as he would like, he remains obsessed with the game, crediting golf for alleviating childhood loneliness and for later helping him recover from what he admits were years of alcohol-fuelled "madness".
Iain Carter: Who were your golf inspirations?
Chris Evans: My favourite swing was always Ben Crenshaw's. Jack Nicklaus because he had shockingly blond hair, but he was always disappointingly dull when he was interviewed afterwards. All the classic players really - Tom Watson and, of course, Seve when he came along. But to be honest I was more of a player than a watcher. I'd do my paper round in the morning, put the clubs on the bike and cycle to the golf course. It had mat tees and nine holes. I tried to play two or three rounds a day and if I could afford it, a Mars bar as well. Life was beautifully more important than it is now. I used to put a Dunlop 65 next to my bed the night before. I'd have an all-weather glove because they were cheaper and it would last about a year. It was all so exciting because it was so hard to get it all together.
IC: You said in your latest book that other than your mum and radio, golf has been the longest and most positive force in your life. That's a big statement to make about the game?
CE: Unless I'm with people that I love or I'm doing the job that I love, my next favourite thing is being on a golf course. The other big passion in my life is cars, but being on a golf course blows being behind the wheel of any car anywhere in the world out of the window. I could be in the Mille Miglia - a historic, 1,000-mile race across Italy - but I'd still rather be playing golf. For me, it was my mate when I was lonely as a kid. It's the one sport that I sort of get and I can sort of do a bit; it's the one thing I don't have to practise at to be able to take part in. I know if I practise more I could get a lot better and that alone is a lovely feeling.
IC: Your cousin was a great golfing influence early on, wasn't he?
CE: Brian Evans was on the Tour and he gave me my first half set of clubs. He is Thom and Max's dad, the Scottish rugby players. A great golfer, should have been a lot better, should have achieved more than he did, but not a great competitor by his own admission. He was the first member of our family I saw on the telly because I saw him playing in the Open on the BBC in the '70s.
IC: It's clear there can no doubting your enthusiasm, but have you ever worked in the golf industry before?
CE: I worked in the first american golf discount store when I was 14 with Howard and Bob Bilton on Manchester Road in Warrington. That was all about club repairs with miracle tape, petrol, whipping round shafts. I remember the first ever cavity-backed golf clubs that came in. I was 14, and I could sell a new set of these things to a bloke who had originally come in for three golf balls. They really did work and were that easy to sell. I never got a penny off Howard or Bob, but I didn't care.
IC: How excited are you by the prospect of going to the Masters?
CE: I'll read up about the history of things there, but I haven't thought about it and I don't want to think about it until I get on the plane because it will distract from the things I should be thinking about - whether it is bathing my two-year-old son or presenting my radio show. Thinking about going to Augusta is probably one of the most destructive and distracting things I could be doing - especially as we'll be on the course and able to sit in the clubhouse.
IC: There'll be different aspects to the job there. Getting out on the course and having vantage points like at Amen Corner and the 17th green, but there'll also be the hard yards to be done in the media centre. I just think we might have a massive British story. What do you think?
CE: I think Martin Kaymer is our nemesis. He could win four Majors this year.
IC: What about Lee Westwood?
CE: Well... I don't know. I hope so, but you just feel like the weight of expectation that we're putting on his shoulders can't be doing him any favours. When you do see him interviewed you see him containing himself because we actually know what Lee Westwood is really like and that's why we love him. He has to put a lid on it when he is on the golf course. He does it really well, like most of us do when we are at work. But you look at Martin Kaymer and you think 'oh that's just how he is, he's not putting a lid on anything'. He's Bernhard Langer's illegitimate son, isn't he? Can Westwood win it? Yes. Is it going to be this year? Possibly. This is the perfect time; the stars are lined up for him. But the fact is so can a lot of people.
IC: What do you make of all that's happened with Tiger Woods?
CE: Never in a million years would I have bet any money against him breaking Jack Nicklaus' record of 18 Majors. I would have thought 'what could possibly happen for him not to do this? If he wins half of what he's capable of winning, or even a quarter, he will do it with years to spare'. And now there's a good chance it's not going to happen. The other fascinating thing about it is that he still managed to play on and win while all that stuff was going on. I can't find five or six hours for a game of golf and all I do is a radio show and go home to my missus. He was going home to everybody else's missus and winning Majors and going partying in Las Vegas. There was an international elite sportsman winning things unfocused. He couldn't possibly have been focused.
IC: Or maybe those distractions are what he needed to be focused?
CE: You can't do all that and be focused, but here's another theory: you can get to a point mentally where you are so switched off from your emotions because you are having to lie so much. You can then take the emotion out of your golf and that could help? If you are emotionally numb, which you have to be to survive all those affairs, it is not necessarily a disadvantage on the golf course, especially when you're in the final round. Perhaps?
IC: Talking of unusual behaviour, am I right in saying you once spent €247,000 on one hole?
CE: I didn't spend it, I won it. We kept playing double or quits. I was playing against a crazy man in Portugal. I don't know how we arrived at the figure, but there were presses and bits, up and downs, snakes and camels, all going on and we were on the last hole and I said it's €247,000, and he said let's play.
IC: And what happened?
CE: I parred it and he bogeyed it.
IC: Was that the biggest golfing pressure you've ever played under?
CE: No because he was mad and I knew I couldn't take the money off him anyway, and I didn't. I took €50,000 off him the day before. He didn't care about losing it and I didn't care about taking it. We just wanted to make it exciting. Let me tell you about the 'punch'. I'd read this story about these two billionaires who had the same problem. They tried playing for big money, for 175-metre yachts, but even that didn't do it for them. So in the end they decided to play for one punch. Whoever won could punch the other as hard as they liked at the side of the 18th green. My friend and I decided we couldn't do that - last time I punched someone I broke my hand and I didn't want to hurt him either. So we ended up playing for the loser to jump off a bridge into the lake on the 17th and it was a horrible dirty lake. That really concentrated the mind because you then had to stay in the same gear for the rest of the night. It worked, but we had to stop because I got an ear infection. The water was so dirty. We did it for about three months.
IC: Being part of the 5Live team at Opens and the Ryder Cup, what does that give you?
CE: Golf on the radio is as good as it gets for me. It is the most musical speech programme on the radio. It is a symphony, it is beautiful; the way it flows, the way it's put together, the way you all know when to hand over, when to cut in. It is poetic and I'm not being a sycophant. I really struggle because I am so out of my depth because for me commentary is not an automatic process. I can do the colour stuff and I can interview people because that's what I do. And this will be a presentation job at Augusta, which I can definitely do. I've never done it before with golf, but I did it with Live 8 at Hyde Park and it's the same kind of thing; it's a big show and you are spinning plates. I'm not having to stand there making 60 seconds of a player lining up a putt sound interesting. That's what you have to do. I'm really, really looking forward to it.
IC: Indeed you should. You've got the job. Don't forget your toothbrush.
The leading website from the world's oldest golf magazine, we're the go-to destination for amateur and keen golfers alike who are keen to up their golfing game. As well as expert course reviews, news and tips to improve your handicap our golf-focused travel content will help you pair teeing off with your travels in some of the best destinations around the globe.