Farewell to Masters legend
Golf Monthly's editor at large, Bill Elliott, attended his first Masters in 1980. That was when he met the legendary sportswriter Furman Bisher, who sadly passed away on Sunday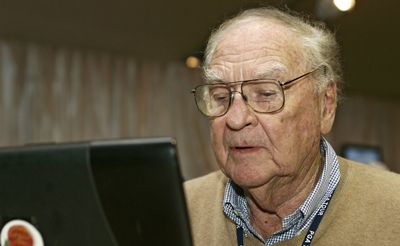 There are many reasons a man should make his way to Augusta in April. Most of these you will know...the course, the Masters atmosphere, a lemonade on the lawn, the flowers, sunshine and the girls in the short skirts. There are even those who go for the golf.
Now, however, there is one fewer reason for me to make the old trip. The overwheming majority of you will never have heard of Furman Bisher. Unless you are American there is little reason why you should. Yet for more than 60 years Furman was as much a Masters fixture as the azaleas and the dogwoods.
As chief sportswriter for the Atlanta Constitution-Journal he covered more Masters than anyone else ever has and now ever will. He was due to cover this year's as well until a heart attack spoiled that plan on Sunday. One of his editors has said that he "wrote more quality words for newspapers than any other journalist. He never wrote a bad column".
When I attended my first Masters in 1980 I had the immense good luck to be assigned a seat next to Furman in the old, aluminium media centre that was the size of a Little Chef only hotter and offering even worse food at the time.
No rookie Masters reporter ever had better luck than I did at that moment. To suggest Furman knew everything about Augusta and everyone at Augusta would be to understate the case. He had been a friend of Bobby Jones for goodness sake.
He was also one of the nicest blokes I have ever met. Patiently he intorduced me to everyone who mattered that first week 32 years ago in between buying me a Bloody Mary to deal with the hangovers I used to suffer regularly as a young man released into Augusta's hectic social scene during Masters week.
We were still pounding away on typewriters back then, the table I sat at with Furman, jumping several inches as I thumped my keys and deadline approached. A different man would have been irritated by my Neanderthal efforts but Furman would merely wince a bit and then drawl in his Southern way "I think I'll take myself to somewhere peaceful for a while. I hope you're writing good words there".
However good they were, though, they were never as good as Furman's. His work for his beloved Atlanta paper and his essays for Sports Illustrated, Golf Digest and others are among the very finest ever penned. He had a keen eye and an even keener appreciation of what was important. He did not hesitate to criticise but he was just as swift to praise.
The history of the Masters - as well as much else - may be found in the words that spilled out of his head and on to the page. He was a master himself and he was 93 when he died. For me, as for many others, this was too soon. I will miss him and his wisest of counsel and I will not be alone.
Bill Elliott's exclusive column
Golf Monthly Masters microsite
Masters history and records
Bill has been part of the Golf Monthly woodwork for many years. A very respected Golf Journalist he has attended over 40 Open Championships. Bill was the Observer's golf correspondent. He spent 26 years as a sports writer for Express Newspapers and is a former Magazine Sportswriter of the Year. After 40 years on 'Fleet Street' starting with the Daily Express and finishing on The Observer and Guardian in 2010. Now semi-retired but still Editor at Large of Golf Monthly Magazine and regular broadcaster for BBC and Sky. Author of several golf-related books and a former chairman of the Association of Golf Writers. Experienced after dinner speaker.