Ernie Els Six-Putts At Masters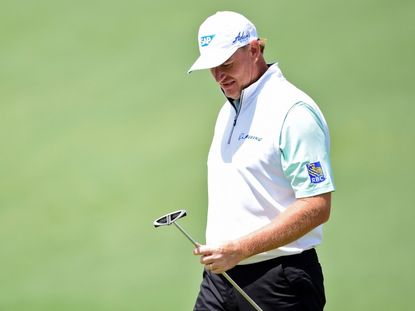 (Image credit: Getty Images)
Ernie Els' challenge for the 2016 Masters was over moments after it began, with a six-putt nightmare on the first green
Poor Ernie Els. His 2016 Masters was going along fine until he putted on the first green of the first round. Then his challenge crashed mercilessly around his feet.
Els, 46 and a winner of four majors, proved that nightmares can become reality after all.
Not only did the South African take six putts on the first, he took six from inside three feet. The last two were backhanded tiddlers, one missing before the second finally ended his torture.
Blessed with a rhythmic swing of mesmerizing grace – and hence the 'Big Easy' nickname he has never liked - Els has been inflicted with occasional episodes of the putting yips for more than six months, but this was the worst.
"I can't explain it," said a demoralised Els after he ground out a score of 80, eight over par, languishing in a tie for 81st. "I couldn't get the putter back.
"I was standing there, I've got a three‑footer, I've made thousands of three‑footers, but I just couldn't take it back.
"And then I just kind of lost count. I'm hitting the ball half decent but I can't make it from two feet."
Els always hits the ball better than half decent as long as he's not putting. Playing partner Jason Day had to turn away from the debacle on the first green.
"I don't know how I stayed out there," admitted Els. "But you love the game and you have respect for the tournament.
"It's the last thing you want to do on a golf course at this level. I couldn't putt with a stick when I have snakes and stuff going up in my brain.
"I can go to that putting green now and make 20 straight three‑footers. And then you get on the course and you feel a little different and you can't do what you normally do."
"Hopefully I can pull it back and play some decent golf."
Playing in his 22nd Masters, Els has twice finished runner-up at Augusta, behind Tiger Woods in 2000 and behind Phil Mickelson in 2004.
"If that can happen to a four-time major winner, it can happen to anyone," said Martin Kaymer after his round.
Els tees off in the second round tomorrow morning at 9:59 (local time).
Robin Barwick travelled to the 2016 Masters with Mercedes-Benz. Mercedes-Benz is global sponsor of the 2016 Masters Tournament
Robin has worked for Golf Monthly for over a decade.