Chris Wood: "The Masters is ten times better than you can imagine"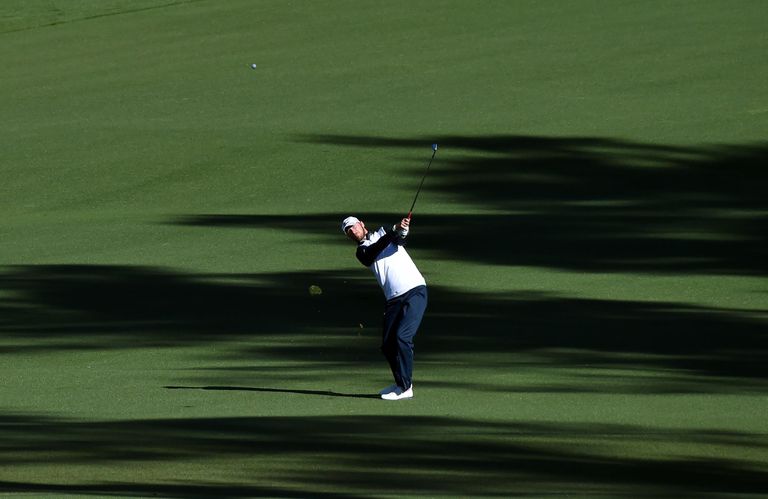 (Image credit: AFP/Getty Images)
In his first Golf Monthly column, Chris Wood talks about The Masters and the thrill of visiting Augusta National for the first time...
In his first Golf Monthly column, Chris Wood talks about The Masters and the thrill of visiting Augusta National for the first time...
Hello, and welcome to my first Golf Monthly column! I'm delighted to be able to share my thoughts with you all each month – hopefully I'll be able to provide some insight and entertainment along the way. What better way to start than with The Masters…
I played my first Masters in 2010 and it's ten times better than you could possibly imagine. I was completely in awe of the place and that probably affected my performance. In fact, it definitely did! I think I got overwhelmed by the entire place and, looking back, I didn't treat it like a normal event. I didn't prepare like I normally do and I got star-struck by Augusta National and The Masters. I never really focused on what I had to do to put a score together.
You watch it on TV from the age of ten, but it's not like the Open Championship venues, where you can pay a green fee and go and play. There's so much exclusivity to Augusta – it's almost shut off to the world outside of Masters week. You're definitely aware of the exclusive nature, and I think when you're there the first time there's definitely a fear that you'll put your foot in the wrong place or break some sort of rule inadvertently!
Related: Mizuno MP-25 irons - behind the scenes
I sent a text to my now wife after the first round in 2010 (below) while I was having some lunch. Someone came over to me and told me they didn't allow phones. I thought, "okay, bloody hell!" That's fine, but you don't know those things when you're there for the first time. It takes a bit of getting used to.
When I went back for the second time last year I was definitely more aware of what I was and wasn't allowed to do. You're not allowed to run and you're not allowed to sit on the floor, for example. Knowing your way around and being comfortable definitely gives you an advantage. But these quirks help make The Masters what it is.
In terms of the biggest surprise compared to what you see on the TV, it's definitely the undulations of the golf course. The second shot at 18 plays about 12 yards uphill and the 10th fairway is like a ski slope. I've been to Augusta a couple of times before tournament week and one of the hardest things to get used to is the lay of the land. When there are no crowds, you walk out of the clubhouse and you can see the 1st fairway, the 2nd green, the 7th tee, the 9th green and the 18th green. There's space everywhere, and you can't recognise the holes, because you're so used to watching it on TV when there are people everywhere.
The golf course is amazing, but the undulations make it so much more difficult than it looks on television broadcasts – not that it looks easy in the first place! You have to be so precise. The 3rd hole is a sneaky one. Last year, I made a triple there during the final round. I pitched my second shot a yard short, it span off the front, I chipped it over the back and putted it off the front! The 9th is another. I'm more aware of these things now, but you literally have to plop your ball in the right place to avoid catastrophes.
It is a golf course that fits my eye, though. I think the myth that you need to a hit a draw to have success probably isn't true. I know left-handers have done very well round Augusta, but Jack Nicklaus hit a fade and he didn't have a bad record there. The way I see it, there are only really two holes where you definitely need to shape it right to left, and I'm fine with that.
I was in a pretty good position at the 2016 Masters after three rounds, but I had a bad last day. I played really solidly the first couple of days in really windy conditions, and even got it under par at one point. I think I was 12th or so after three rounds, and I started par-par on Sunday before that triple at the 3rd. It just killed me because it was a week where you really had to grind as the conditions were so tough. It felt like all the work I'd put in over the first three rounds had disappeared in one hole. I had 110 yards for my second shot and made triple. That's what Augusta can do to you.
I lost my way a little bit after that and ended up finishing 40th or so. But I can refer back to those experiences this year and be more aware of where to hit it, where to miss it and those sorts of things.
In terms of a pick, let's go with Thomas Pieters. He's a great lad and we've got to know each other really well since The Ryder Cup. He's an impressive player and The Ryder Cup shows he can do it on the big stage. He'll owe me one for saying this! As for me, last year showed I can certainly get myself in contention, and that's my goal this time around.
Related: looking to the future with Thomas Pieters
Getting yourself in the mix at The Masters is exactly what you dream of and what you practise so hard for. Hopefully I'll be talking you through my maiden Major triumph in next month's column!