Enough To Drive You To Drink – Portrush 2019
Bill Elliott has been enjoying himself as the players have struggled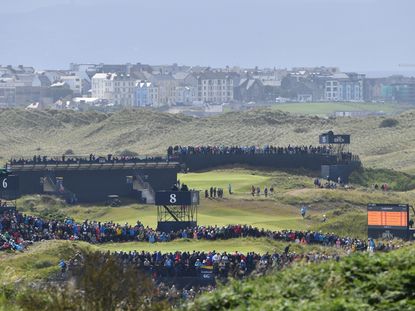 Bill Elliott has been enjoying himself at Portrush – perhaps more than the players who have a huge challenge ahead of them
They came early and they stayed late. We knew they would. Long before Darren Clarke hit the opening tee shot of this Open Championship Portrush was buzzing and soon enough Clarke too was buzzing with a birdie at the first hole. "C'mon the Irish boys," someone shouted and the crowd laughed and cheered in agreement.
Eventually Clarke crumbled round the edges, at 50 he's still good but not good enough to keep it going. Still, as an opening act he did his job superbly, warming everyone's anticipation as Wee Rory finished his breakfast and made his way to the course for the round he had anticipated more than any other this year. This was his place, his moment, his Open.
An eight – almost incomprehensible – at the 1st hole was bookended with a seven at the last. Seven over par for two holes. That's my golf, maybe yours, not McIlroy's and the shock of it thundered through the home fans like a virus bringing with it sadness and bafflement in equal measures. "Somebody must have drugged him," said one bloke to his pal as he watched this local hero trudge off the final green , his Open in tatters, the rainy squall only adding to the regret that he and everyone else felt.
This early collapse by the bookies favourite will not spoil the rest of this great week but it serves to remind us all that whatever else anyone thinks about golf, it is surely the least predictable game you can play.
What is now predictable, however, after this first serious examination of a wonderfully revamped golf course is that no-one is safe. Not now, not tomorrow and especially not on Sunday.
Expand McIlroy Crumbles At Royal Portrush In Open First Round
McIlroy Crumbles At Royal Portrush In Open First Round
The four-time Major winner's first round at Royal…
Expand McDowell Boots Bag After New 2019 Rule Ruins Round
McDowell Boots Bag After New 2019 Rule Ruins Round
G-Mac's ball on the 18th hole was found…
Expand Lowry Leads Home Open Hopes At Royal Portrush
Lowry Leads Home Open Hopes At Royal Portrush
The Irishman shot four under on Thursday morning…
I don't care if, say, even Brooks 'I am the man' Koepka is leading by a few come Sunday morning, there is no free pass to victory. Not on this course and not if the predicted weather roars in off the Atlantic Ocean.
Driving rain and gusts up to 35mph is the forecast and for golfers this is an early vision of the game's Armageddon. It will be carnage. In a 15 to 20 mph wind, Royal Portrush is a genuinely tough challenge. Tougher even than Carnoustie and that means it has the potential to be brutal. If those big winds and rain do materialise then 80 would be a decent score. We'll see.
Meanwhile the other big competition going on here is between The Open and the Harbour Bar that I can see from my bedroom window. Why a competition? Because the people crowding into and around the Harbour Bar every day and especially every evening has to be seen to be believed. Which will be able to boast the biggest attendance this week? My money is on the pub. Mind you, my money is also in it most nights as well.
Bill has been part of the Golf Monthly woodwork for many years. A very respected Golf Journalist he has attended over 40 Open Championships. Bill was the Observer's golf correspondent. He spent 26 years as a sports writer for Express Newspapers and is a former Magazine Sportswriter of the Year. After 40 years on 'Fleet Street' starting with the Daily Express and finishing on The Observer and Guardian in 2010. Now semi-retired but still Editor at Large of Golf Monthly Magazine and regular broadcaster for BBC and Sky. Author of several golf-related books and a former chairman of the Association of Golf Writers. Experienced after dinner speaker.