Class is permanent: Open Golf Blog
Bill Elliott talks the joy of seeing some of the old guys play in the Champions' Challenge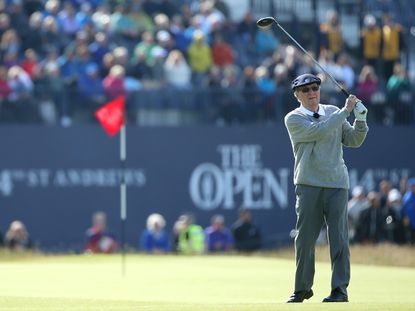 Bill Elliott talks in this Open Golf Blog about the joy of seeing the old guys play in the Champions' Challenge yesterday at St Andrews
Class is permanent: Open Golf Blog
EVER since Rory McIlroy posted that photo of his left leg booted but not suited to golf or indeed much else, this Open Championship has been not quite what it was going to be. Anticipation is half the game at least.
But if the wee man was absent, there were a lot of other big names gathered yesterday. All sports celebrate their great players as they limp towards old age and possible infirmity but no game does it better or more elegantly than golf in general and the R&A in particular.
The Champions Challenge was washed out last time I was here, the rain drowning everything including even thin-veiled optimism but not today.
Today the old guys and the younger ones, the champions of yesterday, last week and, in Peter Thompson's case sixty years ago, went out and played their smiley, towel-flicking way around the 1st, 2nd, 17th and 18th holes.
Five Opens Thomson won while Australia cheered him on. FIVE! Extraordinary achievement even if not many Amercians bothered to come over to compete.
That changed soon after when Arnold Palmer came, qualified and finished second. The following year he came, qualified and won. The next year he came again, still had to qualify (go figure) and won again. He was hooked on the old tournament and, more importantly, America was hooked. The modern Open was born.
Take a look at the history of St Andrews
So we enjoyed our bit of fun this afternoon. There was a winner somewhere apparently but, really, who cared?
Now onward to tomorrow and the beginning of this Open. It's time for the towel-flicking to stop, time for the grinning to turn into game-faaces instead. Time for us all to enjoy the greatest golf show on earth. I can't wait.
Bill has been part of the Golf Monthly woodwork for many years. A very respected Golf Journalist he has attended over 40 Open Championships. Bill was the Observer's golf correspondent. He spent 26 years as a sports writer for Express Newspapers and is a former Magazine Sportswriter of the Year. After 40 years on 'Fleet Street' starting with the Daily Express and finishing on The Observer and Guardian in 2010. Now semi-retired but still Editor at Large of Golf Monthly Magazine and regular broadcaster for BBC and Sky. Author of several golf-related books and a former chairman of the Association of Golf Writers. Experienced after dinner speaker.