Champion Golfers' Challenge in pictures
Twenty-Eight Past Open Champions battled it out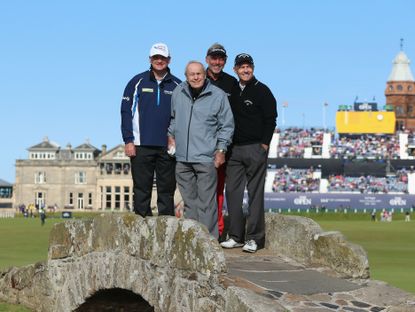 (Image credit: Getty Images)
Twenty-eight past Open champions took part in the Champion Golfers' Challenge at St Andrews, competing in seven teams of four.
Sir Bob Charles when asked by Master of Ceremonies of the Champion Golfers' Challenge, the BBC's Hazel Irvine, how his golf game was, laughed and replied: "It exists, but only just."
Arnold Palmer claimed that his tee shot on the 1st would only be the second shot he had played this year; with his only previous one at The Masters opening ceremony.
The 28 past Open Champions competed in teams of four over the 1st, 2nd, 17th and 18th holes of the Old Course for a prize of £100,000 to be donated to a charity of their choice. The best individual score per team on each hole counted as the team score. The event was played in perfect weather as per the weather forecast for St Andrews, a relief after the Champion Golfers' Challenge had to be cancelled five years ago due to bad weather.
Gary Player tees off on 18. Player has played in 46 Open Championships, more than any other Player or player. Reminiscing about his first appearance at The Open at St Andrews he spoke of how he had slept rough that week "Can you imagine if a pro today did that today? But when I realised I didn't have enough money to stay in a hotel all week, I put on my waterproofs and went to sleep in the dunes."
Nick Faldo dug out his Geometric George jumper to give it another St Andrews airing, one of the Open outfits long to be remembered (opens in new tab). Another nod to history was that he had Fanny Sunesson back on his bag, sharing caddying duties with Faldo's daughter Emma, who both watch on. Sunesson had caddied for Faldo from 2000 to 2009 and was on his bag when he won four of his Majors. Also watching on is team-mate John Daly, wearing trousers in the New York Yankees colours. "Just signed a deal with Major League Baseball," he explained.
Ian Baker-Finch receives a flying high five from Louis Oosthuizen as team-mate Todd Hamilton watches them celebrate a birdie on 18.
Team Weiskopf were the clubhouse leaders - not hard when they were the first team off - at 3 under. This came courtesy of a birdie on the 1st by Mark O'Meara, one on the 17th by Tiger Woods, and then one on the 18th by captain Tom Weiskopf. Nick Price was also in this quartet, but only walked the course as he was unable to play following an elbow operation.
No team was able to better this score, although several equalled it. The winners of the Champion Golfers' Challenge was the team captained by Arnold Palmer. They won on countback. The countback method for this event was the average age of each team.
Palmer is 85 year old, 18 days younger than the oldest man in field, Peter Thomson (above). Palmer's teammates were the 46-year-olds Darren Clarke and Paul Lawrie and 63-year-old Bill Rogers. There are seven more (opens in new tab) trophies that potentially can be won (opens in new tab) over the next four days at The Open Chamionship.
Contributing Writer Golf courses and travel are Roderick's particular interests and he was contributing editor for the first few years of the Golf Monthly Travel Supplement. He writes travel articles and general features for the magazine, travel supplement and website. He also compiles the magazine's crossword. He is a member of Trevose Golf & Country Club and has played golf in around two dozen countries. Cricket is his other main sporting love. He is the author of five books, four of which are still in print: The Novel Life of PG Wodehouse; The Don: Beyond Boundaries; Wally Hammond: Gentleman & Player and England's Greatest Post-War All Rounder.