Want To Get Rid Of Your Slice In 2023? Try The New Callaway Big Bertha Driver
Ed Carruthers puts this technology-packed driver to the test to see if it could hit the ball longer and straighter than his gamer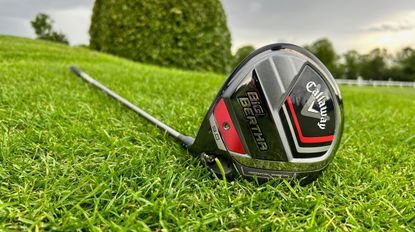 (Image credit: Future)
A visually appealing driver that performs as well as it looks. Staying true to the Big Bertha franchise, this club offers up a powerful feel, delivers big gains off the tee and helps to keep the ball in play for slicers. It is a fantastic option for any golfer with a slower swing speed or a miss to the right.
Reasons to buy
+

Superb distance

+

Draw-bias technology works

+

Hot, powerful feel

+

Very forgiving off the face
Reasons to avoid
-

Glossy crown will not be for all tastes
Callaway 2023 Big Bertha Driver Review
Synonymous for helping players wanting a little more assistance from their clubs to send the ball longer and straighter, Callaway's Big Bertha drivers are renowned as being some of the best golf drivers in the business. The good news is that the manufacturer is back with an upgrade said to deliver a comprehensive upgrade on its predecessor, the Big Bertha B21 driver.
It comes just eight months after Callaway launched its new Great Big Bertha driver, the premium-priced cousin of the new Big Bertha, that is Callaway's most expensive driver available. While its latest release doesn't quite feature the same high-tech materials that are included in the Great Big Bertha, the 2023 offering is an excellent driver that delivers plenty of power and assistance off the tee for any club golfer struggling with a slice. As someone that fits this criteria, I was keen to give it a try on the course.
As a 19-handicapper, I really enjoyed playing with the 2023 Big Bertha driver and I was very impressed with how light the club felt when I first picked it up. We've been very impressed with the visuals that Callaway installed in its new Paradym drivers, which feature on our Editor's Choice Awards for 2023. And the new Big Bertha excels in this department too. It doesn't depart too much from the Great Big Bertha's looks but retains a classic and sleek design that has dropped the blue detailing that was present on the head of the B21.
This year, Callaway has opted for a sleek black and chrome finish on the sole, which features pops of maroon detailing around the logo. The crown comes with a glossy finish which contrasts the matte design on the Great Big Bertha, and I felt while this did add to the sleek design here, it was very shiny and perhaps a little too distracting, especially when the sun reflected off it.
That aside, there is some very nice detailing on the club's crown, which features a 'BB' logo and some cool red and white markings. Callaway's classic 'V' alignment logo is situated on the top edge of the driver, which is a handy addition that allowed me to frame the ball nicely against the club face.
Speaking of the face, there is a lot of loft on show on the extra-large, high strength silver face sitting upwards, which gives the Big Bertha a very inviting look. The club head also takes up a big footprint behind the golf ball, which instills a lot of confidence and as you set yourself up on the tee. When you've finished playing your shot, you can slip the clubhead into the very trendy white, black and red head cover which looks great when stored in your bag.
Callaway has used A.I. technology to optimise the large club face on this driver to improve the speed and spin you'll be able to get on the golf ball. There is a very large sweet spot on this driver and it is very forgiving across the face, with off-center shots still flying long towards your target. Behind the face is an all-new lightweight Jailbreak system which the brand says is meant to deliver more stability and faster ball speeds. The last thing to note here is that Callaway has pushed the center of gravity on this club forward and lower in a bid to reduce the spin. From my testing sessions, I found the club really does offer a lot of control and kept the majority of my shots in play.
I tested the Big Bertha out both on the range and at The Springs Resort and Golf Club in Oxfordshire alongside a couple of the best golf drivers on the market, using Titleist Pro V1 golf balls and was really impressed with what it delivered.
The first thing to note is the feel and sound of this club was excellent. I was using a Ping G425 Max in tandem on the range and while Ping's 2021 offering is notoriously loud, the Big Bertha driver was a lot quieter, but still delivered a satisfying 'crunch' sensation and sound on impact.
Distances were again favourable with the Big Bertha. I was clocking up average yardages of 238 on the range, which were only little short of my stock yardages with the Ping driver and it often kept up with it on the course. It was also comparable with my playing partner, who was playing a brand new TaylorMade Stelath 2 driver, and while the Big Bertha was not as long, it really impressed me that this club wasn't far off some of the best in the game.
I liked how powerful the club felt off the tee, averaging around 142 mph in ball speed. I sometimes make the mistake of trying too hard with my drivers but with this club, I really didn't need to try that hard at all. I dialled back my swing speed and swept a couple of shots off the tee and the results were equally impressive. Even in the 9º setting, the ball flew high and carried a solid distance. That makes this one of the best drivers for slow swing speeds. I rarely found my ball veering off towards the right and that makes it great for those struggling with a slice.
Overall, the 2023 Big Bertha is a fantastic golf club for a variety of players. High-handicappers will certainly enjoy the forgiveness it offers while those with slower swing speeds can benefit from the power and launch it delivers. You can really feel that it wants to work with you and that is a great bonus for anyone looking for a driver that can help you improve around the course. While it comes in at a pretty hefty price point of $625 /£499 (for perspective the Callaway Paradym currently costs $725 /£599) it is a very enjoyable club that offers up bags of shelf appeal.
Ed has been playing golf for as long as he can remember and is obsessive about the sport. He is regularly sought after by family members and friends for advice on what equipment to buy and uses his background, having written extensively on golf in the past, to produce equipment orientated content for Golf Monthly.
Having obtained a Masters in Law with Medicine from the University of Liverpool, Ed has recently changed paths into journalism and just last year achieved his NCTJ Sports Journalism Diploma with the Press Association.
He has written for a variety of media outlets over the years and has interviewed some big names in sport, including Premier League managers, All Blacks Coaches and Grand Slam tennis superstars. He has also worked on some huge sporting events, including the 2021 Australian Open and the 2022 FIFA World Cup. And when he's not writing for Golf Monthly, you'll find him producing news and feature articles for the MailOnline's sports desk, where he covers everything from football to rugby union.
During his weekends off, you'll likely find Ed heading out for a round at one of his local golf clubs with his friends, and was, up until recently, a member at the Leatherhead Golf Club in Surrey. Ed also plays the saxophone, can tell you some pretty terrible dad jokes and can knock up a very tasty carbonara!