What's your PYB Challenge 2012 goal?
Share your golfing goal for 2012 here and you could win prizes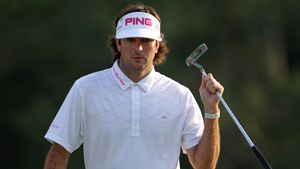 Even though our four golfers will be centre stage this year, Ping and Golf Monthly want to encourage every golfer to set themselves a golfing goal for the 2012 season and aim to achieve it.
It could be participating in parallel with the Play Your Best Challenge by aiming to break one of the scoring barriers our four golfers are focused on (100/90/80/70), winning a competition at your club, recording a new personal best, or cutting your handicap by a certain number of shots.
To help inspire you, four of Ping's top Tour pros have set themselves a Play Your Best Challenge for 2012.
Watch this video to discover what Lee Westwood, Bubba Watson, Hunter Mahan and Louis Oosthuizen have their sights set on.
Once you have decided on your goal, you can post it as a comment below and then update us on your progress. As an incentive to share your goals, Golf Monthly and Ping will be rewarding a selection of those who make a pledge and then achieve their aim with some fantastic prizes, and also the chance to join the four golfers at the Play Your Best Challenge Day at Gainsborough GC on October 1.