9 Reasons To Buy The Latest Issue - NEW LOOK!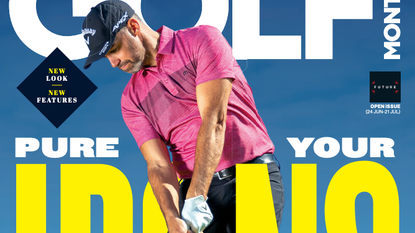 The new-look Golf Monthly is packed with the best new gear, features, tour news and instruction, as well as a 30-page Open Championship preview. This month it also includes a FREE 36-page fault fixer supplement as well as an in-depth look at how Phil Mickelson won a Major at 50.
SUBSCRIBE: Check Out The Latest Fantastic Magazine Subscription Deal
1. FREE Make Your Bad Shots Better 36-Page Supplement
Our 36-page fault fixer supplement in association with Ping brings you tee-to-green tips and gear advice to help you turn around your on-course fortunes.
2. Our 30-Page Open Championship Preview
We take an in-depth look at the course and the challengers as well as some famous Royal St George's moments. We also investigate the difficulties of staging a Major Championship during a pandemic.
3. Pure Your Irons
Zane Scotland gives us his insight in to how to perfect your ball striking.
4. Phil Mickelson
Top 25 Coach Keith Wood looks at Phil Mickelson's technique and delves into how he won a Major at 50.
5. Shane Lowry
We hear from the defending Open Champion about his triumph two years ago and what we can expect at Royal St George's.
6. The Best New Gear
Our testing team give their verdicts on the best gear releases this month.
7. Greg Norman
We speak to Greg Norman and coach Butch Harmon about the Australian's 1993 Open triumph.
8. The Rules of Golf
Ever had any doubts about the Rules while on the course? Our dedicated section has you covered.
9. The Best Courses You Can Play
We feature some of the best places you can play, both here and abroad, including the impressive new Dumbarnie Links (above).
Photography: Getty Images, Kevin Murray
Location: Bletchingley GC
Zane has been coaching for six years after a playing career that saw him feature in two Opens. He has worked with and been inspired by the likes of David Leadbetter, Claude Harmon, Pete Cowen, Mac O'Grady and Robert Rock and he has coached a huge number of male and female tour pros in recent years.
Most common impact fault:
Not enough compression There are many ways of correcting it, hitting full speed shots and putting the brakes on post impact is one of the main ones.
A typical lesson:
Start with a conversation with some analysis and then working on which fundamental to tackle and improve - contact, power, curvature. Then help the player understand and gain clarity on the improvements that can be made and map out how we are going to tackle them. Then will demo improvements and, if needed, move through different drills and feels to get the best ones for the player. After a time of learning the new improved feels and moves we will do some performance drills as to see how much or how little the player can use straightaway and what is more long-term work that may take some time to show up in performance. We will close the session by agreeing on a practice/training plan going forward and then I will make a video with the client watching so they have that 3-5 minute video for reference when they go to practise/play on their own.
Students learn best when…
When they are open and are comfortable enough within the environment to fail. Helping them understand that when we are together working on their game that they are in a place where they are allowed to fail they are able to learn at a better rate.