Tiger And Charlie Woods Conduct Their First Ever Interview Together
Tiger Woods and his son Charlie have conducted their first ever interview together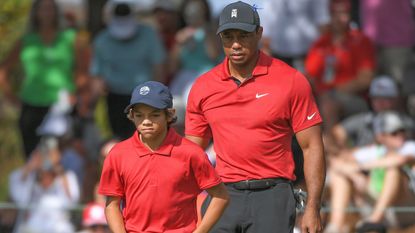 (Image credit: Getty Images)
Tiger Woods and his son Charlie will take part in their third consecutive PNC Championship next week as they aim to better their second place finish last year.
The father and son duo took part in their first ever interview together at the Notah Begay III Junior Golf National Championship, where Woods' close friend Begay conducted the interview with the pair.
"I just want him to enjoy whatever he's doing," Woods said of his son. "I'm supporting him wherever he wants to go, and obviously providing opportunities for that direction. As a parent our job and responsibility is to provide opportunity and support. It's been fun that he's taken a passion to something that I've enjoyed."
There's no denying how far Charlie has come since pairing up with his dad in last December's PNC Championship, with the 13-year-old obviously coming of age and a career best round of 68 followed in September at the Notah Begay III Junior National Golf Championship to finish tied 4th.
To make it even better, Tiger was caddying for Charlie. "He forgot my putter a few times," Charlie said of his dad's performance. "That's really it."
Focussing on Charlie sounds like it has given Tiger a new lease of life on the golf course, with the 15-time Major winner saying: "It's hard to describe, because it's so amazing to be able to be with Charlie out there and fight through it together and do it as a team. Just the fact that he earned his way into the event by shooting the lowest round he's ever shot. To go out there and play the way he did. Obviously, lots of lessons learned but I think overall the big picture is he thoroughly enjoyed it. It was a lot of fun for both of us."
The 46-year-old also had some fairly surprising advice for his son while hosting the Hero World Challenge last week. Woods had to withdraw due to suffering plantar fasciitis, however he appeared in the television booth to urge his son to emulate a certain four-time Major winner's swing.
"Don't copy my swing. Copy Rory's. Have you ever seen Rory off balance on a shot? No. Not ever."
Ross Kilvington is a freelance writer from Scotland who has had his work published by acclaimed publications such as Nutmeg alongside popular online blogs including the Gentleman Ultra, North Section and Engrossed in Football. Ross holds a passionate interest in golf and tries to play as often as possible, although having two daughters under the age of four means his quest to break 80 will have to wait a little bit longer. He writes about golf in his spare time, most recently having an article published in the Golf Memories anthology Mind the Links, which was released in July with all proceeds going towards Alzheimer charities. With a handicap that floats between 13-14, highlights are few and far between on the golf course, with an eagle on the par 4 16th at Kinghorn one that stands out (it doesn't matter that it was only 290 yards!).