Ryder Cup Without Dustin Johnson Will Not Be The Same - LIV Golf Pro
LIV Golf's Eugenio Chacarra thinks that golf's civil war needs to be reconciled for the good of the game and the fans.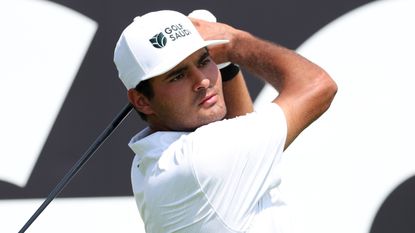 (Image credit: Getty Images)
LIV Golf's Eugenio Chacarra has said that Majors and a Ryder Cup without Dustin Johnson will not be the same, and that golf's civil war needs to be reconciled for the good of the sport and the fans.
Chacarra made waves by joining LIV Golf in June 2022 after giving up his amateur status and praised the Saudi-backed series for being the most suitable option for him going forward. "I think for me the contract they offered was the best for me, all that money to join, then having three years guaranteed on that tour, having a schedule, getting experience and learning from the best players in the world," said Chacarra, speaking to popular Twitter account Flushing It (opens in new tab).
"And then, Sergio Garcia, my captain, called me and said he wanted me on his team. It's something I wanted to do since I was a little boy, to play with him and I think it's the right decision for me and my team."
In just his fifth LIV Golf event, Chacarra picked up the $4 million first prize by winning the Bangkok Invitational. Triumphing in just his fifth professional start certainly vindicated his decision to join and he was even congratulated by Jon Rahm in the former World No.1's victory speech on the same weekend after winning the Spanish Open.
"I feel that Jon is a great player, he's also one of the best in the world and I have a good relationship with him," Chacarra said. "I feel as though it was really nice of him to do it in front of the Spanish people."
The 22-year-old is now eyeing up an appearance in a Major, although due to his LIV status and lack of world ranking points, he will be forced to have to go through qualifying.
He also feels it won't be the same without LIV players involved. "I don't think a Major without Dustin Johnson or a Ryder Cup without Dustin Johnson is gonna be the same," he said. "So I feel for the good of golf, for the fans, something needs to happen. If not, I'm gonna go play US Open and Open Qualifying and try to get in and if I don't, I'll try next year."
Dustin Johnson will still be playing Majors for the foreseeable future, with his 2020 Masters win giving him a five-year exemption into all four. That also secured him an invite back to Augusta every year. His 2016 US Open triumph also earned him an exemption into the Major until 2026. The Ryder Cup, however, is now off the table - as it is for the likes of Brooks Koepka, Bryson DeChambeau and Patrick Reed.
Chacarra is keeping his options open for the future and a potential route to the PGA Tour via Q-school - although he's maintains that he's very happy with where he is in LIV Golf currently. "We got an email, we got a paper before I sign anything and the paper says if you were never a member of the PGA Tour or the European Tour they have no problem. It's just another path so once my contract is done, if I wanna try Q-school, I can get onto those tours but right now I have a lot of time on LIV, I'm happy here and I think it's the best path for me," he said.
If last season represented his breakthrough in professional golf, then 2023 could see Chacarra add more titles, especially with the number of LIV events increasing from eight in 2022 to 14 this year.
"My goals are just to get better as a player, obviously I wanna win, but just get better as a player and a person," he said. "Having my first year on tour, playing 20 events, 14 on LIV, 4 on the Asian Tour and hopefully I can qualify for Majors and play a little more, but I mean having 18/19 events is more or less a full season.
"So having a full season, getting ready and learning about travelling and all that stuff and getting better is the first objective I have."
Chacarra may opt to start his 2023 season at the Saudi International - the Asian Tour's flagship event - early next month. Cameron Smith has already committed and three PGA Tour players have requested releases to play. It's likely that two-time winner Dustin Johnson will return to Royal Greens Golf and Country Club along with a number of other LIV pros.
The LIV Golf League gets underway in Mexico at former PGA Tour venue El Camaleon at the end of February.
Ross Kilvington is a freelance writer from Scotland who has had his work published by acclaimed publications such as Nutmeg alongside popular online blogs including the Gentleman Ultra, North Section and Engrossed in Football. Ross holds a passionate interest in golf and tries to play as often as possible, although having two daughters under the age of four means his quest to break 80 will have to wait a little bit longer. He writes about golf in his spare time, most recently having an article published in the Golf Memories anthology Mind the Links, which was released in July with all proceeds going towards Alzheimer charities. With a handicap that floats between 13-14, highlights are few and far between on the golf course, with an eagle on the par 4 16th at Kinghorn one that stands out (it doesn't matter that it was only 290 yards!).