PGA Tour Pros Take To Social Media To Mock McIlroy and Reed 'Teegate' Tension
Max Homa, Collin Morikawa and Justin Thomas are among pros to have mocked 'teegate'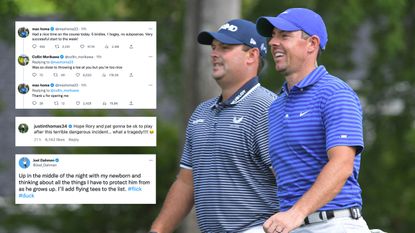 (Image credit: Twitter/Instagram/Getty Images)
Rory McIlroy hadn't even played his first competitive round of golf of the year before being involved in controversy after Patrick Reed flicked a LIV Golf tee in his direction after the Northern Irishman refused to acknowledge the American on the range at the Dubai Desert Classic.
A video emerged of the tense moment and the footage shows Reed approaching Harry Diamond – McIlroy's caddie – and patting him on the back before offering a handshake, however McIlroy fails to respond and Reed flicks a tee in his direction while walking away from the pair.
McIlroy described the incident as a "storm in a teacup" before revealing the reason he didn't acknowledge Reed was partly due to an unwelcome Christmas Eve subpoena delivered to him from Reed's law firm Klayman Law Group amid the ongoing PGA Tour vs LIV court case.
The world of golf is now talking about 'Teegate' and several PGA Tour pros decided to have a little fun on social media.
Was so close to throwing a tee at you but you're too niceJanuary 26, 2023
See more
Max Homa – famed for his social media antics in the past – tweeted after his opening round at the Farmers Insurance Open: "Had a nice time on the course today. 5 birdies, 1 bogey, no subpoenas. Very successful start to the week!"
Two-time Major winner Collin Morikawa then got in on the act, replying to Homa's tweet with "Was so close to throwing a tee at you but you're too nice" while Homa replied "thanks for sparing me."
It appears the incident from Dubai has spread quicker than bushfire across the golfing world.
It wasn't just those two who got in on the act either, with Justin Thomas also managing to have a laugh at what went on in Dubai.
Replying to an Instagram post by Golf Digest that featured the Northern Irishman responding to 'Teegate', Thomas commented: "Hope Rory and pat gonna be ok to play after this terrible dangerous incident… what a tragedy!!!!
Popular PGA Tour pro Joel Dahmen joked that he was up in the night with his newborn baby thinking about how he would have to protect him from 'flying tees'.
Up in the middle of the night with my newborn and thinking about all the things I have to protect him from as he grows up. I'll add flying tees to the list. #flick #duckJanuary 26, 2023
See more
It certainly looks like fellow professionals are having a good laugh at the whole scenario.
Two-time DP World Tour winner Eddie Pepperell also joked about the incident (featuring strong language) and 2015 BMW PGA Championship winner Ben An was another to discuss the events of Dubai.
A Rory, Reed and Poulter three ball this week would've been a real treat in hindsight. Reed; "Hi Rory" Rory; Poulter; "You guys seen my new documentary?" Rory; "Fuck this I'm off."January 25, 2023
See more
Life is too short to hang out with people you don't like. I cant believe people are upset that Rory didnt say hello back. https://t.co/Tjh1agOu0YJanuary 25, 2023
See more
Ross Kilvington is a freelance writer from Scotland who has had his work published by acclaimed publications such as Nutmeg alongside popular online blogs including the Gentleman Ultra, North Section and Engrossed in Football. Ross holds a passionate interest in golf and tries to play as often as possible, although having two daughters under the age of four means his quest to break 80 will have to wait a little bit longer. He writes about golf in his spare time, most recently having an article published in the Golf Memories anthology Mind the Links, which was released in July with all proceeds going towards Alzheimer charities. With a handicap that floats between 13-14, highlights are few and far between on the golf course, with an eagle on the par 4 16th at Kinghorn one that stands out (it doesn't matter that it was only 290 yards!).