Sport Remembers The Somme 1916-2016
The Royal British Legion is urging golf clubs to fly a poppy pin flag on the 16th hole as part of its Somme 100 commemorations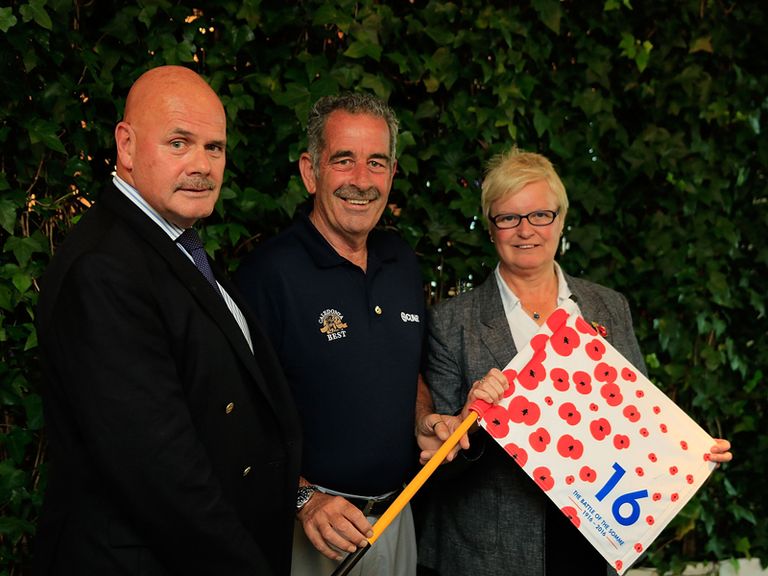 (Image credit: Getty Images)
The Royal British Legion is urging golf clubs to fly a poppy pin flag on the 16th hole as part of its Somme 100 commemorations
The Royal British Legion's 'Fly the Flag' initiative is part of a nationwide campaign, 'Sport Remembers the Somme 1916-2016', which is calling on sporting organisations, associations, clubs, teams and individuals to commemorate the role played by sportsmen on the 100th anniversary of the Battle of the Somme.
The Battle of the Somme, which ran from July 1–November 18, 1916, was one of the most difficult and costly battles of the First World War. To aid the war effort, virtually all professional sport had been suspended by the time the Battle began. Athletes and players from sports at all levels had volunteered to enlist – sometimes en masse as an entire team and its supporters. Hundreds of golfers, professional and amateur, served in Pals Battalions recruited from towns, villages, schools, workplaces and trades. When these battalions suffered losses, the impact was felt at the club and community level.
Golfing bodies including The Royal & Ancient Golf Club, Professional Golfers' Association, The Home Unions and The Golf Club Secretaries' and Managers' Association have supported Sport Remembers, and now it is your turn to get involved at your local golf club.
Can your golf club fly the flag?
The Royal British Legion is encouraging golf clubs to fly a poppy pin flag on the 16th hole of their club between now and the end of the Somme anniversary on 18th November. Special-edition Somme 100 Poppy pin flags have been produced in tribute to all those golfers who lost their lives or were injured during the battle. The flag costs £25.00, including post and packing, and is part of a toolkit which also includes a pennant and souvenir 1916 sports edition 'Legion Standard'. All profits go to support the Legion's charitable activity.
To request a toolkit and pin flag contact The Royal British Legion at britishlegion@shinecom.com or call 020 7100 7100
Private Albert Tingey
Albert Tingey (whose picture is being held by campaign supporter Sir Nick Faldo) was a founding member of the PGA, but abandoned his professional golf school venture to recruit a company and help out with the war effort. Backed by George Duncan, who would go on to win the 1920 Open, and Charles Mayo, a Belgian Open winner in 1911, he rounded up a team of golfers to go and serve the country.
Others in what was called 'The Niblick Brigade' included semi-pro footballers and the inventor of the Sammy Iron, Harry Fulford. In the same battalion was Captain Arnold Jackson, who in 1912 had won an Olympic gold 1,500m medal in the "greatest race of all time." By December 1915 there were 120 pro golfers serving the country. The Niblicks fought to the end of the war, regularly reinforced by pros, greenkeepers, caddies and clubmakers. Albert Tingey survived and worked at Frinton-on-Sea Golf Club in Essex. He died in 1953 aged 83.
David joined Golf Monthly in 2015 as a content editor for the magazine and regularly contributes to the website. He has worked in magazine publishing and editing since 2003. He is a keen golfer and is a member of Blackmoor Golf Club in Hampshire. He has covered various big events and tournaments, the highlight of which was witnessing Tiger win his 15th Major at Augusta in 2019. Email: david.taylor@futurenet.com