'It's Only Awkward In The Media' - Bubba Watson Plays Down PGA-LIV Rivalry
Bubba Watson says he will play the Masters Par 3 Contest with Jason Day and Cameron Young at Augusta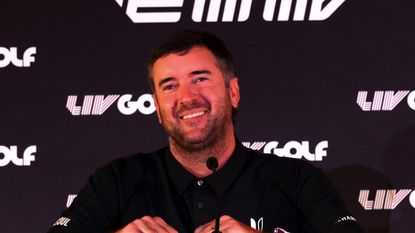 (Image credit: Getty Images)
Bubba Watson says he'll be playing the Par 3 Contest at the Masters with Jason Day and Cameron Young after insisting the relationship between LIV and PGA Tour golfers is "only awkward in the media".
Much has been made about the meeting of the two golfing factions at Augusta National when LIV Golf stars will take on their PGA Tour counterparts in the first Major of the year.
The Masters always has the biggest and most prolonged build-up due to its position in the calendar, but it's even bigger this year due to the on-going split in professional golf.
And there has been shots fired continually from both sides, with departing LIV golfers taking aim at Jay Monahan while PGA Tour players such as Rory McIlroy have criticised LIV boss Greg Norman.
Apart from McIlroy's much-publicised spat with Sergio Garcia and his exchange of words with Patrick Reed in Dubai, most players insist that the main beef is between officials of the two organisations and not the players.
Brooks Koepka has insists nobody is angry with players who have decided to go to LIV, and Watson has always said the same – with the two-time Masters champion reiterating the fact ahead of his return to Augusta.
"I'm going to be honest, man. It's only awkward in the media," Watson said ahead of the third LIV Golf League event of the season in Orlando.
"I've talked to people that are going to be there. I'm going to sign up with Jason Day and Cam Young in the par-three. Some guys have already asked me to play some practice rounds.
"Media is the only one that is pushing it. I have nothing against anybody. If you change jobs, I'm not mad at you. If you start reporting for somebody else, hey, man, it's a better decision for you and your family. Have at it."
Rory McIlroy right to defend PGA Tour
Watson can also see where McIlroy is coming from as perhaps the most outspoken LIV critic, saying the Northern Irishman is "protecting his entity, man. He's protecting his business, which is fine."
The 44-year-old is looking forward to play in the Par 3 Contest, after seeing changes Augusta National has made to the short course.
"First of all, it was amazing. I didn't know that they changed the par-3 course," Watson added after a seeing it on a recent visit.
"When I drove in to go to the cabin, I was over there by the par-3 course, and so to see the first six holes change was crazy in what they did in that amount - I think 150 days to change that was crazy."
Paul Higham is a sports journalist with over 20 years of experience in covering most major sporting events for both Sky Sports and BBC Sport. He is currently freelance and covers the golf majors on the BBC Sport website. Highlights over the years include covering that epic Monday finish in the Ryder Cup at Celtic Manor and watching Rory McIlroy produce one of the most dominant Major wins at the 2011 US Open at Congressional. He also writes betting previews and still feels strangely proud of backing Danny Willett when he won the Masters in 2016 - Willett also praised his putting stroke during a media event before the Open at Hoylake. Favourite interviews he's conducted have been with McIlroy, Paul McGinley, Thomas Bjorn, Rickie Fowler and the enigma that is Victor Dubuisson. A big fan of watching any golf from any tour, sadly he spends more time writing about golf than playing these days with two young children, and as a big fair weather golfer claims playing in shorts is worth at least five shots. Being from Liverpool he loves the likes of Hoylake, Birkdale and the stretch of tracks along England's Golf Coast, but would say his favourite courses played are Kingsbarns and Portrush.