How To Get Tickets For The 2024 Masters
As we near the end of the 2023 showpiece, here's how you can apply for a ticket to next year's Masters at Augusta National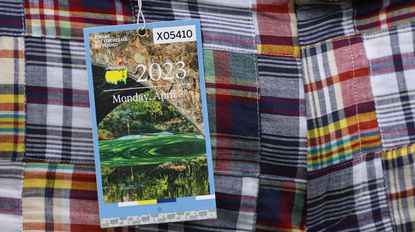 (Image credit: Getty Images)
We're getting close to seeing the winner of this year's Masters slip on that coveted Green Jacket. And, as always, there's a touch of sadness, for it'll be another 12 months before we all get to feast our eyes on this wonderful part of Georgia once again. Fear not, because Augusta National Golf Club is inviting you to secure your ticket to the 2024 Masters.
Sit down and keep calm. You can't just log onto the Masters website and buy tickets for the whole week, as if you were booking Disneyland. As you'd except, everything is done in very orderly fashion here – on the course, and with all admin off it. Here's how to get tickets for the 2024 Masters.
Unsurprisingly, we're talking about a lottery process here – and it's not opened yet. I'm here merely to let you know that you need to set a reminder on your cell phone: June 1 – this is when you need to log on and get typing.
Before this, though, you can save some valuable time by logging into your account or, if you're a new applicant, register as such. Just fill in a few mandatory fields and you're ahead of the game.
Then you have to sit tight for about seven weeks. The 2024 lottery process is open from June 1-20, at which point you just have to whip out your laptop and select the days you want to attend: practice rounds, tournament rounds or both. Not that you'd be put off by the price of Masters tickets when they're announced – once-in-a-lifetime opportunity and all that – but for 2023, they were as follows: $100 for practice rounds and $140 for tournament rounds. As it happens, that's pretty darn good value.
The waiting game will be tense, because it's not usually until mid-July when patrons get the 'you're in' or 'you're out' news. If you're one of the lucky ones, you have about three weeks to submit your payment and claim your tickets.
Not that any emails from Augusta National could ever be considered as spam, but do keep an eye on your junk folder. Just imagine seeing that you were one of the lucky ones when browsing your spam a week too late. In case you're thinking of buying off a scalper (ticket tout) near Augusta, maybe think again. I've heard some good and bad stories (mostly bad).
Michael has been with Golf Monthly since 2008. As a multimedia journalist, he has also worked for The Football Association, where he created content to support the men's European Championships, The FA Cup, London 2012, and FA Women's Super League. As content editor at Foremost Golf, Michael worked closely with golf's biggest equipment manufacturers, and has developed an in-depth knowledge of this side of the industry. He's now a regular contributor, covering instruction, equipment and feature content. Michael has interviewed many of the game's biggest stars, including six world number ones, and has attended and reported on many Major Championships and Ryder Cups. He's a member of Formby Golf Club.