Garcia Called A 'Clown' And Mickelson A 'Nutbag' As Couples Hits Out At LIV Golf
Fred Couples says Phil Mickelson is a "nutbag" and Sergio Garcia a "clown" as he hits out at PGA Tour bashing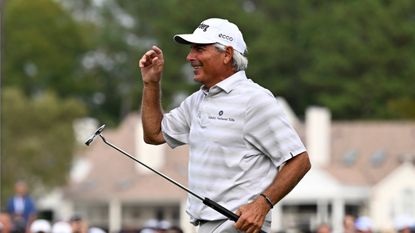 (Image credit: Getty Images)
The normally mild-mannered Fred Couples has taken dead aim at "nutbag" Phil Mickelson and "all these other clowns" who took parting shots at the PGA Tour on their way to join LIV Golf.
Couples was a guest speaker at the PGA Tour Champions breakfast ahead of this weeks' Hoag Classic in Newport Beach – where he currently resides – and aimed digs at Mickelson and Sergio Garcia.
The 63-year-old, who is also a two-time winner of the Hoag Classic, used his speech to defend the PGA Tour and launch a stinging attack mocking several players who decided to join LIV Golf.
Couples labelled Mickelson as a "nutbag" during his speech but added that he still likes him, while voicing his annoyance at "all these other clowns, like Sergio (Garcia)" who complained about the PGA Tour before joining LIV.
Being such a long-term fixture of the PGA Tour, Couples seems to have taken a lot of the criticism quite personally as several outgoing players joining LIV decided to attack their former employer on the way out.
Couples made it clear that he doesn't blame any of them for taking the Saudi Arabian fortunes to go and play for Greg Norman – but won't accept the way some of them burned their bridges when leaving.
"I don't have a problem with LIV," said Couples, as reported by the Orange County Register. "What my problem has been when I tweet every now and then, is what these guys say when they go to the LIV Tour.
"Just go to the LIV Tour, but stop blasting something I've been a part of for 42 years. That's my problem. They're all bashing the PGA Tour, and that affects me a little bit.
"If you're giving Phil Mickelson $200 million at age 52 to shoot 74 and 75, God bless you."
The 15-time PGA Tour winner and 1992 Masters champion added that he found watching the latest LIV broadcast on The CW Network hard work.
"It was on the CW a couple weeks ago, or whatever that channel everybody is laughing about," he joked.
"I turned it on three times. It was so bad, I couldn't even watch anyone that I liked. They don't show 'em. Who won the last one? I don't even know."
It was in fact Charles Howell III who claimed the $4m prize in Mexico in the LIV Golf opener, but that's of little interest to Couples, who was asked about the future of the new enterprise, replying: "I'm being flippy now; I don't really care if it survives."
Paul Higham is a sports journalist with over 20 years of experience in covering most major sporting events for both Sky Sports and BBC Sport. He is currently freelance and covers the golf majors on the BBC Sport website. Highlights over the years include covering that epic Monday finish in the Ryder Cup at Celtic Manor and watching Rory McIlroy produce one of the most dominant Major wins at the 2011 US Open at Congressional. He also writes betting previews and still feels strangely proud of backing Danny Willett when he won the Masters in 2016 - Willett also praised his putting stroke during a media event before the Open at Hoylake. Favourite interviews he's conducted have been with McIlroy, Paul McGinley, Thomas Bjorn, Rickie Fowler and the enigma that is Victor Dubuisson. A big fan of watching any golf from any tour, sadly he spends more time writing about golf than playing these days with two young children, and as a big fair weather golfer claims playing in shorts is worth at least five shots. Being from Liverpool he loves the likes of Hoylake, Birkdale and the stretch of tracks along England's Golf Coast, but would say his favourite courses played are Kingsbarns and Portrush.