English Venue Plans New Course Amid Ambitious Ryder Cup Plans
Luxury English hotel Luton Hoo is looking to submit a bid to host either the 2031 or 2035 Ryder Cup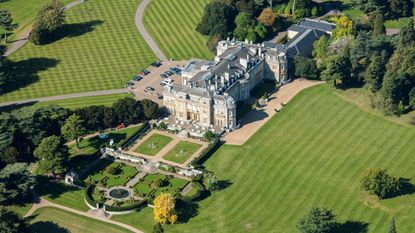 (Image credit: Getty Images)
The owners of luxury English hotel Luton Hoo, Arora Group, is setting its sights on hosting the Ryder Cup in either 2031 or 2035, with ambitious plans to build a championship level golf course.
Luton Hoo already has an 18-hole golf course, but with plans to build a course that is worthy of hosting the biennial event in the near future. It's hoped that it would boost tourism and investment according to Kevin Collins of Central Bedfordshire Council.
Plans have already been submitted to the council while Arora Group is also intending to invest in upgrading the interiors of the house, which was built in the 18th century.
Collins certainly believes these bold plans are credible. "It's one of those things that when someone first mentions it to you, you think 'oh crikey, that's a bit pie in the sky', but these guys know what they're doing," said the council's executive member for planning and regeneration.
"This isn't the first luxury hotel in their group and we've spoken to the Professional Golfers' Association who obviously need to be fairly guarded in their opinions... but they like the venue and like the possibility."
Hosting an event as big as the Ryder Cup would certainly boost the local economy, which Collins is hoping to make people aware of.
"If we hold the tournament that will bring tourism," said Collins. "Hotel rooms will be booked throughout Luton, Watford, St Albans and restaurants will be taking bookings and people will be coming to this area.
"We want more people to be aware of Luton Hoo, we want it to be a destination - and that will mean jobs and a boost for tourism."
Luton Hoo could face competition to host the Ryder Cup however, with plans for Bolton's Hulton Park Estate to be transformed into a potential venue for the Europe vs USA match.
The London Golf Club is the favourite to host the event in 2031, with the Belfry having withdrawn, but both Luton Hoo and Hulton Park could provide stern opposition as England aims to host the competition for the first time since 2002, when Europe triumphed over The Belfry's Brabazon course.
Ross Kilvington is a freelance writer from Scotland who has had his work published by acclaimed publications such as Nutmeg alongside popular online blogs including the Gentleman Ultra, North Section and Engrossed in Football. Ross holds a passionate interest in golf and tries to play as often as possible, although having two daughters under the age of four means his quest to break 80 will have to wait a little bit longer. He writes about golf in his spare time, most recently having an article published in the Golf Memories anthology Mind the Links, which was released in July with all proceeds going towards Alzheimer charities. With a handicap that floats between 13-14, highlights are few and far between on the golf course, with an eagle on the par 4 16th at Kinghorn one that stands out (it doesn't matter that it was only 290 yards!).