Humana Challenge: day 2 report
Ryan Palmer's two eagles and six birdies equals a Tour consecutive-hole record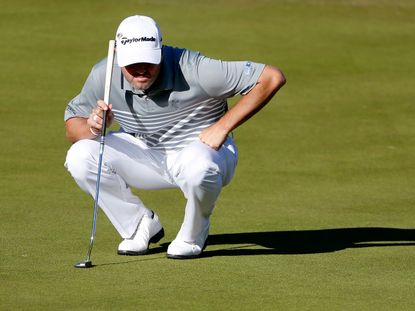 (Image credit: Getty Images)
Ryan Palmer matched the PGA Tour record for the most consecutive holes at birdie or eagle, but the two consecutive bogeys leave him unable to card a record-equalling 59.
Ryan Palmer matched the PGA Tour record for the most consecutive holes at birdie or eagle. Playing on the second day of the Humana Challenge on the Nicklaus Course at PGA West the 38-year-old Texan shot 61, the lowest round of his 957-round tour career, after missing a 5ft putt on his final green.
Palmer started on the 10th, and his 10-under streak went from the 12th to the 1st. His two eagles came at the par-4 12th, when he holed out from just under 100 yards, and on the par-5 16th where he sank a 20ft putt from the fringe.
He thus needed to go 3 under on the final eight holes — which included two reachable par 5s — to shoot 59, and become the seventh man to do so in a PGA Tour event. Instead Palmer bogeyed the next two holes the par-4 2nd, and par-3 3rd. He was left needing to finish eagle birdie for 59, but his 8ft eagle put missed on 8th, and then his 5ft birdie putt on the 9th slipped by.
Ryan Palmer tied the birdie-eagle streak record set by Billy Mayfair in the 2001 Buick Open and Briny Baird in the 2003 FUNAI Classic. Mayfair and Baird were 9 under during their runs, making seven birdies and an eagle.
Having opened with a 71 on Thursday at La Quinta Country Club, Palmer was left three strokes behind leader Matt Kuchar, who carded a 64 on the Nicklaus course.
Bill Haas and first-round leader Michael Putnam were a shot behind Kuchar, Haas had a 63 at La Quinta, having had his own hot streak — he made seven birdies in a row from the 2nd. "The putter was what's got me in the hunt," Haas said. "We don't play better greens on tour than these greens here." Putnam shot a 67 on the Palmer course.
Humana Challenge in partnership with the Clinton Foundation Jan 22-25, purse $5,700,000 Round 2 leaderboard
1 Matt Kuchar -7 -8 -15 T2 Bill Haas -5 -9 -14 T2 Michael Putnam -9 -5 -14 T4 Nick Watney -5 -8 -13 T4 Justin Thomas -4 -9 -13 T4 Scott Pinckney -8 -5 -13 T7Alex Cejka -4 -8 -12 T7 Ryan Palmer -1 -11-12 T7 Erik Compton -6 -6 -12 T7 Steve Wheatcroft -7 -5 -12
Note: Player score in bold signifies Titleist ball usage
Contributing Writer Golf courses and travel are Roderick's particular interests and he was contributing editor for the first few years of the Golf Monthly Travel Supplement. He writes travel articles and general features for the magazine, travel supplement and website. He also compiles the magazine's crossword. He is a member of Trevose Golf & Country Club and has played golf in around two dozen countries. Cricket is his other main sporting love. He is the author of five books, four of which are still in print: The Novel Life of PG Wodehouse; The Don: Beyond Boundaries; Wally Hammond: Gentleman & Player and England's Greatest Post-War All Rounder.