Open Championship 2013 blog: Hotting Up
Bill Elliott's version of events from Day One at the Open Championship 2013 at Muirfield.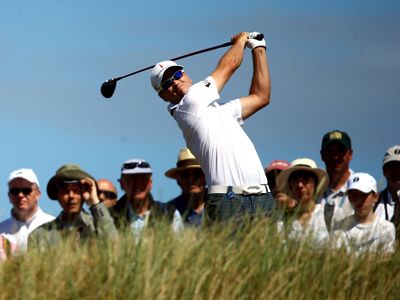 Bumped into Bernard Gallacher and the three-time Ryder Cup skipper is worried. So, I have to admit, am I.
But while Bernie is concerned that the greens are now so dried out they are turning shiny and may be in danger of being lost if this weather keeps up, my concern is that the last time I looked, Zach Johnson was leading this Open.
I mean here we are at a truly great links, the worlds very best golfers all out and strutting and who takes the early honours but Zach The Dull.
Oh, I'm sure he is nice enough but, honestly, would you cross the street to avoid him? Yes, of course you would. Remember when he won his Masters and proceeded to thank Jesus for his triumph.
Isn't it slightly presumptious to assume God's son has singled you out over all your peers? Don't bother answering.
To be fair, he played extremely well for his 66 but let's hope that's it. You may disagree.
At least Miguel Angel-Jimenez balanced things up a bit with his 68.
If he wins expect a vote of thanks to (a) winemakers everywhere and (b) Fidel Castro for allowing the cigars to be exported. Ole.
Generally though, what a stonking day. In every way. This was the day the earth caught fire and East Lothian turned into the Costa del Tartan.
I've never seen so much pale skin turning crimson since that fracas at Culloden.
Spend an hour out on the course and you felt like you were melting, a combination of the sun, the sizzling ground and the body-heat of fellow spectators turning things up to Gas Mark 9.
Jimenez, for one, loved it. "It was nice to come here and feel that the heat is still going on, that it's still sunny.
For us Spaniards this is very good. I really enjoyed everything from the moment I woke up this morning, " he said. Through a translator of course.
Meanwhile poor wee Rory continues to play like a plumber who has forgotten his wrench.
A lot of his has been here at Muirfield this week but not, I'm afraid, that bit that says 'right, let's go!' Ah well.
My main money by the way is on Lee Westwood. Wish me luck.
He certainly had some when he blocked his opening drive - one of the very few to take a driver off the first tee - found tough rough, lashed hopefully at it and his ball ended up half-a-dozen feet from the hole for a regulation birdie. Bet he claims he meant it.
They're like that in Worksop. Or should that be Florida...
Bill has been part of the Golf Monthly woodwork for many years. A very respected Golf Journalist he has attended over 40 Open Championships. Bill was the Observer's golf correspondent. He spent 26 years as a sports writer for Express Newspapers and is a former Magazine Sportswriter of the Year. After 40 years on 'Fleet Street' starting with the Daily Express and finishing on The Observer and Guardian in 2010. Now semi-retired but still Editor at Large of Golf Monthly Magazine and regular broadcaster for BBC and Sky. Author of several golf-related books and a former chairman of the Association of Golf Writers. Experienced after dinner speaker.