Greg Norman: Let Me Entertain You Part 2
In part 2 of Bill Elliott's interview with twice Open champion and former World No.1, Greg Norman, the Australian talks about how he's preparing for the 2009 Open Championship, returning to the Ailsa Course at Turnberry, age and V-grooves.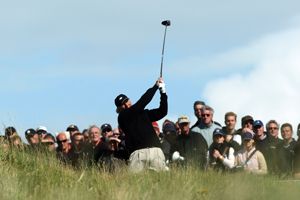 What he has achieved, he has worked hard for. He has been lucky in having a hugely supportive network of family and friends around him. His first wife (Laura, an air stewardess who served him a drink as he flew away from the 1979 US Open after missing the cut) was great for him for many years, his new wife seems to be the same with the added bonus that Chrissie really appreciates the demands of trying to be a top-class competitor in the wacky world of high-level sport. After a few years of personal turmoil he is back in a more tranquil place and it shows; it shows in his face, in his smile and it really shows in his golf. After the Open this year he travels to Sunningdale for the Senior British Open (a stellar line-up for this one including Nick Faldo, Bernhard Langer, Ian Woosnam and Tom Watson by the way) and then back to the USA for their Senior Open. Even for a wave-riding, scuba-diving fitness freak like Greg this is a potentially gruelling few weeks but, typically, he looks forward to it in the same way a mountaineer gazes up at Everest.
"Yeah, it's a demanding few weeks for guys our age, but it's also great, isn't it? You know, it took about ten days after Birkdale last year for it to really sink in what had just happened. It's effect? My game started to get better and better at the US Senior. As I left that three-week swing I was actually disappointed I didn't win two of the three and that was a great indicator for me.
"You know, if I had my old ability on top of the new technology then I do think my tournament victories and stuff might have been a little bit greater. Modern equipment has definitely helped somebody my age, 54 going on 55, because you do extract the maximum amount of performance out of the game even when your body is trying not to allow you to it."
There is, however, a downside to the latest whiz-bang clubs and balls. Mostly this is the one-dimensional players produced by it. "Links courses always give the better player an opportunity because he has a bigger repertoire of shots in his mind. I think that's the secret to it. The younger generation, having grown up with the technology available, haven't had to teach themselves how to play certain shots but you need those on a great links.
"Now, next year it's going to be different when V-grooves come back into the game. I think this is the biggest thing that's happened in golf since 1996. That's going to teach these players a huge lesson in the art of understanding a lie, controlling a golf ball, flight trajectory and what happens if you get a flyer that can go 30 yards further than you anticipate.
"A huge change is going to come over this game. I think it's necessary and I think it's great. I'm very, very excited about seeing it take place. Me? I still use V-groove clubs. I have U-grooves in my sand and gap wedges but, you know, for some of these guys, they have no idea what they're going to be in for."
Naturally, this brought our chat on to the subject of the Old Course at Sunningdale, where Greg used to play socially in the company of Sam Torrance, Michael King and others who like a laugh and a punt. It was here in the mid-1980s during a European Open that Greg constructed one of his finest moments.
Coming in for interview after his second round he was asked about a topped tee shot at one hole, a full-blown attempt at a drive that went maybe 20 yards. His explanation? A worm had popped up behind his ball as he began his downswing and he had tried to avoid hitting the poor, wee thing. Greg Norman, the sensitive naturalist, eh?
When I mentioned this incident he laughed. "I was waiting for that one," he said. "That was, for me, a lesson learnt and what I learned was that when you walk into a room full of finely honed journalists like yourself then making a comment like that, might make you think it was bullshit. But, yes, I still remember that worm, he's probably been eaten by a magpie by now so, hopefully, it won't happen again."
Still, you know what? That story made every headline in every paper the following day. Bullshit or not, give me a man who can lighten the day, give a good quote and who has the wit to laugh at himself occasionally. I know I'm looking forward to seeing this rascal in Scotland, and I bet you are too.
Bill has been part of the Golf Monthly woodwork for many years. A very respected Golf Journalist he has attended over 40 Open Championships. Bill was the Observer's golf correspondent. He spent 26 years as a sports writer for Express Newspapers and is a former Magazine Sportswriter of the Year. After 40 years on 'Fleet Street' starting with the Daily Express and finishing on The Observer and Guardian in 2010. Now semi-retired but still Editor at Large of Golf Monthly Magazine and regular broadcaster for BBC and Sky. Author of several golf-related books and a former chairman of the Association of Golf Writers. Experienced after dinner speaker.