How Often Should You Upgrade Your Wedges?
The wedge is the fastest deteriorating club in your bag, so how often do you need to change them?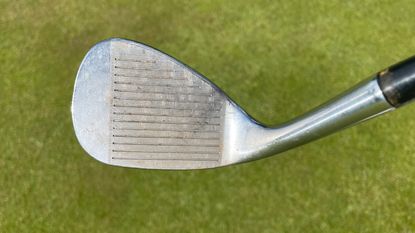 (Image credit: Future)
How Often Should You Upgrade Your Wedges?
Some tour professionals change their wedges every month but there will be golfers at your local club who have been using the same trusty lob wedge for 10 years. So how frequently should you be looking to upgrade in order to keep pace with the best wedges? Well, it depends.
There are a number of factors to consider and there is no standard "one size fits all" answer to this, although the general consensus for average club golfers seems to be every two to three years. It isn't the same for everybody though and it very much depends on your own circumstances.
The three main things to consider are how often do you play, what is your skill level and what is your budget. If you play and practice a lot then your grooves will wear down more quickly and your wedges will then spin less. This will impact more on an accomplished player who likes to spin the ball a lot or is used to getting maximum control, so they are going to benefit more from a newer club with fresh grooves.
With all due respect, a 25 handicap player is really not going to notice much difference in performance between a brand new Titleist Vokey SM9 wedge or one of the best Callaway wedges versus an old Nike wedge which has been in the shed for 15 years. A casual golfer may also find it more difficult to justify the outlay on buying new wedges every year or two, as these things are not cheap.
The amount of wedges in your bag is also a factor as replacing all of them at once can be expensive. On that note, you should check out our useful guide to how many wedges you want to carry.
Some of the leading wedge manufacturers will advise a change every couple of years, which, co-incidentally, is generally the same time frame that they bring out their new products!
A good rule of thumb is to inspect your wedges every 65-75 rounds as that's when research shows a wedge's performance will begin to deteriorate. This means if you are a casual golfer who plays a dozen times a year, changing your wedges isn't something you're going to need to worry about for some time. You're good for at least five years and the only reason to buy new wedges at all is if you want to freshen things up in your bag, unless you want a more forgiving wedge.
That said, how often you practice also comes into the equation as this adds to the wear and tear on the grooves, especially as range balls tend to have harder covers and will take more of a toll on your clubs. Range balls also tend to pick up a lot of mud, so if you aren't cleaning the balls before every shot (and let's face it, none of us do that) this is also hurting your grooves.
Additionally, bunkers do considerable damage to a club face on the best sand wedges so if you find a lot of bunkers or like to practice your sand shots, that will also accelerate how quickly your wedges will lose traction.
So how can you tell if your wedges have deteriorated and are no longer giving optimum performance? One school of thought is that if your grip is worn down, your grooves will be too and that's the time to change. There are other tell tale signs though. Visually you will see that the face and grooves look worn down. The grooves will be shallow. If you have a newer club to compare it to then you will easily see the difference in the depth of grooves.
You may also notice a difference in your shots. A well worn wedge will fly higher on full shots and will not have as penetrating a flight as a new club, and it will not give you as much check on the first or second bounce around the greens. Good players will notice this far more as they'll see less control on pitch shots than they are used to. A high handicap golfer using a best golf wedge for beginners usually won't see much of a difference due to the lack of consistency in strike between one shot and the next.
That isn't necessarily a bad thing, as the average golfer will be comfortable with the wedges they are using and will naturally adjust their game to suit, especially around the greens. If you aren't getting that extra bite on the first or second bounce then you will automatically get into the habit of landing it shorter and allowing for more run out.
What if you love the wedges you have and have no desire to change them even though they have seen their best days? Fear not because it's actually very easy and not at all expensive to restore your old wedges to their former glory. There's a handy little groove sharpening tool that is widely available on Amazon which will get into those grooves and have them as good as new.
By going down this road you are running the risk of possibly ending up with illegal grooves, but that's only going to be an issue if you play competitively. So be aware that if you play in comps at your home course, using a groove sharpener tool could result in wedges that may or may not be legal (depending on how deep you carve out the grooves). That said, it's unlikely that anyone is going to examine the depth of your grooves so it's a really a matter between you and your conscience.
If you are uncomfortable about possibly making your grooves non conforming then there are more expensive groove sharpener tools that are designed to ensure that grooves remain within the legal limits.
For purely recreational golfers who do not play in competitions, the basic groove sharpener tool is a perfect way to extend the life of your wedges (and irons too) and save you some cash.
Fresh grooves will do more damage to a golf ball than worn ones will though. So whether that's a new wedge or an old one with the grooves sharpened, expect to see some scuff marks on your ball.
In summary, you will eventually see a deterioration in spin so then you have a choice to make. Sharpening your grooves is the cheaper option but if your preference is to keep your gear more up to date, then every two or three years is the ideal sweet spot for upgrading.
Dave is a distinctly average golfer with (fading) aspirations to be so much more than that. An avid collector of vintage Ping putters and the world's biggest Payne Stewart fan, in 2021 Dave turned his front garden into a giant putting green to work on the weakest area of his game, but sadly to date he has seen little improvement. In addition to his work reviewing golf gear and writing features for Golf Monthly and T3, Dave is the founder of the Bang Average Golf website.
Dave's lowest round is a one over par 73 around Kirkby Valley Golf Club in 2018, which included a bogey on the 18th to ruin the one and only chance he'll ever have of shooting an even par or better score. That errant tee shot on 18 does not still haunt him to this day though, in fact he hardly ever thinks about it. No, honestly, he doesn't. Not at all. Never.
Dave splits most of his golf between Hurlston Hall Golf Club in Ormskirk, Lancs, and Berrington Hall Golf Club in St Helens and has a handicap that fluctuates between 11 and 14, largely depending on how poor his putting is.
Dave's current What's In The Bag?
Driver: Wilson Staff Dynapower Titanium, 9.5°
3 wood: Wilson Staff Dynapower, 15°
7 wood: Callaway Mavrik Max, 21°
Hybrid: Srixon ZX 2 hybrid, 16°
Irons: Wilson Staff Dynapower, 6-PW
Wedges: Cleveland CBX ZipCore (graphite), 44°, 48°, 52°, 56°
Putter: TaylorMade Spider EX Ghost White
Ball: OnCore Vero X2