'He Hit One Shot, Turned Around And Said "Nope"' - The Story Of Building Tiger's Perfect 3-iron
TaylorMade Tour fitter Mark Thistleton on trying to fit the particular Tiger Woods, the emergence of higher lofted fairways and mastering the various weight systems on Stealth 2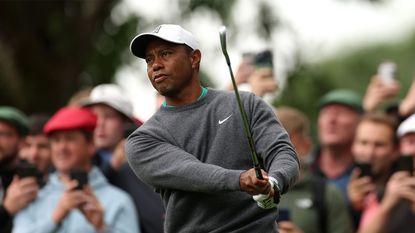 (Image credit: Getty Images)
Mark Thistleton had a stellar amateur golf career where he played for both the Hampshire and England golf teams before taking up an opportunity to work for TaylorMade. A decade later he is fitting and building equipment, including the best TaylorMade drivers, for some of the biggest names in men's and women's golf. We caught up with him on the rare occasion he is not away on tour, at the prestigious Wentworth Golf Club, Surrey, home to the TaylorMade Performance Lab and the BMW PGA Championship. Unsurprisingly, he had some fascinating stories to tell...
How did you get into the position of fitting some of the best players in the world?
"This is a question I get asked a lot actually. I was an elite amateur about ten or twelve years ago playing for the England national team and TaylorMade was helping me out with equipment. I live local to TaylorMade and when I made the decision to not turn professional, they kindly offered me a temporary position doing the demo days, so I took that and have worked my way up from there really. As soon as I started working for TaylorMade, I knew I wanted to work on tour, so I did a couple of years doing the demo days and got some tour experience and that's my evolution into the tour role really."
After TaylorMade signs a new player, what are the fundamentals of fitting a player into the new equipment?
"You want to make the transition as easy as possible, especially when taking a player from another brand. They are good players for a reason and are usually playing equipment they are pretty happy and comfortable with, so wouldn't want to deviate from their current specs too much, especially at the beginning. We would go through the bag checking gapping, distances and carry numbers, making sure everything is as it should be and if it is we'll start to go through what model of head they might like. We will then try and build a like-for-like replacement of what they have, which is the easiest way to get them comfortable and into the new product. Down the line we will begin to make recommendations, such as trying a different shaft or head, but that's more in the wedges and irons. Woods are a little different as there are a lot of shaft options, so we'll start from scratch really, looking at what they have in terms of shaft, loft, length and then it's pretty easy with the clicks and weights now to make some changes."
The Stealth 2 range was released earlier this year, were there any trends you noticed from changing into this product from the original Stealth range?
"On tour I would say we have just been taking advantage of the weights quite a lot, moving them around. In the TaylorMade Stealth 2 Plus fairways you have the big 50g weight in the head which can make a big difference on the spin, and the same with the drivers, there's a lot of weight we can move from back to front. Typically I'm finding we're putting a little more weight up front compared to the original Stealth, which was a fairly low spin product, especially in the Plus head. With the same loft, we would now have a little more weight in the head to match up spin characteristics. It's now a more forgiving head, there's no question about that, but dialling in the spin is the bit we have been focused on most, to try and match up the characteristics the best we can to their current gamer."
When starting a fitting do you look at what ball is going to be used first or do you start with the clubs?
"Ball fitting is absolutely vital, because the balls do perform differently and everyone will have a ball that compliments their game better than another ball and so it's very much part of the fitting process. Typically what I will do is start going through the bag with their current ball or a similar TaylorMade ball to what they are currently playing from another manufacturer. As we go through the bag we start to see a pattern in terms of spin numbers. If the spin is a little high we might compare it to a different ball that spins a little less, but I would be making a call on it as we work through the process. By the time we get to the mid-irons we tend to spot a pattern and can gauge whether they are a high or low spin player and make an analysis on the ball when we get there. The ball has to perform from the wedges all the way through to the woods and so I won't make a call on what ball I think they should use until I gather some more information and can see if it will perform the whole way through the bag. But yes it's definitely part of the process."
Have there been many complex fittings with tour players, where it may be hard to match up speed and spin?
"I always say with fittings, 90 percent of the time you only use 10 percent of your knowledge. A lot of fittings are fairly easy because you are only just scratching the surface, but you do get the odd one where you need to dive a little deeper and that's where you have to have a deeper understanding on ball flight and club technology. We haven't had too much opportunity to work with Tiger, but he has been over on our patch a couple of times. Last year springs to mind, where Tiger was playing at Adare Manor, we had the truck there and our European team there were working the event. We were told by his management team that he wanted to test 3-irons.
So we were asking the US team for his specs and his manager says he needs it to go this far, this high and spin this much and nothing else will do. So my colleague Sam goes to work, building up some options with different heads and different shafts, where we put a lot of effort and energy into these builds, because, well it's Tiger Woods. It came to him hitting them and we handed him one, he hit one shot, turned round and said 'nope'. We'd put a lot of time and effort into these builds and he knew in one shot that it wasn't the spin or the height he needsd. We did end up finding him one which was very close to what he needed and he did go on and play it. But Tiger was very, very specific and if any of the dimensions were out, it wasn't going in his bag."
We've seen a lot more amateurs playing lofted fairway woods, is this a trend you are seeing on tour as well?
"Very much so, the last couple of years we've built a lot more 7-woods, this year more than ever. We have the 4-wood or high lofted 3-wood in the lineup this year and that's been a trend on tour for the last couple of years and so it's great that's coming into retail now. There's been a lot of advances in fairway woods in terms of ways to find speed and bring spin down to improve distance. However the better players don't necessarily want a three wood that goes as far as possible. It needs to spin a little bit and go a certain height to be able to stop on the greens and so a lot of the hot fairway woods haven't suited a lot of the tour players at higher speeds. We're finding adding a little bit of loft and the 4-wood, 7-wood combination is now pretty popular. I'd say about one in five guys on tour are using this combination or at least one of the two. That's a trend I see continuing due to the lower spin characteristics of the modern day fairway woods."
Are there any similarities to fitting amateurs and some of the best players in the world?
"There's certainly a lot of differences in terms of strike pattern. It's easier fitting a good player because they strike it more consistently and so you can one or two shots and get an idea whether that club is going to work for them or not. With a handicap player it may take up to seven shots to get a couple of good hits, to arrive at the same conclusion. So yes, the main difference being the consistency of strike between an amateur and a tour player. The way head technology is now, with all the loft and lie settings and different positions we can put the center of gravity in, you can do a lot more with the head alone than we ever have been able to before. So I guess the similarities would be, how just us changing the settings on the head can affect ball flight for each individual player."
What's the most unusual or unique thing you have had to build on tour?
"You get a few unusual stamping requests for different things like favorite meals or television shows, the one we don't really like doing is the girlfriend's name or things along those lines. Over the last couple of years, what I've found amusing is the guys on tour often get dialled into a driver head that they particularly like and then the new stuff comes out and it's our job to try and find performance out of the new product. At the start of the season over the last two years, we've had a couple of requests where players have said they love the driver and it's in the bag, but can we make them one that looks like last year's model. So we had the Stealth product and had someone ask can they get it looking like the SIM2, with the white paint and the carbon crown, which I know you can do with the My Stealth, but we don't tend to offer that towards the tour players, but it makes me laugh how they say they love the driver, love the product and it's in the bag, but can you make it look like my old one. We've actually had the same this year at the Dubai Desert Classic with a player who wanted the new driver but with the matte crown to look like last year's product. I always find that stuff amusing, but generally it's the stamping on wedges that are the laughable ones."
Who's the easiest tour player to move year by year into the new equipment?
"Yes there's a few of them. A lot of them are just golf geeks at the end of the day and can't wait to see the new product, but there's lots of different personalities. You get the guys that are very resistant to change, happy with what they have and are dialed in and ask to be shown why they should change, which then challenges us to pull the performance out of the product. Then you get the other guys who just can't wait to hit the new one and can't wait to play the new one regardless, just because it's new. Kurt Kitayama springs to mind and we've worked with Kurt in Europe the last three or four seasons and he really was the easiest going player to work with. We gave him the new product, same shaft and everything which made it typically very easy to get stuff in play. We'd ask him how it feels and he'd say it felt good pretty much every time. We'd ask if we need to do anything with it and he would just say 'no it feels good' and so we would laugh at that. He was definitely one of the most easy going guys to work with, everyone liked working with him and he was a really likeable guy and so it was good to see him win at Bay Hill recently."
Sam has worked in the golf industry for 12 years, offering advice on equipment to all levels of golfers and as Staff Writer, he tests and reviews equipment throughout the bag. Sam graduated from Webber International University in 2017 with a BSc Marketing Management degree while playing collegiate golf. His experience of playing professionally on both the EuroPro Tour and Clutch Pro Tour, alongside his golf retail history, means Sam has extensive knowledge of golf equipment and what works for different types of golfer.
Sam is a member of North Hants Golf Club in Fleet, Hampshire, where he won the club championship 3 times in succession from 2015-2017. His golfing highlight to date is shooting a round of 10-under 60 at his home club, narrowly missing a wedge shot for a magical 59.
Sam's current What's In The Bag?
Driver: TaylorMade Stealth 2, 9°
Fairway Wood: TaylorMade Stealth 2 Plus, 15°
Hybrid: Ping G430 19°
Irons: Titleist T-100 4 iron, Titleist 620MB, 5-PW
Wedges: Titleist Vokey SM8, 50°, 54°, 62°
Putter: Scotty Cameron Select GoLo
Ball: Titleist Pro V1x 2021