Bridgestone J715 and J815 drivers unveiled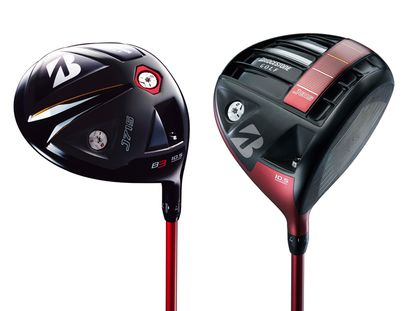 Bridgestone has revealed two new drivers, the Bridgestone J715 and Bridgestone J815, which are designed to increase ball velocity and produce higher launch angles
Bridgestone has revealed two new drivers, the Bridgestone J715 and Bridgestone J815, which are the company's first drivers since 2010.
Designed to increase ball velocity and produce higher launch angles, the 460cc Bridgestone J715 includes both loft and lie and centre of gravity adjustability.
Its crown is also thinner near the clubface and thicker towards the back of the head to enable it to flex and spring at impact for a higher launch and faster ball speeds for longer distance.
A pattern on the Power Milled Face also helps maintain the ball's position at impact so it can't slip and spin, thereby enhancing the quality of compression time for even faster ball speeds.
Moveable weights in the heel and middle of the head also let you customise the centre of gravity position so you can alter your spin and trajectory, while the new Variable Adjust System lets you adjust the loft up to 1° and the lie between standard, 1° upright or 2° upright.
The Bridgestone J715 is also joined by the more forgiving J815, which also boasts Power Slit Technology for greater ball velocity and a piercing trajectory.
It differs thanks to its more rigid sole design, which helps it gain higher ball flights by generating a 10% lower spin rate that gets the ball airborne and flying further.
The J815's head is also shaped with extra volume in the heel to improves forgiveness further.
Both drivers come in 9.5° and 10.5° loft options with Tour AD shafts, custom red Golf Pride grips and will retail at £349.99.
Bridgestone J15 fairway wood and hybrid
A J15F fairway and J15 hybrid join the drivers, and are designed to optimise your ball flight and add distance from tricky lies.
The improved distance can be attributed to new FAST Crowns that are composed of high strength Maraging steel that is thin near the clubface and progressively thicker towards the back of the head, which allows it to flex and spring at impact to create a higher launch angle and deliver more distance.
Hyper Stainless Steel faces are also the thinnest ever produced by Bridgestone at 1.8mm for maximum velocity within the rules.
Adjustable Weight Port Technology in the sole of both clubs lets you influence your level of spin to fine tune your trajectory.
The heads have also been shaped with a heel profile that reduces drag in all lies for greater versatility, while the back of sole has been lowered to help create a sweeping action when coming into contact with the turf to enhance playability from any lie.
The J15 fairway woods come in 13.5°, 15° and 18° loft options, with a Fubuki Z fairway shaft and custom yellow Golf Pride Tour Velvet grip, with an RRP of £199.
The J15 hybrid comes in 17°, 19°, 21° and 23° lofts, with the same shaft and grip as the fairway wood, with an RRP of £159.
Jake O'Reilly specilaises in equipment coverage, and joined the Golf Monthly team in 2013. Before this he graduated from the University of Huddersfield with a Sports Journalism and Media degree, and worked at a number of British golf magazines. Follow Jake on Twitter
@jake0reilly