What It Was Like To Play Pebble Beach Golf Links
Golf Monthly editor Michael Harris fulfils a lifetime ambition and ticks off one of the game's true bucket-list destinations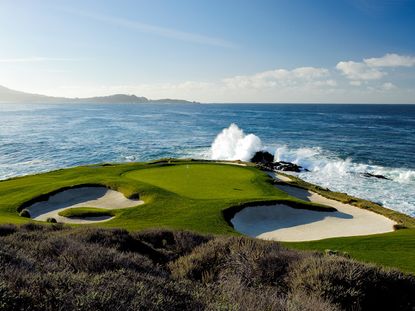 Golf Monthly editor Michael Harris fulfils a lifetime ambition and ticks off one of the game's true bucket-list destinations
What It Was Like To Play Pebble Beach Golf Links
Pebble Beach first came into my consciousness in 1988 when I was given a copy of Tom Watson's book Getting Up and Down as a prize at a school speech day. The cover image of the book shows Watson watching his chip from greenside rough roll towards the cup at Pebble's 17th hole in the final round of the 1982 US Open. History tells us he holed the chip for a crucial birdie to all-but seal a dramatic win over the great Jack Nicklaus.
At the time I was aged 17 and just getting into golf. My headmaster, himself a keen golfer, thought this book might fuel my interest in the game and help me learn those all-important short-game skills. How right he was. The book became my bible and Watson's wonderful recounting of the shot one of the most inspiring sections, both educating on technique and entertaining with the drama of the story.
As my love for the game, and in particular golf courses, grew over the next decade, so Pebble Beach established itself right up at the top of the list of courses I most wanted to play. I looked at pictures of the course, watched televised tournaments there and was left in awe when Tiger Woods played some of the finest golf of his life to win the 2000 US Open at Pebble by an incredible 15, yes 15, strokes.
In February 2002, while on honeymoon in California, I took a detour from a romantic walk with my wife along the white sands of Carmel Beach and headed up to the back of the 10th green to stand there and watch groups play to the small green perched on the edge of the rocky shoreline of Carmel Bay. I vowed one day I would come back with my clubs and play the course myself.
It would take me 14 years and two months to return, but I did – this time as part of a family holiday to California – and at 1.10pm on a perfect March spring day this year I stood on the 1st tee and prepared to embark on a round I'd been dreaming of for years. The sense of expectation I felt was huge. It ranks alongside the feeling I had playing the Old Course for the first time.
Would I play well, would the course be as spectacular in real life as it was in the photographs and on TV and what would I make at the 17th, the hole that kick-started my obsession with Pebble all those years ago?
The 1st, 2nd and 3rd are relatively straightforward, get-away even holes, although the moment you approach the 1st green you are struck by one of Pebble Beach's biggest challenges – small, well-defended putting surfaces. The size of the greens is well documented but until you set foot on them you can't believe just how tiny they really are. You could fit two or sometimes three Pebble greens into a typical modern, sprawling tour green.
I played in a two-ball with a charming guy in his 60s from Chicago called Dan who took a caddie, the brilliantly named 'Sticks', and on some greens you felt like there wasn't enough room for us all (goodness knows what a four-ball all with caddies feels like!). Not only are the greens small, but the bunkers that surround them are tight to the surfaces and often on three sides.
Herein lies the secret to a good score – accurate iron play. Chatting to executive director of golf RJ Harper after the round, he offered his view based on 30 years at Pebble Beach.
"At 6,828 yards it's not especially long, so keep your ball out of the ocean (there is plenty of room left or right on holes that run adjacent to the Pacific). It's a course the higher handicapper can play bogey golf around. The better the player you are the harder it actually is to play to your handicap, as there is so little room for error with approach play."
Harper is spot on. Shots that you think are good in the air take an extra hop (the greens were holding when I played, but can get very firm) and leave you facing a fiddly chip shot from tangly rough or a sand shot to what will almost certainly be a tight pin, with sand or even sea the other side. It's almost always better to miss short in the throat of the green at Pebble.
Walking off the 4th tee box past the Beach Club and onto the fairway you get your first sight of the Pacific. It's spine tingling. And, from this point, it's time to strap yourself in for the best part of two hours for the most thrilling ride the game of golf can offer. The next seven holes cling to the shoreline, test your mettle and utterly blow your mind.
The 5th hole is a pretty par 3 overlooking Stillwater Cove, with views across to the 6th green perched on a headland across the water.
Expand Pebble Beach Course Guide – US Open 2019
Pebble Beach Course Guide – US Open 2019
Our guide to the 119th US Open host…
Expand Remembering The 2010 US Open At Pebble Beach
Remembering The 2010 US Open At Pebble Beach
Graeme McDowell wins his first Major championship, the…
Expand Remembering Dustin Johnson's 2010 US Open Meltdown
Remembering Dustin Johnson's 2010 US Open Meltdown
The big-hitting 25-year-old looked set for Major glory…
Expand 5 Potential First-Time Major Winners At The US Open
5 Potential First-Time Major Winners At The US Open
Could a first-time Major winner triumph at the…
The current 5th, which plays a tempting 142 yards, was designed by Jack Nicklaus in 1990 and is one of the most recent additions to the layout that first opened in 1919. There have been many changes at Pebble over the years, but when there is so much natural perfection it is little wonder that so much of the original Jack Neville and Douglas Grant creation still remains.
By the time I stood on the 7th tee I'd already taken 30 photographs on my iPhone (tip: make sure whatever you take photos on has plenty of battery before you head out). I took a selfie on the tee. I've got a silly face on. I'm smiling somewhat manically and my mouth is forming the word 'wow'. Walking down towards the 7th green I took another one and tried to look less daft. I sort of managed it but still have the look of a person who can't quite believe they are playing Pebble Beach.
I hit a nice knock-down 9-iron into the wind here but just missed the birdie putt. At the 8th, driver was too much with the wind at our backs so I hit a 16° hybrid, but popped it up a bit and left myself a daunting approach – 200 yards over a yawning, frothing
chasm. Probably my best shot of the day followed with another hybrid running up to 15ft. I missed the putt but I'd just made consecutive pars on two of Pebble's best holes!
The 9th and 10th feature fairways that run right to the edge of the rocky cliffs of Carmel Bay. It is literally mown grass right up to the point where golf course becomes ocean. The two greens just about hold on to the continent of North America.
From here you head inland and the holes have some of the most incredible properties you've seen overlooking them. This stretch of course can't match what went before for drama but there are some excellent golf holes here and you can see the Pacific from all of them. In fact the 11th, which climbs up to a tiny green (even by Pebble standards) overlooked by a stunning house, was one of my favourites.
The par-5 14th is perhaps the most famous of the 'inland' stretch – a long dogleg par 5 that climbs steadily to another Lilliputian green (where a third of it is so heavily sloped you couldn't put a flag in it) fronted by a huge bunker. It's a genuine three-shotter even for tour pros, as you have to come in with a lot of loft in your hand to stand any sort of chance of holding the green.
I was quite happy with a treble-bogey here. Just a few weeks after I played, the green, bunker and collection areas were reconstructed to allow for a less severe green with more pin-position options.
The 15th and 16th are lovely holes in their own right but they really serve to calm you down before the senses are once again heightened as you take on Pebble's iconic final two.
Walking off the 16th green my playing partner and I finally caught up the two-ball in front – husband and wife Don and Rhonda from Oregon – who were away for a few days' golf celebrating a significant wedding anniversary. They, like Dan and myself, were giddy with the whole experience.
I signed off with a par and a bogey, getting up and down from the front bunker at 17 (I did try a chip from Watson's plaque as no one was behind us) and incurring a penalty at the last after sending my Titleist into the Pacific with my second shot!
An eventful 87 shots (and 92 photos on my iPhone). I don't think I have ever enjoyed shooting double my handicap as much as I did here.
Pebble Beach has hosted five US Opens – with a sixth to come in 2019, its centenary year – a USPGA and, since 1937, the famous Pro-Am every February. But the really wonderful thing about it is that unlike so many of America's famous, storied courses, where the policy is members and their guests only, this is a true public course and open to all. Granted, the opportunity to play the course comes at a price – $495 – but a round here is a once-in-a-lifetime experience.
While Pebble Beach is the standout of the five courses that come under the umbrella resort ownership, Spyglass Hill, The Links at Spanish Bay, Del Monte GC and the 9-hole Peter Hay short course offer the visiting golfer the opportunity for up to 81 holes.
I only had time for one more and it was Spyglass Hill. I'd heard lots of good things about the layout and seen it during TV coverage of the AT&T Pro-Am. Cut through the Del Monte Forest, it looks like it's been there forever but 2016 is in fact the 50th anniversary of its opening.
Designed by the great Robert Trent Jones Snr, it opens with a majestic sweeping par 5 through tall pines with the Pacific in the far background before heading out closer to the ocean for a run of four sublime holes. A pair of strategic par 4s, one short downhill par 3 and a longer one that plays over ice plant and deep bunkers make for a breathtaking quartet packed full of character.
From the 5th the course forges back inland. Pines that frame undulating fairways, big sloping greens, white sand bunkers and immaculate playing surfaces await. This place feels very much like Augusta National.
By chance, I was reunited with Don and Rhonda for the round. Don was a single-figure player with a lovely silky swing and Rhonda the best ball-striking 18-handicapper I've ever played with. Together I expect they'd make a formidable mixed pair and the three of us enjoyed a delightful round.
You can play any of the five courses as a daily green-fee payer but those staying in the resort's accommodation enjoy preferential rates and the ability to book well in advance. There are often excellent stay-and-play packages available.
We stayed in The Lodge, where the rooms are spacious and tastefully furnished, but there's also the Inn at Spanish Bay that nestles by the course there and the boutique 24-bedroom Casa Palmero beside the 1st and 2nd at Pebble.
For non-golfers (or golfers looking to relax after a round) there's a world-class spa, an amazing beach club with an outdoor pool that overlooks Stillwater Cove, an equestrian centre, trails to hike around and the stunning 17-Mile Drive that is perfect for cycling or just cruising around in the car with the windows open wishing you were a resident here, not just a visitor.
A wide variety of restaurants and bars complete the package. The Stillwater Bar & Grill and The Bench, both of which overlook Pebble's 18th green and ocean, lead the cast, but there's something for everyone. We ate in the Tap Room on the first night and loved it so much we went back there again the next. It's full of golf memorabilia and has a lovely cosy feel. It's great for groups of golfers, couples and families alike. For breakfast, the Gallery Cafe that overlooks the 1st tee is superb. There's a mind-boggling choice of ways to enjoy eggs and bacon and here, as everywhere at Pebble, nothing is too much trouble for the staff.
Service is always great in America but at Pebble Beach it's on a different level altogether – polished, professional and friendly but never overbearing or fussy. RJ Harper describes Pebble's style of service as being "anticipatory" – always having in mind what the visitor might want and being ready to provide that. It's a real challenge to achieve that across the hundreds of staff they have, from caddies to waitresses, but they pull it off and it really does play a big part in making the whole experience what it is.
Pebble Beach is a truly magical place. Any golf course that sits on land that meets sea is special, but here, where this beautiful and dramatic stretch of Californian coastline collides with the vast, powerful Pacific Ocean, is something else. I'm already thinking about how I can get back.
The leading website from the world's oldest golf magazine, we're the go-to destination for amateur and keen golfers alike who are keen to up their golfing game. As well as expert course reviews, news and tips to improve your handicap our golf-focused travel content will help you pair teeing off with your travels in some of the best destinations around the globe.