What do golfers have in common?
If you cut us open do we not all look roughly the same?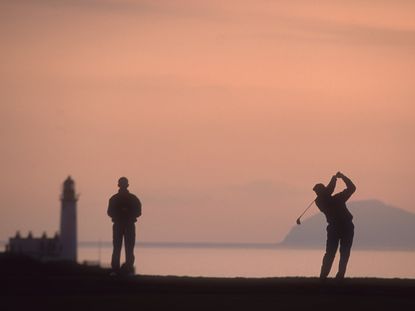 (Image credit: Getty Images)
Fergus Bisset considers the inner-workings of the average golfer and wonders; if you cut us open do we not all look roughly the same?
At times golf seems to me a cruel taskmaster, a callous bully intent on breaking my spirit. At other times the game seems a most generous benefactor, bestowing in me a feeling of great achievement and enjoyment. In suffering this erratic relationship with golf I know I'm not alone. I have plenty of playing partners who I've seen made both ebullient and near suicidal by rounds of golf.
After a recent clubhouse discussion covering this common affliction of golfing bipolarism, I began to wonder what other feelings and behavioural traits unite us. What makes the devoted golfer tick, what do we have in common?
When I was three, my father took an old Harold Bird & Son 6-iron to the local pro and had it cut down to about 24 inches. It was my first golf club. I'm actually looking at it as I write this; I pulled it out of the loft space in my garage to check the maker.
This is something I know we have in common: No true golfer ever throws golf clubs away. Sometimes they might be sold, occasionally they're passed down to the next generation of golfers, but mostly they remain in the original owner's loft, shed or garage.
Under my stairs lives a cobweb-covered, persimmon, Wilson 3-wood that never produced anything but an appalling snap-hook. Why do I still have that? There's a set of rusted Mizuno blades lurking at the back of my shed and no fewer than 14 putters hidden away in my loft.
We can't throw out these, now useless, weapons because we would be tossing away our memories. For most of us who love this great sport, golf is an inextricable part of our lives. Few who catch the golfing bug will ever shake it off. Golf sticks - it's an addiction.
As mentioned, it causes violent mood-swings. It leads to sleepless nights, puts a strain on family life and can impinge on work. On occasions, it will slowly wear you down mentally and physically. But, when you get that glorious hit, that exhilarating moment on the fairways, the negatives melt away into nothing, to be replaced by a distinct and heady bliss. No feeling compares to striking the perfect drive, holing the perfect putt or returning a great score.
Is there any other sport where participants endure such prolonged pain and anguish for such fleeting moments of pleasure? Golf is a quest for the unattainable, an impossible battle to control body, mind and soul. Golf truly is great.
When I was a junior and young adult, I used to believe my golf game was somehow important – that people would be interested to hear how I was progressing, to find out how unfortunate I'd been on the 14th, to hear about my long drives or poor putting. It suddenly clicked when I was in my middle 20s that most, if not all, golfers are inherently selfish and are simply not interested.
The game is all consuming so each golfer is totally absorbed in their game. OK, they might be vaguely curious what Rory McIlroy and Rickie Fowler are up to at The Open, but they definitely don't care how you racked up a seven on the 13th hole in the May Stableford. While they pretend to listen to your story, they'll actually be torturing themselves with thoughts of their four-putt on the 7th and their incredibly unlucky bounce into a bunker on the 16th.
This realisation hasn't stopped me venting my spleen after a round. I've simply learned that, for the sake of equilibrium in the clubhouse, you must reciprocate. Nod and smile when it's your companion's turn to recount their stories of derring-do and tales of woe from the fairways. It's basic golfing etiquette.
For all the negativity and cynicism spouted by the regular golfer; an eternal optimist generally lives at their core.
For a start, the average golfer displays incredible optimism just by teeing it up each round. Despite a long history of astonishing failures, despite all empirical evidence pointing to the contrary, they possess enough positivity to believe that this round could just be "the one."
Then, out on the course, you'll see unbelievable displays of optimism: Golfers attempting to extricate their balls from unplayable lies, trying to bend the ball at near right angles round a line of trees or naively hoping to make the 200 yard carry, over the water and into the wind. It's quite touching really.
Golfers are also very positive when it comes to the weather. At courses across the UK, hopeful players will loiter outside pro shops in lashing rain, staring at the flooded first tee and the leaden skies. Without doubt, you'll eventually hear someone utter, "I think it's getting brighter," someone else will peer harder through the torrents of water and reply, "I think you might be right."
And that little scene sums up golfers – We are united in hope against adversity. We're individuals with personal goals in the sport, but we're in it together. Whether a golfer is striving to get down to scratch or trying to break 100 for the first time, they face the same challenges. They must overcome the conditions, control themselves physically, defeat their inner-demons and ride the punches that the game inevitably throws if they're to succeed.
Golf is a sport of countless variables and infinite possibilities, it can be unbearably frustrating or hugely rewarding, it can provoke pride and enforce humility, it can never be perfected or beaten but we'll continue to try. That's one of the game's few unwavering certainties: we will all continue to try.
Fergus is a golf obsessive and 1-handicapper. Growing up in the North East of Scotland, golf runs through his veins and his passion for the sport was bolstered during his time at St Andrews university studying history. He went on to earn a post graduate diploma from the London School of Journalism. Fergus has worked for Golf Monthly since 2004 and has written two books on the game; "Great Golf Debates" together with Jezz Ellwood of Golf Monthly and "The Ultimate Golf Book" together with Neil Tappin (also of Golf Monthly)... Fergus once shanked a ball from just over Granny Clark's Wynd on the 18th of the Old Course that struck the St Andrews Golf Club and rebounded into the Valley of Sin, from where he saved par. Who says there's no golfing god?