Peter Hanson: Coming out of the darkness
Peter Hanson was one of Europe's best golfers not so long ago and is eager to return to the top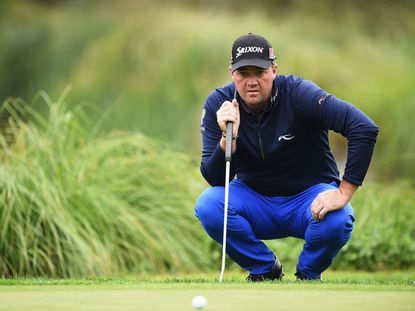 (Image credit: Getty Images)
Peter Hanson was one of Europe's best golfers not so long ago, before injuries led to a loss of form. Now healthy again, the Swede tells Paul Mahoney why he's motivated to reach the upper echelons once more…
He is the forgotten man from the Miracle of Medinah. The only member of Jose Maria Olazabal's 2012 Ryder Cup team to fail to contribute even half a point to Europe's historic comeback in Chicago. His name is destined to forever be the answer to a pub quiz tie-breaker.
This can't sit well in the memory for Sweden's Peter Hanson. It must have taken the edge of the celebrations and left a tinge of unfulfillment. He grins when reminded of this. The sort of sheepish grin a footballer musters when his team wins the cup final after he got sent off. But Hanson's disappointment at not contributing to the 14.5pts is not translated into a reluctance to relive the experience. He is a decent, affable fellow; he's come to terms with it. "The only thing that matters is we won in the end," Hanson says. "So there are no hard feelings whatsoever about not playing more. I've now won two out of two Ryder Cups." And that's worth remembering.
Hanson wasn't always this upbeat. In the heat of the moment at Medinah, he cut a downcast figure when Olazabal told him he was leaving him out of Saturday afternoon's matches. He admitted it left him with mixed feelings. "I think the Ryder Cup kind of hurt my confidence a bit," Hanson said at the 2012 Dunhill Links Championship, the week after the match against the Americans. "When I didn't get to play more than 14 holes the first couple of days, that really got to me. I think that hurt my performance a little bit on the Sunday even though I shot a couple under par."
Hanson went out in the lead group with Paul Lawrie in the four-balls on Friday afternoon and they got steamrollered 5&4 by Bubba Watson and Webb Simpson, the reigning Masters and US Open champions. The Americans shot eight-under-par for the front nine. Hanson didn't play again until the singles on Sunday. He lost to Jason Dufner, having fought back from 4dn after nine holes (Dufner was seven-under-par) only to lose at the 18th.
Hanson said Olazabal told him he wouldn't be playing just 20 minutes before he thought he would be teeing off. "I got very upset. I didn't take that very well," he said. "I just locked myself in a dark room and stayed there for a couple of hours because you don't want to let your bad feelings affect the other guys. It's all about getting out there and supporting your teammates, so I was out there all Saturday afternoon walking down the fairways."
Something special
Four years on, Hanson looks back with pride about being part of that team, despite not contributing any points. It didn't dampen the enthusiasm of his celebrations, he says. "Not at all. Obviously I would have loved to have won a point but that's just the way it went. The party was amazing. We were all on a high for a couple of weeks. I remember going to the Dunhill Links the week after and everyone was still hyped up," he says.
"It was an amazing adrenaline boost to be part of something like that. And to do it together. Normally when you win, you have your little team – manager, coach, caddie and wife – to celebrate with. But it's so different to do so with 25 or 30 other guys. You feel like you are in a football team," he grins. "That's probably why it lights up something in me. It's the same with the Olympics. Representing your nation and walking in behind your flag and the pride that brings." Henrik Stenson will represent Sweden in Rio this summer, but the second spot is up for grabs. "For a lot of us, it raises our game and determination to come in well prepared and do the best we can."
Which is what Hanson did in 2012. He secured his qualification for the Ryder Cup with about six months still to go, then won the KLM Dutch Open two weeks before Medinah. He was in form and a world top-20 player having finished third at The Masters and seventh at the USPGA. That's why he was so upset at not playing more in the Ryder Cup. Two weeks after it, he held off Rory McIlroy to win the BMW Masters in Shanghai. "That period was the highlight of my career," Hanson says.
He made his Ryder Cup debut at Celtic Manor in Colin Montgomerie's winning 2010 team. He went out first in the second-session foursomes with the gregarious Miguel Angel Jimenez. They were thumped 5&4 by Tiger Woods and Steve Stricker. The Swede and the Spaniard stayed together to beat Bubba Watson and Jeff Overton 2&1 in Saturday's four-balls – Hanson's only Ryder Cup point to date. The following day, he lost his singles match against Phil Mickelson by a margin of 4&2.
Hanson smiles when this year's Ryder Cup is mentioned. "It pushes me, it drives me. I love the Ryder Cup," he says. "It really feels like I have one more spin in me to get to the top of world golf again and playing Majors and big events. The Ryder Cup is part of that. The Olympics, too. The question is whether I have left myself too much to do in too short a time to make it this year."
Infectious enthusiasm
Hanson is back to full fitness after injuring his spine in 2013 and falling outside the world's top 200. "I would love to play one more Ryder Cup," he says. "I'm 38 years old and I know I have the ability to get back up there. If I stay healthy and work hard in the next three years I will give myself a few chances to win a big event. I know what it takes." He has won six tournaments on the European Tour.
Hanson talks about the lasting friendship that Ryder Cup teammates share. "There is still a bond," he says. "Living at Lake Nona I am close to Ian (Poulter), Graeme (McDowell) and Henrik (Stenson). We see each other day in, day out and with the kids and at family nights. We hang out. You get really close. When you know each other so well, it doesn't matter who you end up playing with," he says.
"I know Francesco and Edoardo Molinari from the Ryder Cup. Nicolas Colsaerts is such a great guy. Padraig Harrington and I never saw much of each other at regular events. But I saw a completely different side of him at the Ryder Cup – being a leader at Celtic Manor. And Lee Westwood, too. Players you don't normally grab a coffee with, you see a different side of at a Ryder Cup. You see what is really inside them. We are pretty good at labelling people. But when you get into that environment, when the pressure's on, you get to see what quality each member of the team has."
It is clear the Ryder Cup fires him up. You can hear it in his voice and see it in his eyes. "Good memories," Hanson says. "We're individually focused but when you win the Ryder Cup – mission accomplished."
Hanson's enthusiasm is infectious. He makes you believe he has a swansong in his repertoire. Sponsors have picked up on that, too. He has signed a deal to wear Ecco shoes, which he says help ease the strain on his back. "I've been amazed how supportive people have been. It makes you feel the people around you believe you have the potential to get back," he says. "Now it's up to me to show it."
A spectator called out Hanson's name just before the Swede was about to enter the locker room at the Emirates Golf Club on the eve of the Omega Dubai Desert Classic in February. Hanson stopped to add his autograph to a Medinah Country Club flag alongside those of his Ryder Cup teammates. "Happens all the time," he says. He's not the forgotten man, after all.
David joined Golf Monthly in 2015 as a content editor for the magazine and regularly contributes to the website. He has worked in magazine publishing and editing since 2003. He is a keen golfer and up until recently was a member of Blackmoor Golf Club in Hampshire. He has covered various big events and tournaments for GM, the highlight of which was witnessing Tiger Woods win his 15th Major at Augusta in 2019. Email: david.taylor@futurenet.com