Paul Dunne: The Story so Far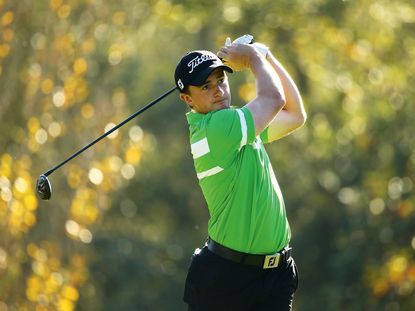 (Image credit: Getty Images)
Paul Dunne hit the headlines in 2015 with some increadible amateur performances. Neil Tappin caught up with the Irishman after he turned professional...
On July 20, 2015, a 22-year-old amateur called Paul Dunne was the last player to tee off in the final round of the Open Championship (opens in new tab).
Playing alongside the 2010 winner, Louis Oosthuizen, Dunne had become the first amateur (opens in new tab) since 1927 to lead golf's most prestigious tournament after 54 holes.
Since then, he has gone on to play a pivotal role in a triumphant Walker Cup side, turn professional and earn his European Tour card by finishing tied for 13th at Q-School (opens in new tab). As far as career trajectories go, this one is up there with the very best.
If you're looking for a rookie to make a splash in 2016, Dunne has the pedigree. In this exclusive interview, the Irishman tells us more about his career to date. From his time at university in the United States of America to his Open odyssey, what follows is a candid insight into one of the most promising talents in world golf.
Tell us about your introduction to golf...
Greystone was the town I lived in and I got into all different types of sports – football, tennis, and GAA [Ed - Gaelic sports] when I was young. My parents were members of a golf club and when I turned ten I joined. They had an academy every Saturday at 4pm for the juniors, so that's when we played competitions and practised.
As the summers went on, we started to play every day. I only began focusing on golf at 13 or 14, when I started getting pretty good. When my friends started to fizzle out of the game, when they got older and stopped playing as much, it was the opposite for me. I started to make Irish teams and to play more competitively.
What was it like attending the University of Alabama at Birmingham and being a part of the elite US amateur scene?
It was great. There were two factors that were big for me. Our assistant coach at the time (now head coach) was Alan Murray. He was originally a member of Greystone when he was younger, so I had that Irish influence there. And my roommate for four years, Ryan Davies, was Welsh, so it made the transition a bit easier and I wasn't dropped fully into the deep end! What I liked about it was obviously the weather's very good and it was very competitive.
You were living with people on the team and not everybody got to play on the team, so you had to prove yourself. You'd have work-outs a couple of times a week in the morning, then you'd have class, then you'd have practice, then you'd get back and study so you didn't have much time to miss home. It got you focused on working hard to get better.
What was the plan when you graduated last April?
Starting my third year in college [Ed: of four], my goal was to be an all-American and make the European Palmer Cup team. After that, I played the summer back at home and everyone wanted to make the Eisenhower Trophy team.
And then the main focus was the Walker Cup in 2015. Obviously you have week-to-week goals as well, and you try to do your best individually, but that was the longer-term reward for playing well. So when I finished college in April 2015, I played in amateur tournaments to try to do as well as I could and see if I could win something and then play Walker Cup. Turning pro after that was always the plan.
Was there any temptation to turn pro before that point?
There wasn't any temptation until after the Open, when I got some opportunities to play some events, but it wasn't something I took too seriously. I think I'd have regretted it, not playing Walker Cup. Everyone is different.
Some people have said that it wasn't the smartest move waiting for the Walker Cup when as a professional it's not a big deal, but for me the Walker Cup is a big deal. There is a lot of history behind it, and it was a big thing. I knew there was plenty of time to turn pro after that. I knew there would be some events that I could get in and that I could go to Q-School to see if I could get a card.
What did you learn from playing in the 2014 Open at Hoylake?
It was great. I was there with Bradley Neil, who won the British Amateur, on the Monday and we arranged to go out for a nine-hole practice round with Shane Lowry. Obviously Shane's a big name, but I knew him, so it wasn't too overwhelming. Then Adam Scott joined us for nine holes and he was World No.1 at the time! It was good that way, it dropped us in the deep end.
I think what I learned from it was how to handle myself, to hit shots in an environment that I wasn't really used to. It was quite hectic, with a lot of people around, a lot of movement. It's important to try to stay focused even when there are a lot of distractions around. Although I didn't make the cut it was definitely a good experience.
How had your game changed by the time you teed up at St Andrews in 2015?
I was a much better driver of the ball. I think that has made a big difference to my scores, which are a lot more consistent. As well as that, playing The Open the year before was such a big deal for my family and everyone around the club, it was hyped up so much.
With the first one out of the way, the hype around it wasn't so much, so it was more about playing well rather than just being there. It was also great to have my coach from America, Alan Murray, supporting me. He was over in Europe recruiting for juniors, so it was fantastic to have him on the bag as well.
How did you feel after round three, becoming the first amateur to lead the Open at that point since 1927?
I felt okay. There were nine of us in our house, so I wasn't sitting there on my own thinking about it. My tee time was also late on the Sunday [Ed - round three] so by the time I'd finished, done interviews, had food – it was late! I had a lot of adrenaline going during the day and then I sat on the couch afterwards and just collapsed. So I didn't have any trouble getting to sleep.
How about teeing off in the final round tied for the lead?
I think the big difference was that for the first few rounds it was just so great to be doing well. I guess during the last round I was focused too much on trying to win. With so much golf left, if only I'd just gone out like the other days, trying as hard as I could rather than trying to win. If I didn't hit a perfect shot, panic set in that I might not win. It's easy to say that you have to get off to a good start, but you don't have to.
That's something I definitely learned from it – not to force the issue trying to hit it too close on the first few holes. When I did get it back on the 5th, I put way too much pressure on myself to make birdie putts from 10 to 20 feet, rather than just focusing on my targets, my golf and then letting the rest of the things take care of themselves.
Rather than going out with the goal that I needed to win – you can't control that – it would have been better to work out a goal like trying to hit every shot in the right frame of mind. If that's your goal, you take the result out of it. You're not trying to control your ball flight, you're trying to control your thought process. I think I'd have played a lot better if I knew that going in, but then again I'm not sure I'd know it now if it wasn't for that experience.
Did you genuinely think you could have won The Open?
Definitely. If I just shot 68 I could have won. I can shoot 68 at St. Andrews. The forecast was for a little bit more rain and I hadn't played in any rain that week. If I do struggle in conditions, I tend not to struggle when it's windy – I'm used to wind – but I do struggle when it's wet, so that was playing on my mind as well. It's definitely something I've learned from and hopefully I can keep learning different aspects and getting better.
Can you give us an idea why the GB&I team was so dominant at the Walker Cup?
I can't speak on behalf of their team and I can only speak about what we did, but first of all, I think a really important thing was that we had five established foursomes pairings. I played with Gary Hurley – we had played together for a few years. Jack Hume and Gav Moynihan played together. Grant Forrest and Ewen Ferguson, although they didn't play, were the foursomes pairings for Scotland.
Jack McDonald and Cormac Sharvin both live together in Sterling University and they've played foursomes together. And Jimmy Mullen and Ashley Chesters had played for England together for years as well. There was no confusion about who was going to play with who.
Everyone knew that these were the five pairings, we just didn't know which four were going to play. As well as that, we're all good friends. Nigel Edwards was a great captain. He was really relaxed at the start of the week. Then, as the week went on, the intensity built up and his team meetings and the stuff he had planned for us went with that flow. I think we were all ready to go come Saturday.
Did you feel a sense of responsibility coming in as one of the leading players?
Not really. Everyone knew each other really well, especially myself and the other four Irish lads. We were great friends; we've travelled together for a few years and it was not like my record was way better than anyone else's. Ashley Chesters came 12th in The Open and he won two European Amateurs. He was No.5 in the world and was our highest-ranked player.
Everyone had done a lot, if you just look at the tournament records. In fact, that was something Nigel called out for us when we got there, just to make us aware of what we had all achieved and that we all deserved to be there. I don't think between the ten of us there was any weak link, everyone was playing well. Obviously the Americans were ranked better on paper, but ranking is just a number at the end of the day. We knew we had a strong team.
How have you found the transition into the professional ranks?
My first start was at Q-School in Austria the week before the Dunhill. I was lucky that I had the experience of playing in two Opens. I knew what the environment was going to be like. But at the end of the day it's just golf. The ball doesn't know if you're an amateur or pro, you just have to hit it in the hole and then count it up at the end! I think it was more important focusing on getting my game right. One thing I didn't want to do was change anything.
I've been doing things very well as an amateur and getting better as time has gone on, so if I just keep doing those things, I'll be better as a pro. I was just trying to play as well as I could. It's that simple. You can complicate it as much as you want or make it as simple as you want.
If we were to be sat here in five years, what would you want to have achieved by then?
To be honest with you, I haven't really thought about it. I'd love to say I've won a few times on tour, played on a Ryder Cup (opens in new tab) team or something like that, but I haven't really looked that far ahead.
Tom Clarke joined Golf Monthly as a sub editor in 2009 being promoted to content editor in 2012 and then senior content editor in 2014, before becoming Sports Digital Editor for the Sport Vertical within Future in 2022. Tom currently looks after all the digital products that Golf Monthly produce including Strategy and Content Planning for the website and social media - Tom also assists the Cycling, Football, Rugby and Marine titles at Future. Tom plays off 16 and lists Augusta National (name drop), Old Head and Le Touessrok as the favourite courses he has played. Tom is an avid viewer of all golf content with a particularly in depth knowledge of the pro tour.