Henni Zuel Q&A
Zuel discusses her projects, including getting juniors and ladies into the game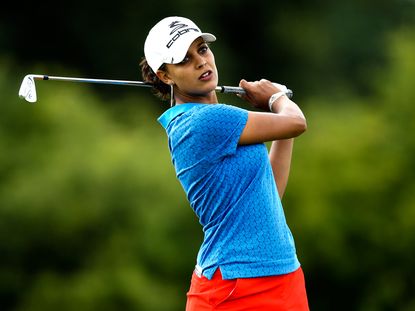 (Image credit: Getty Images)
The 26-year-old discusses her current projects, including efforts to get more juniors and ladies into the game
Henni Zuel Q&A
Talk us through your plans for 2016, and what you've been up to recently…
I've been doing stuff with Sky Sports, which has been really good fun. I've really enjoyed doing a few bits in the studio. I'm just focusing on that sort of work, and also doing some things to help grow the game of golf. I was part of the 'This Girl Golfs' campaign (opens in new tab) recently, which is something I'm really proud of. Hopefully that's worked well and helped with getting young people into the game, and more specifically more girls into the game. I think women's golf is going places at the moment so it's a really exciting time.
You're passionate about making golf more accessible to young girls. Tell us about some of the things you've been working on…
The way I've seen women's golf grow over the last five years has been fantastic. There's way more televised golf, which has been great to see, and This Girl Golfs was fantastic to showcase how golf really is at the moment. I love getting girls and women of all ages to see how the game has changed from the old tag it had to what it actually is nowadays, a young and dynamic sport. To get that message out there, and the visual image through video, was great.
Could you give an overview of what the This Girl Golfs campaign is about?
It's a Sport England initiative to try and grow the game and get more women into the game. It's about showing that it's accessible to all different ages and backgrounds in different formats, whether that be the driving range, mini-golf or an actual round.
Do you think women's golf still suffers from an image problem?
I think it's changing. It is what it is – an old-fashioned game with a lot of fantastic roots, but now it's changing with things like the Tiger effect. Golfers are athletes nowadays. I think inside the game we all know how much it's changed, but it's getting that image and message outside to people who may not be aware. It's about getting people who are thinking of taking up a sport to know that golf is a really good option.
Are strides being made in that area?
Yeah, definitely. I think social media has been huge for golf, being able to promote the sport in a fun, dynamic and engaging way. Youngsters like Charley Hull and Lydia Ko are the best in the business – they're also young and going out at the weekend and having fun, but they are still dedicated. To be able to promote that in their own way through social media has been key.
Why is growing the game something you're so passionate about?
Golf has given me so much growing up and I'm really grateful to the sport for all the enjoyment and what it taught me. It is a traditional game, and I think that's really positive – the complex rules and things that seem old-fashioned are great modern-day ethics for teaching young people. I'm really grateful for what golf has given me in that sense, as well as travelling worldwide, the people that I've met, the lifestyle that I lead. I genuinely love the game and I think if we can introduce people to new, modern golf, young people can benefit.
You were labelled as one of the next big things in English women's golf. Did you feel that pressure on your shoulders and did that affect you career path in any way?
It's fantastic to have my amateur career recognised in the way that it was. I had great support from the media, and I'm really grateful to have had that. I've loved my years on tour – it's been great, and the LET (Ladies European Tour (opens in new tab)) has grown so much since I first went on tour seven years ago, in terms of the tournaments, the funding, the opportunities and the media interest.
Given your current projects, is it fair to say you see your future away from pro golf?
I wouldn't say that. You never know what's going to happen in the future.
Who has the best golf swing on the Ladies European Tour?
I'm actually of the opinion that it's not about technique at all, so I'm not much of a swing watcher. I really do believe in the basics and learning how to score. You need to get a good set-up, but then it's all about movement patterns. Your swing is what it is. It's like your walk, for example. If I were to give any youngsters advice it would be to not get too lost down the technical path and to believe in what they have already, and also to learn to score with their B or C games, as Tiger famously did for so long.
Would you swap your life for Charley Hull's?
Good question! No. She's a really good friend of mine. We spend a lot of time together and get on really well. We're very different people but we come together socially. Charley has a great life but it's incomparable. I don't think I'd like to swap lives with anyone.
Are the most important attributes when you started out still the most important today?
I'd say so, because it's mental. If I had to be more specific than that, it's about having a good sense of self – knowing your game and knowing how to score.
Do you think The Open no longer being on BBC will hamper participation?
I think with social media and the internet, golf can be viewed in so many different ways. I don't think it makes much of a difference. As long as it's out there in its many different formats, people are still going to be able to see it and engage with it, and new people will be able to catch on to it.
Tom Clarke joined Golf Monthly as a sub editor in 2009 being promoted to content editor in 2012 and then senior content editor in 2014, before becoming Sports Digital Editor for the Sport Vertical within Future in 2022. Tom currently looks after all the digital products that Golf Monthly produce including Strategy and Content Planning for the website and social media - Tom also assists the Cycling, Football, Rugby and Marine titles at Future. Tom plays off 16 and lists Augusta National (name drop), Old Head and Le Touessrok as the favourite courses he has played. Tom is an avid viewer of all golf content with a particularly in depth knowledge of the pro tour.