Galvin Green – They never compromise
Fergus Bisset talks to Galvin Green's CEO Christian Nilsson and lead designer Mats Lundqvist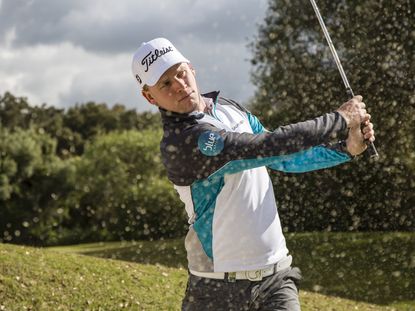 Get the Golf Monthly Newsletter
Thank you for signing up to Golf Monthly. You will receive a verification email shortly.
There was a problem. Please refresh the page and try again.
Fergus Bisset met with Christian Nilsson and Mats Lundqvist from Galvin Green to talk about the brand, the Ryder Cup and their ongoing quest to produce the highest quality and best-performing golf clothing.
In this country we are blessed to have some of the world's greatest golf courses but we are also blessed with some of the world's most unpredictable weather. In four hours on the fairways it's highly possible that we might experience all four seasons with sun, wind, rain and cold to contend with.
Golfers in the UK and Ireland need the right kit to be able to continue to enjoy the game throughout the year. Over the last two decades Galvin Green has become synonymous with performance wear that has revolutionised the golfing experience for countless players.
When I moved back to Aberdeenshire 11 years ago, I did so with a view to playing considerably more golf than I did when living in London. I quickly realised this would be possible, but I also quickly realised that I would need to upgrade my golfing attire. After one particular drenching at Murcar, my antiquated "waterproofs" were proved to be less than fit for purpose. On returning to the changing room I peeled off sopping jacket and trousers to reveal clothing underneath that was somehow even more soaked than my "rainwear" which, quite swiftly, found itself a new home in the locker room bin.
My playing partner laughed as he removed his outer layer. I was aghast to see his chinos and sweater were absolutely bone dry. "You've got to get some Galvins," he said.
After a little further enquiry as to what he meant by this mythical term, sounding like something from Arthurian legend, I had procured myself a set of Galvin Green waterproofs within a week.
For serious golfers, Galvin Green represents a benchmark of performance. Their products will always deliver the highest levels of comfort and protection. I can think of numerous rounds I would have enjoyed considerably less/ would not have enjoyed at all, had it not been for Galvin Green performance wear. I would be pretty certain there are plenty of golfers in this country who could say the same thing.
Galvin Green was established back in 1990 by entrepreneur Tomas Nilsson. He saw an opportunity to make golf-specific clothing to meet the needs of golfers who want to play in changing weather conditions.
Galvin Green produces purely golf clothing and, over the years the company has been responsible for a number of innovations that have been game-changers in performance wear. They produced half-zip jackets, adjustable chest, neck and cuffs, stretch fabrics and streamlined jackets. They have worked with GORE-TEX and GORE WINDSTOPPER to produce garments that perform in the most extreme conditions. They have pioneered the concept of multi-layering for golf, encouraging golfers to dress from the inside out… Basically, they have been at the forefront of quality golf performance gear.
This year Galvin Green became the Official Team Supplier of Weatherwear to Europe's Ryder Cup Team at Hazeltine. Captain Darren Clarke, his Vice Captains, players and caddies will all wear revolutionary new rain suits and Windstopper garments. Galvin Green will also supply the European team at Paris in 2018. There will be more to come on these garments and the new technologies involved at the start of September.
Earlier this month I was very lucky to be able to meet the men behind the Galvin Green brand on a trip to Gleneagles. I had a chance to spend some time with the company's founder Tomas Nilsson and then to sit down for a chat with Galvin Green's Lead Designer Mats Lundqvist and CEO Christian Nilsson. Mats has been with Galvin Green since the company's early days and Christian has been part of the team since 1999. I was struck by their passion for golf and for their products, their desire to continue to push the boundaries and innovate. These are golfers dedicated to making equipment for golfers. Their strapline is "we never compromise," and it's no throw-away statement!
ML is Mats Lundqvist – Lead Designer at Galvin Green, CL is Christian Nilsson – CEO of Galvin Green
Q: Tell me a little about the history of Galvin Green and your involvement with the company…
ML – I joined Tomas before he created the brand. I started as a young guy and have been with the company for 30 years. Back at the start we were doing different sports, ski wear and casual clothing too.
In the late 80s early 90s I had started playing golf because Tomas introduced me to the game – he's played since the early 1970s. He actually gave me a set of clubs and that's how I started. I played golf every day and I loved it.
After a year or two, we thought, wait a minute, we've got to start making clothing especially for golfers, because back then what was out there was quite poor. So we created a brand name: "Galvin Green." It's debated a little as to where that came from. I think it was actually a marketing agency who came up with the name. And I think it was that they felt it should be a person's name and then something to do with golf… "Galvin" and "Green." And there it was.
So then it all started. The first collection was in 1990 and we started doing classic stuff, rainwear especially. Then in 1991, 92 we felt we needed to stand out a little bit in terms of design so we started adding colour into our gear and we started to adapt the jackets and trousers for golf even more. So specific golf details – turn-up cuffs, adjustable chest width. All those things. Then it started rolling because golf consumers started to understand that we were actually thinking about what you need on the golf course.
CN - I was a golfer when I was young. My father and mother went on honeymoon to Scotland and they just always played golf.
I quit school quite early and I went as a ski bum to Austria for a while. I came back and went to high school and to university. I started working for an elevator company in sales and marketing and then in 1999, after 10 years, I was contacted by a head-hunting firm who asked if I was interested in a new job. I was, and went for it. I met Tomas a couple of weeks later we shook hands and that was that.
Tomas founded the company and he ran the company, he was and is the company. Then, in 2001 we went to a customer and on the way home we stopped the car and Tomas said, "Christian, you interfere too much in what I'm doing… So it's better you do it." He said it in a nice way and then asked if I was interested and I said of course. So March 2002, I took over as managing director for the company.
Q: What are the innovations you've been proudest of?
ML - When we first started using GORE-TEX and WINDSTOPPER, that was 91, 92 I think. These were fantastic fabrics and they work really well, but if you're not wearing the correct things underneath, they don't work as well. So, when we started doing this we realised we needed to teach golfers how to dress from the inside out. Back in 96, 97 we started doing shirts in 100% polyester that were really breathable. And at that time we were pioneers to a certain extent. So we had a tough time because everybody wanted cotton shirts. We were offering polyester shirts and some people didn't appreciate that. But we were persistent and the function became more important than the hand feel.
But now, today, a polyester shirt is almost the same feel as a cotton one. So that was one of the things I was proudest of, one of the nicest things we've done – being ahead of the curve.
Q: Where do you see Galvin Green in five years time?
ML - I think we will be on the same track providing functional golf gear, but I think things will have evolved even further when it comes to feel, softness, lightness, the way you seam seal garments for example, the way you knit fabrics. So our mission now is to take what we have and to improve it even further. As a golfer, if you don't notice what you're wearing then that's the best thing.
Huge growth is not the objective. We want healthy growth. We say "we never compromise" but it's true. We don't want to do something simply to grow the business and earn a little extra money. It has to be long term or else it's not compatible with what the board, and what Tomas want to do.
CN – It's important to be different and to make changes, to do things better. We should invent products that the customer and consumer didn't even know existed. That is what we want to strive for.
In terms of business, we might be on a little higher turnover, I think we will be a little more established in North America. I think we will have a solid customer base in Europe. We might have less customers overall… We will have retailers doing a better job than they are today. We are looking to retailers who are selling the whole package from Galvin Green – not just the odd jacket. We have a world-class product and we should have world class resources for getting that product to the end user.
Q: Is there a limit to technical advancements in performance wear?
ML - I don't think so. I think techniques will keep evolving. Look at technology like smart phones, it's constantly moving forward. And I think textiles right now, it might not be such ground breaking innovations, it's small changes. Also, eventually, there will be new ground-breaking technology in terms of production. For example – robots sewing the garments together perhaps… you will always have exactly the same measurements.
CN - What will affect us in the future is the environment. I think our kids now will be more aware of environmental sustainability and I think this is a big thing going forward. When they are 25, what will they ask for in a product?
I also think that a lot of technologies like chipping, GPS and electrical fibres through the fabrics might come in. So, for example, instead of filming you to see how you are swinging, you actually may have sensors within the fabric of a sweater where you can monitor and analyse movements.
Q: What about crossovers from other sports?
ML - We are really interested in watching what other fields are doing, like cycling, hiking, running. This is because there are a lot of clever brains out there thinking of new ways to do stuff and we have to follow what's happening.
Q: How important is the association with the Ryder Cup
ML - It's really exciting and obviously we hope they will wear something during the competition so we will get a little publicity. But I understand that might not happen and I think, even though they might not require it, we will still be suppliers; we can talk about it.
CN - It's to do with being recognised. There's a lot to do with self confidence that we are selected for this job, that we are partners with them.
We think that together with the Ryder Cup we can do a little bit more. We hope we can get more exposure outside of the UK and Ireland.
We are established in Europe but the Ryder Cup is good timing, we have a new product and technology we want to launch and we can do it through this event. We are just starting in the US so, with it being a North American event, this is good timing also.
Q: You have a number of younger Tour players on board. By targeting these younger, under-35 guys and girls, do you risk alienating older customers?
ML - It's always a discussion in-house: what is our target group? And we are always coming back and saying: we can't put an age on the target group because our target group is golfers who are serious about their game and want to invest in their golf. If they are 60 or 16 it doesn't matter. If we can offer them something that helps them to feel more comfortable on the golf course, then they are our target customers.
CN - I don't think there's an issue with targeting a younger audience. Whatever age we are: 40, 50, 60, we still feel like we're young, so why shouldn't we go in and buy younger, fresher clothing? Because that is good for you as a person to feel better and more positive. Hey, I'm still 22!
Galvin Green links masterclass video:
Q: How important is the expansion of your ladies range?
ML - I think that the ladies market is a tricky one and we've been doing it for a long time and we have been searching for what is Galvin Green in ladies? And we have tended to be a little too technical in some aspects. Women golfers might be more fashion orientated, but we want to combine that with performance. We don't want to compromise in terms of technology and function in the ladies because that is not us, but we want to add fashion.
CN - There are more ladies starting in the game and we can tap into that. We are not an extreme fashion brand or a unique ladies brand but we do have something unique to find that middle ground between fashion and performance.
Q: What are the key relationships for Galvin Green?
CN – Well, with retailers. We want to be partners. We want retailers to sell the whole Galvin Green package – the concept of dressing from the inside out. But we must be a reliable partner and retailers who use us should see us as a consultant not only as sales guys or service guys. If we can advise how a display should be, when we put in more effort to how we look in store then the retailer will increase business.
We want relationships with the really good club pros who are great at getting the message across. Every club pro has 1,000 VIP customers who he or she knows and is able to speak to and sell to. Which other shop has that sort of relationship with the potential customers?
Then our players: We are competing because, as soon as a player becomes famous, they are liable to leave us for their hardware brand. We will never put a huge amount of money into a player, we would rather invest that in research and development. But we try to work with the 20 or so players we have, to do a lot on social media to help them and us get as much as we can from the association.
And our consumers of course. A great thing for them is that we only deal in golf. I think that consumers like to show people what they are… If they are sporty for instance: are they a sailor, a tennis player, cricket player, footballer?… With Galvin it's clear that you are a golfer and I think people are proud of that. If you see Galvin Green clothing on somebody, you can say – 'hey, that person is a golfer.'
Get the Golf Monthly Newsletter
Tips on how to play better, latest equipment reviews, interviews with the biggest names and more.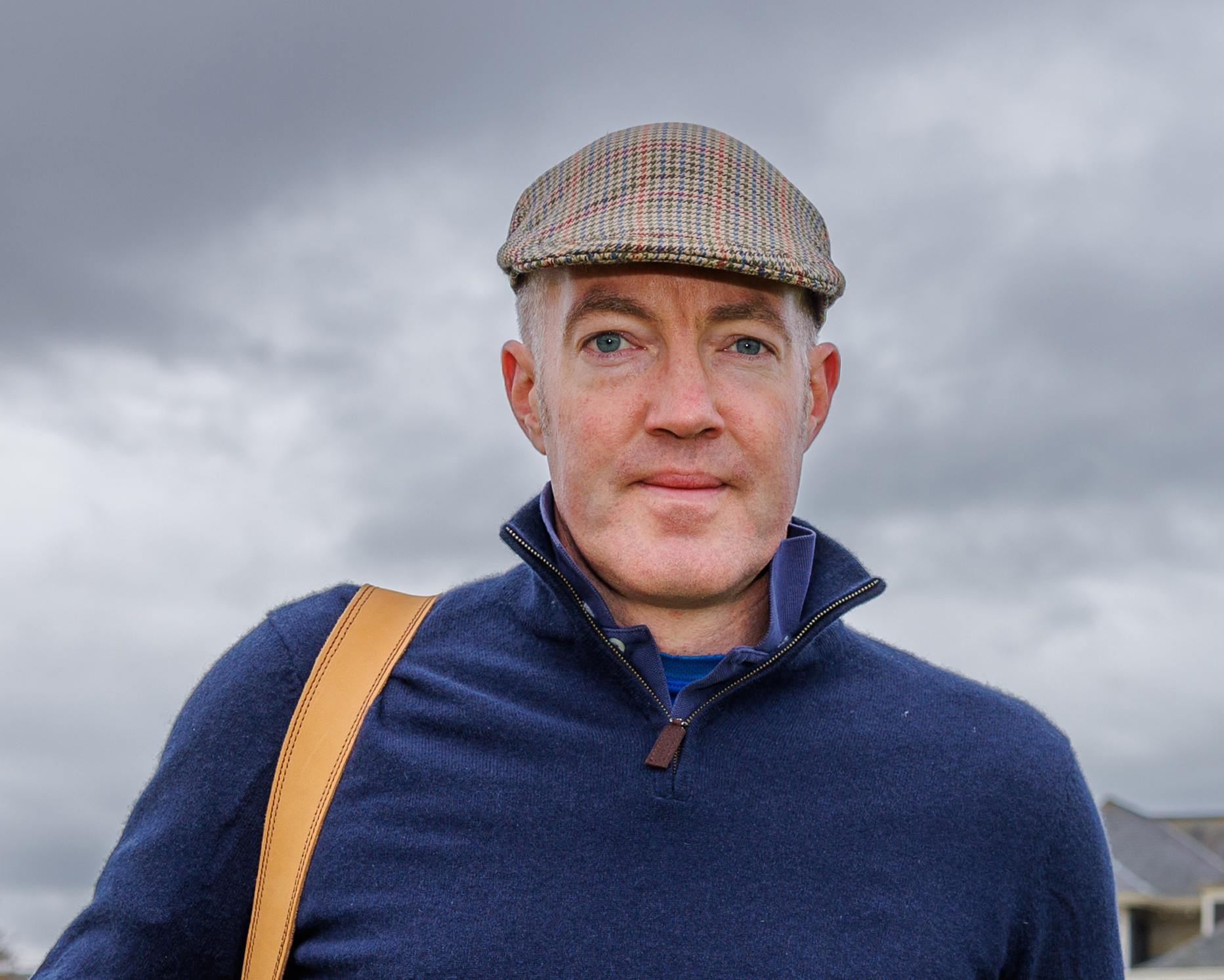 Fergus is Golf Monthly's resident expert on the history of the game and has written extensively on that subject. He is a golf obsessive and 1-handicapper. Growing up in the North East of Scotland, golf runs through his veins and his passion for the sport was bolstered during his time at St Andrews university studying history. He went on to earn a post graduate diploma from the London School of Journalism. Fergus has worked for Golf Monthly since 2004 and has written two books on the game; "Great Golf Debates" together with Jezz Ellwood of Golf Monthly and the history section of "The Ultimate Golf Book" together with Neil Tappin , also of Golf Monthly.
Fergus once shanked a ball from just over Granny Clark's Wynd on the 18th of the Old Course that struck the St Andrews Golf Club and rebounded into the Valley of Sin, from where he saved par. Who says there's no golfing god?