Debate: Are Fast Greens Good For Club Golf?
Which side of this debate are you on?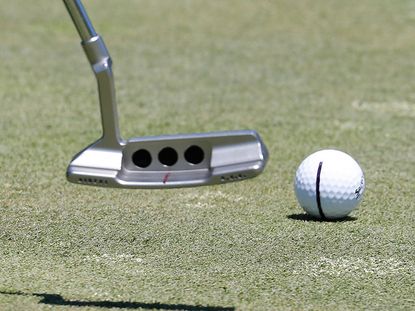 Are slick greens a feature of the modern game or do they simply slow down the pace of play? Two GM regulars have their say...
Debate: Are Fast Greens Good For Club Golf?
Fergus Bisset says Yes
Fast greens are a feature of the modern game.
Agronomy and greenkeeping equipment have moved on in recent decades (just as with other aspects of the sport) and are now so advanced as to allow the preparation and maintenance of fast putting surfaces throughout the season.
Where it's possible, and as long as it's practicable, i.e. the slopes aren't too severe or the wind isn't forecast to be too strong, the greens should be as quick as possible.
Not to strive for this objective is backward.
It's the equivalent of refusing to move on from wooden-headed drivers and wound golf balls.
The ability to deal with a fast green is a key skill in golf today.
Watch the pros and you'll see that touch on the putting surfaces is a crucially important element of the competition.
WATCH: How to improve your putting feel
And it can, and should, be the same at club level.
If the greens are fast, the members and visitors will steadily get used to them and then begin to thoroughly enjoy the challenge and fun of judging a swiftly running, breaking putt.
Yes, there will be those poor putters who feel more comfortable when the surfaces are sticky, but many of them would still say they recognise that a key indicator of a quality green is how far the ball runs out.
And why should clubs cater to those with a deficiency in an area of their game rather than those with an aptitude?
Should bunkers be removed to aid the weak sand players? Should the rough be cut down across the course to assist the wayward hitters? Of course not.
Golf is tough, and that is what makes it so very compelling.
To finish, consider this: have you ever heard someone come off a course and compliment the greenkeepers on their "wonderfully slow greens"?
Continues below
Expand Debate: Is It Okay To Lose Your Temper On The Golf Course?
Debate: Is It Okay To Lose Your Temper On The Golf Course?
Two GM regulars find themselves at different ends…
Expand Jordan Spieth's incredible putting technique… Revealed!
Jordan Spieth's incredible putting technique… Revealed!
If you are looking for a textbook illustration…
Expand Debate: Is It Ever Okay To NR?
Debate: Is It Ever Okay To NR?
Two GM regulars have differing views on golf's…
Jeremy Ellwood says No
The quest for ultra-fast greens has turned into an unhealthy obsession among greenkeepers and golf clubs, becoming a kind of ill-advised benchmark for prestige.
I'm not a greenkeeper, so can't comment on whether or not slick putting surfaces are good for the turf, though I believe perhaps not.
What I'm more concerned about is whether or not they are good for club golf, and from observing countless club golfers in action over the years, my feeling is that regardless of what they themselves may think, most do not putt well when the greens get too quick.
Often the very same golfers who come off the course revelling in the speed of the greens are somehow able to turn a blind eye to the fact that they've just taken 40 putts.
We should also remember that the greens at many of our clubs were designed in an era when speeds ran nowhere near as fast, with some of their slopes and borrows singularly ill-suited to ultra-fast speeds.
WATCH: Two great short putting drills
There are few things more depressing than hitting a nice shot into ten feet above the hole, barely touching the putt, knocking it four feet past and missing the return.
Birdie into bogey in an instant. Where's the fun in that?
Then, of course, there's the impact on pace of play.
More intense putt-reading trying to fathom out the borrows, and more putts full stop, just takes more time.
As we all know, the last thing golf needs right now is anything that slows the game down.
I'm not advocating greens that are slow – just a nice, sensible pace.
I actually think I'm a reasonable putter on slick surfaces; but I know for certain that I'm a better putter when the greens are a little way shy of formica-fast.
Let us know what side of the debate you're on by commenting on the Golf Monthly Facebook and Twitter pages
The leading website from the world's oldest golf magazine, we're the go-to destination for amateur and keen golfers alike who are keen to up their golfing game. As well as expert course reviews, news and tips to improve your handicap our golf-focused travel content will help you pair teeing off with your travels in some of the best destinations around the globe.