Debate: Is It Ever Okay To NR?
Two GM regulars have differing views on golf's No Return...What's your stance?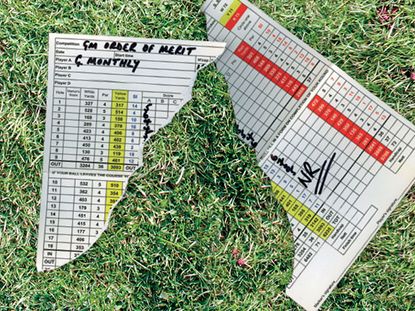 Two Golf Monthly regulars go head to head on the dividing topic of the No Return...
Debate: Is It Ever Okay To NR?
Fergus Bisset says...Yes
Many incorrectly see the NR as the pinnacle of golfing cowardice, but there are scenarios when it's not only okay but actually the right thing to do.
Here are three examples: In medal play, you should always hit a provisional ball if you're in any doubt over a shot.
Occasionally, though, there will be no doubt, yet inexplicably the ball can't be found. If you're still contending, or in with a chance of playing to handicap, you'll have to walk back.
If you're already out of it, you're entitled to NR to maintain pace of play in the competition and minimise disruption for your playing partners.
Most of us have experienced that terrible scourge, the dreaded… say it quietly… 'shanks'.
Hugely destructive and psychologically damaging, they are also contagious.
Keep playing with a dose of the 'unmentionables' and you could do your, and your partners', games irreparable damage.
Far better to pick up, hit the odd drive and putt and simply provide shank-free company for those still playing on sensibly.
An NR needn't mean giving up.
Thanks to clause 19 of the CONGU Unified Handicapping System, you can have a disaster on a hole without it being end of game.
Clause 19 means the worst you can have for handicap purposes is a net double-bogey.
After 13 shots in a bunker, it might be best for everyone if you pick up, allowing play to continue and for you to return to battle on the next tee.
It may say NR on your card, but you could still play to, or even beat, your handicap.
The option to NR shouldn't be used flippantly, but there are circumstances when it's the most practical, polite and unselfish course of action.
Continues below
Expand Debate: Is It Okay To Lose Your Temper On The Golf Course?
Debate: Is It Okay To Lose Your Temper On The Golf Course?
Two GM regulars find themselves at different ends…
Expand Are Golf Clubs Becoming Too Expensive?
Are Golf Clubs Becoming Too Expensive?
We debate if prices are rising too high,…
Expand What is Clause 19 all about?
Had a bad hole? Don't panic, there's always…
Jeremy Ellwood says...No
Golf is a capricious mistress who gives and takes away in equal measure.
One week you're contemplating Q-School, the next you can't hit a cow's backside with a banjo.
But it is a flawed individual who is as happy to take the plaudits of success as he is to hide in the anonymity of an NR when things don't go so well.
Yet we all know you can quite easily score 20 shots better or worse from one week, even one day, to the next – even the top pros.
In 1990, American Mike Donald led The Masters with a first-round 64 before returning a shot-a-hole-worse 82 on Friday to just about make the cut.
I understand the arguments about pace of play, the enjoyment of others and not wanting to trek back when you lose a ball with the score already gone.
But I would hazard that more NRs are perpetrated out of fear of what others will think, for golfers do tend to focus on the worst of the actual finishers rather than the NRs below.
But there's something admirable about fighting on to the finish, so next time you're thinking of NR'ing as a cricket score looms, remember the 1992 Olympics and Derek Redmond, who tore a hamstring on the back straight.
Instead of allowing himself to be stretchered off, he got back up and limped slowly on to the finish, with his father rushing on to help.
"You don't have to do this," his father said.
"Yes, I do," Redmond replied.
Despite no longer being able to compete, he still wanted to finish what he had set out to do on the starting blocks.
Something to remember next time you step on to the 1st tee?
Mike Donald at the 1990 Masters "If you're already out of it, you're entitled to NR to maintain pace of play in a competition"
What is your stance on this debate? Let us know on the Golf Monthly social channels.
The leading website from the world's oldest golf magazine, we're the go-to destination for amateur and keen golfers alike who are keen to up their golfing game. As well as expert course reviews, news and tips to improve your handicap our golf-focused travel content will help you pair teeing off with your travels in some of the best destinations around the globe.