Around the world in 80 courses
Rob Smith had his most globe-trotting year yet going to 80 courses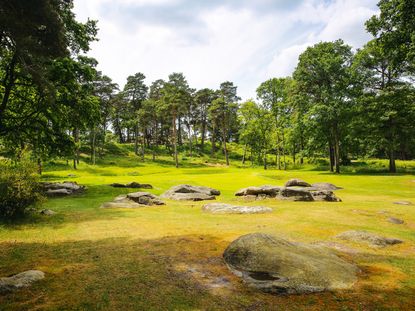 (Image credit: Getty Images)
In 2015, course reviewer and travel writer Rob Smith had his most globe-trotting year yet. Here, he reflects on an exciting 12 months.
Around the world in 80 courses
The year between the biennial Golf Monthly Top 100 and Next 100 rankings gives me a little more time to spread my golfing wings, and last year this happily coincided with a healthy number of invitations to pastures new. These trips, combined with my regular off-duty golfing travels, led to a personal record number of courses played.
Having joined my GM friends Jeremy Ellwood and Kevin Murray at the lovely downland course at Pyecombe just 36 hours into 2015, I followed this with a couple of rounds at my home club, Tandridge.
However, what really propelled the year into action was a potentially madcap road trip to tick off two recent new entrants into the Golf Monthly Top 100. Their arrival had meant that I had no longer played the lot, and I needed to put this right.
I therefore press-ganged a good friend to accompany me in true Thelma and Louise style to Scotland and north-east England. There, we thoroughly enjoyed the Renaissance Club and Close House, and I was relieved that both fully justified their positions.
To stay at both was a real bonus, and we filled the trip with a few more important catch-ups, such as the excellent new Dirleton Links at Archerfield, the very enjoyable and quite different links at Dunbar, the oldest course in the world at Musselburgh and another fine new championship course in the north east, Rockliffe Hall. After a few days at home, it was time to head off to sunnier climes and the atmospheric ancient city of Marrakech (opens in new tab).
I had been to the city less than a year before, but this time I was staying right in the heart of the Medina – the old town – in a traditional and beautifully refurbished riad. It's like taking a magic carpet ride back in time to a hidden world, and I very much enjoyed my February forays to the new Montgomerie design, the very pretty 9-holer at Atlas, the excellent Troon (opens in new tab)-managed facility at PalmGolf and, perhaps most of all, to Assoufid, a new and expansive desert-style course.
The city really is developing as a golf destination, and the relatively short flight makes it an excellent venue for breaks of any duration, as well as for those wanting more than just golf.
I had just over a week at home before a thrilling whistle-stop trip to Kenya (opens in new tab) to combine golf with safari and scenery.
I was very impressed with Windsor, which is pretty much in the heart of Nairobi but feels as though you are in the country, and although the course at Great Rift Valley doesn't excite from a purely golfing perspective, it more than makes up for it by way of setting, views and the encounters with zebra and other exotic wildlife.
As something of a golf-course junkie, I am always more than happy to meet up with friends to play somewhere new. Very often it turns out to be a genuine, undiscovered treat; sometimes it's a little more ho-hum. In the middle of March, however, I returned to Cyprus (opens in new tab), where I had previously been on a walking holiday but never played. Elea is a fine Nick Faldo design with some very attractive views out over the ocean, Secret Valley is quirky but very enjoyable with some very engaging holes and Aphrodite Hills has some very strong holes with a couple of classics at 7 and 8.
Later in the month, I met up with the team from YourGolfTravel at Hanbury Manor, an attractive time-lapse collaboration between Harry Vardon and Jack Nicklaus Jr.
I enjoyed playing Centurion on the outskirts of London when it first opened and I was pleased to return in April to see how things were progressing. There is something very refreshing and relaxing about the whole set-up, and the seven par 5s give you hope for points.
This made for an interesting contrast with Hindhead three days later, which has always impressed me but possesses many long and very tough par 4s. Chalk and cheese, but both huge in merit.
My next trip was a real eye-opener as all of my previous golf in Portugal (opens in new tab) had been around Lisbon or on the Algarve, which are comparatively commercial and well developed. The beautiful north is far less so, especially as you move away from the delightful city of Porto.
I found the golf to be extremely varied, with Estela and Vidago Palace the best tests. Even at those courses where the design was perhaps not technically so great, the views and natural beauty more than made up for it. There wasn't one that I wouldn't happily recommend.
So unusually overcrowded was my diary in May that, despite the kind offer of a room in their excellent Dormy, I decided to make the 420-mile round trip and play Royal Porthcawl in a day. In my view, it is the best course in Wales and easily warrants such a journey.
The following week, I flew down to Montpellier in the South of France for a few days with a dozen friends from Tandridge. On such a trip, there are more laughs than Stableford points, and while the clubs we played will not be hosting the French Open, they were just the type a group with mixed ability and delicate hangovers needed.
By coincidence, I was home for just a week before driving down to the other side of Paris with GM photographer Kevin Murray to have a look at a trio of courses at the start of June. We stayed at the outstanding Château d'Augerville, which has a quite beautiful course, and also played at historic Fontainebleau before taking on the 2018 Ryder Cup course at Golf National. Oddly, we agreed that the one we most enjoyed playing was the one that is least well known.
If you think I play a lot of golf, then you should meet my sister, who is on the ladies' committee at Purley Downs. Debbi and I entered our first mixed open together at Littlehampton later that month and were not disgraced; by that, I mean we won some balls in the sweep! Two days later I headed up to Lancashire with three great chums for our annual golfing marathon – 126 holes in three-and-a-half days.
Gordon had been a member at Leigh as a junior and was returning for the first time in 30 years, and we all thoroughly enjoyed the other three courses. Manchester was the best from a golfing perspective, with Chorley and Pleasington right up there in terms of both scenery and fun.
A particular treat of my involvement with the Golf Monthly Top 100 is the chance to play our very finest courses in the name of research, and the following week I met up with panellist Tim Gallant, an American domiciled in Edinburgh, for a game at the always lovely Swinley Forest (opens in new tab).
A few days later, I embarked on one of the most extraordinary golfing trips of my life, which involved a few days aboard the Europa 2, the highest-rated cruise ship in the world. It offers on-board coaching and training – not to mention unbelievable food, service and accommodation – and drops you off for golf at carefully selected courses not too far from shore. I boarded in Lisbon and flew back from Ibiza having had an amazing time.
At the start of July, Jeremy Ellwood and I enjoyed our visit to the Seve-designed The Shire, and later that week my sister and I came 4th in the Rochester & Cobham mixed open despite my missed tiddler on the 14th. With Open fever kicking in, I then flew up to Edinburgh to join GM competition winner Chris Walker for a few days in the company of Mercedes.
Not only did we enjoy the brand's hospitality at St Andrews and drive its new top-of-the-range models, but we also competed against similar teams from Spain, Germany and Italy with rounds at Kingsbarns, the Castle Course and Gleneagles' King's – a money-can't-buy golfing thrill.
Less than a week later, and it was down to Wiltshire to stay with friends and play some lovely courses, including both those at Burnham & Berrow. I did finally manage to get soaked, at North Wilts, but I had ridden my luck on that score all year and, as such, had absolutely no complaints!
With many people on holiday, August turned out to be a quieter month in terms of golfing travels. I added just a couple to my CV, including the lovely downland course at Hockley. I've always enjoyed both layouts at The London Club, so it was good to return with three of my friends from Golf Monthly to play the International course again.
In September, I played the Downs course at Goodwood as part of the Revival Festival there. That meant playing with hickories for the first time, and as someone whose swing is roughly four times faster than it should be, I came to understand just how skilled the pioneers of golf must have been.
A touch of tennis elbow meant playing both Knole Park and Wildernesse on the same day was hard work, despite the many attractions of both. Oddly, despite being near neighbours, they could hardly be more different.
In early October I enjoyed an even more unusual and quite wonderful trip to India with ITC Hotels. I will spare you the details here as the journey will be chronicled in depth in the May travel supplement; suffice to say I loved every minute! As if I hadn't already been spoiled, just a few days after getting home I went over to Sunningdale to play both courses and enjoy what is, in my view, the ultimate golfing day out. Seaford Head and Upminster both followed later than month.
As a remarkably mild but increasingly damp autumn took hold, I enjoyed a whirlwind round in 40-plus mph winds at Eastbourne Downs, and my year-long adventure drew to an end with a game at Poult Wood. Oddly enough, this is actually the closest course to home, but one that I've never played before.
I can't tell you how lucky I feel to have enjoyed such an incredible year of golf. With very few exceptions, I enjoyed the 1,395 different golf holes that I played in 2015. Can there be a better job in golf? I doubt it!
Tom Clarke joined Golf Monthly as a sub editor in 2009 being promoted to content editor in 2012 and then senior content editor in 2014, before becoming Sports Digital Editor for the Sport Vertical within Future in 2022. Tom currently looks after all the digital products that Golf Monthly produce including Strategy and Content Planning for the website and social media - Tom also assists the Cycling, Football, Rugby and Marine titles at Future. Tom plays off 16 and lists Augusta National (name drop), Old Head and Le Touessrok as the favourite courses he has played. Tom is an avid viewer of all golf content with a particularly in depth knowledge of the pro tour.