10 Ways To Get People Into Golf
With the UK golfing population ageing, it's more important than ever to attract new blood to the sport. But how should we go about it?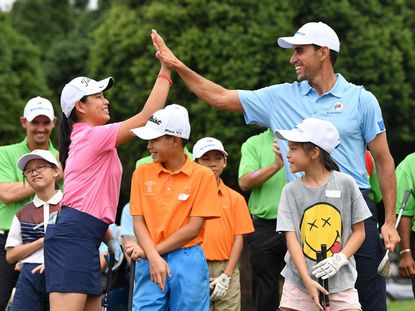 (Image credit: Getty Images)
With the UK golfing population ageing, it's more important than ever to attract new blood to the sport. But how should we go about it?
10 Ways To Get People Into Golf
Every avid golfer loves an empty course and the chance to play 'millionaire's golf'.
But the negative side of deserted fairways is the fact that it means nobody is playing, and that's a worry for the future of our sport.
Reports from Sports Marketing Surveys Inc. show the number of registered golfers in this country is down 4.3% since 2012.
The UK's golfing population is ageing, and we are not replacing those we lose from the game fast enough.
But it's not all doom and gloom. Research has also shown there are an estimated 8.5 million people in the UK who would be interested in taking up golf.
The question is, how do we hook them and bring them into the golfing fold?
Here, we consider ten ways of potentially bolstering the golfing population of this country.
10 Ways To Get People Into Golf
1 Target women 
Women and girls represent a huge opportunity for golf.
Presently, only 14% of club members in this country are female, but there are an estimated 3.8 million women aged 18-64 who are interested in taking up the game in the UK.
In continental Europe, 30% of club members are women – in some countries the figure is higher.
We must strive to make our sport appealing and our clubs welcoming to women and girls.
More mixed events from professional level right down to introductions to the game can help establish more of a sense of equality within the sport.
And there should be a focus on getting more women into positions of authority in golf, both in an administrative/governance capacity and at golf club committee level.
The R&A is committed to increasing the number of women and girls in golf, and earlier this year it launched a Women's Charter for Golf outlining how this might happen.
2 Tour initiatives
The sport is at its most visible through the elite game.
Each week top-level pro golf is televised in the UK, with many prestigious amateur events covered too.
If these events appeal to the wider public then they might be encouraged to pick up a club.
European Tour initiatives like GolfSixes and the Shot Clock Masters have the right intention of showing the fun side of the game, and the PGA Tour really nails it with the party atmosphere created at many of the regular venues.
Golf can be great fun and this needs to be showcased to the world at every opportunity.
The elite game must deliver fun to act as effective inspiration.
3 Government backing
Golf can be played by people of any age.
It's a physical activity that almost all can manage, providing good exercise.
At a time when we are battling an epidemic of obesity, it's the perfect way to get people out in the fresh air.
In addition, golf provides companionship, friendship and a sense of belonging.
It's a highly sociable activity that's good for mental health.
For these reasons, the powers that be should assist in the promotion of golf.
And the good news is steps in this direction have already been taken.
Late in 2015, an all-party parliamentary group was set up to support the game.
Find out more at parliamentary.golf (opens in new tab)
4 Academy memberships
A significant barrier for people starting out in the game is cost, and particularly the cost of club membership.
If an interested individual has never, or rarely, played before, the prospect of forking out for a full membership could be enough to dissuade them.
Clubs could offer a beginner or academy membership option which would be a reduced rate but would come with different criteria – a limited number of rounds permitted, no competition golf, options for tying in a programme of coaching and so on.
The objective of this membership offering would be to give people a more cost-effective route into the game that could hook them, encouraging them to become full-time players and transition to ordinary membership.
Expand New Golf Rules 2019: All You Need To Know
New Golf Rules 2019: All You Need To Know
Golf's governing bodies new rules are in action…
Expand 10 Ways To Customise Your Golf Gear
10 Ways To Customise Your Golf Gear
We suggest some ideas to help you personalise…
Expand 10 Ways To Improve Your Golf Strategy
10 Ways To Improve Your Golf Strategy
Use these simple strategy tips to start scoring…
Expand 17 Ways To Tell You're Obsessed With Golf
17 Ways To Tell You're Obsessed With Golf
The tell-tale signs that you are a true…
5 Flexible memberships
Many find it difficult to justify a full membership as they won't have sufficient opportunities to make use of it.
Occasional golfers could be brought more solidly into the fold with a flexible option.
If an individual considering taking up the sport more seriously sees their local club is offering a cost-effective, flexible membership that can be tailored to suit them, they might be prepared to take the plunge.
They might then go on to become a committed golfer as their interest in the game develops.
They might also encourage friends or family to take up the game, too…
6 Family-friendly clubs 
Generally speaking, those with families want to spend time with them, so golf clubs must provide an environment where families feel they can enjoy activities together, both on and off the course.
Clubs should offer family events, group coaching and junior coaching.
Time slots should be dedicated to family groups and clubs should host open days to introduce non-golfing families to the facilities and all the benefits that golf can deliver.
In the clubhouse, the atmosphere should be welcoming, fun and inclusive.
At too many clubs in the UK, an old-fashioned attitude of male-dominated stuffiness still pervades. This has to go.
If a potential golfer sees a golf club as somewhere that he or she is able to enjoy time with the family, then the prospect of becoming involved will be far more appealing than if it appears to be purely an individual indulgence.
7 Ready golf
Slow play is a significant negative issue for golf.
At a time when there's a perception that we are all 'time poor', the prospect of five-hour rounds is not appealing to even the most ardent of golf fan, let alone someone about to take up the sport.
Clubs should embrace the concept of 'ready golf' for all stroke play, whether casual or competitive, and dispatch with the antiquated notion of the 'honour' system on the tee.
If the average round of golf were an hour shorter and there was less tiresome waiting, more people would want to play the game, there's no doubt about it.
8 Shorter Formats 
Staying on the theme of time, people won't always have enough at their disposal to play a full 18 holes.
For that reason, clubs should offer more in the way of nine-, six- and even three-hole events, particularly for families and juniors.
If you can only spare an hour-and-a-half out of your day for golf, an (organised) six-hole event could be just the ticket.
When the days are at their longest, there's an opportunity for people to golf after school or work and squeeze in 18 holes.
But for the majority of the year, teeing off at 5.30pm and completing a full round is simply not on the cards.
But if people were teeing off at that time to play a six-hole sweeper before heading into the clubhouse for a burger and to watch the football, then far more might look at that as a fun option and a reason to take up golf.
9 More facilities 
If there were more places to try golf for the first time, more would do so and more would take up the sport properly.
Visiting a driving range or golf- simulator venue can be done any time of the day and it can take as little as 20 minutes to get a proper feel for the excitement of hitting a golf ball.
Topgolf demonstrates how fun golf can be if packaged correctly.
At Topgolf Las Vegas, there are 107 bays booked out from 9am to 2am every day – there are swimming pools, DJs, food and a concert venue.
It's cool...
10 Image change 
And that's the thing that would really get more people into the game – if golf was seen as cool.
Golf still struggles with its image; if non-golfers are asked to describe the average protagonist they will likely say some, or all of, the following things: white, middle-aged, overweight, man, bad sweater, pleated slacks.
But golf can be a stylish activity: sharply dressed men and women in chic surroundings.
It's an out-there suggestion, but could the governing bodies get together to employ a leading global PR firm to take on the task of improving golf's image?
More coverage for celebrity golfers, get golfers on the covers of fashion mags, get fashion houses producing golf-inspired ranges.
Golf can look cool and we need to get that message across.
How do you think golf should attract more players in the UK? Let us know your thoughts on our social media channels
Fergus is a golf obsessive and 1-handicapper. Growing up in the North East of Scotland, golf runs through his veins and his passion for the sport was bolstered during his time at St Andrews university studying history. He went on to earn a post graduate diploma from the London School of Journalism. Fergus has worked for Golf Monthly since 2004 and has written two books on the game; "Great Golf Debates" together with Jezz Ellwood of Golf Monthly and "The Ultimate Golf Book" together with Neil Tappin (also of Golf Monthly)... Fergus once shanked a ball from just over Granny Clark's Wynd on the 18th of the Old Course that struck the St Andrews Golf Club and rebounded into the Valley of Sin, from where he saved par. Who says there's no golfing god?