10 Ways To Customise Your Golf Gear
We suggest some ideas to help you personalise your equipment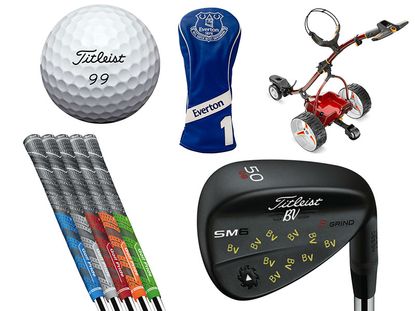 We suggest some ideas to help you personalise your equipment
10 Ways To Customise Your Golf Gear
We all know someone who loves to stand out on the course, whether it's wearing elaborate trousers or playing a coloured ball.
But if you want to personalise the equipment you use, you don't have to go down the bright and lairy route.
As we've showcased across these two pages, it has never been easier to add some personality to your gear, no matter your budget.
Have a read of this list and see what catches your attention – maybe one or two could even find their way into your bag.
1 Play your favourite number
A cheap way to personalise your gear is to buy some balls that have a special number, message or logo on them. From corporate badges or your golf club crest to kids' names and special dates, personalisation is offered by many of the top ball brands.
2 Find a new headcover
There is so much scope for choosing something personal in this category. There are throwback pom-pom wood headcovers or even premium-looking blade headcovers with golf club logos on to show off your club pride. Novelty-style headcovers are also a great way to showcase your interests or personality – just look on tour at Rory McIlroy's dog, Sergio Garcia's bull and Tiger Woods' famous Frank the tiger.
3 Add some lead tape
Feel and swing weight go hand in hand, so adding lead tape to your driver or putter can make a big difference. One piece of 4"x0.5" tape will change a club by roughly one swingweight point, such as from D0 to D1. When should you experiment with adding lead tape? It can help if you can't feel the presence of the head during your swing, or if you often fight being 'too quick'.
4 Get custom-fit clubs
This is undoubtedly the most important recommendation in this list. From heads and shafts that complement your technique to grips and lengths bespoke to your physique, custom-fit clubs are game changers. Not convinced of the real benefits? The next time you're driving your car, consider how much more difficult it would be with the seat in the wrong position and you'll have a good idea of how badly fitted clubs can hamper your game.
5 Pure your shafts
Certainly less common than some of our other suggestions, shaft puring is a process that finds the most stable bending plane or 'neutral-axis' of a shaft and installs the shaft in that orientation. When done correctly, it should help minimise unwanted shaft bending and twisting during the swing.
Expand 10 Things That Could Be Wrong With Your Golf Gear
10 Things That Could Be Wrong With Your Golf Gear
How many of these do you fall foul…
Expand Best Golf Balls
Best Golf Balls - Premium golf ball models…
Expand Best Golf Wedges
After a new set of wedges? Check out…
Expand Best Fairway Woods
A selection of the best fairway woods on…
6 Stamp your wedges
Wedge stamping is becoming increasingly popular among amateurs and is offered by the likes of Titleist, TaylorMade and Callaway. At Mizuno, you can add six characters in one of 12 different colours to create something seriously unique.
7 Use a special ball marker
A good day on the greens often comes down to your mindset, and using something sentimental to mark you ball can only help to promote good feelings. You could use a coin minted in the year of your birth or foreign currency that reminds you of a family holiday. We also like souvenirs from special rounds bought in the pro shop and the option to engrave silver pieces online with personal messages or dates.
8 Personalise your shoes
The FootJoy MyJoys service lets you show off your own style. You start by choosing from one of nine models, including the Icon, DryJoys Tour and Contour Series. With your size and width selected, you then get to pick colours for the main upper, detail sections and the laces. Finally, you can add a logo, your initials or another phrase to the heel area to create your own pair of bespoke golf shoes.
9 Give your trolley a paint job
Motocaddy offers this exciting service through its partnership with Ziegler Custom Designs, which provides hundreds of different colour and pattern combinations that are applied via a special weatherproof paint. You can choose between matte, gloss, candy and even chameleon finishes, along with standout colours like lime, cobalt blue, red, lilac, green and orange. The design service can also print logos, text and graphics for that extra touch.
10 Add a splash of colour to your grips
Golf Pride's MCC Plus4 grips (pictured) are just one range to come in a number of different colours, so you can match your set to the look of your golf bag or favourite sports team.
Do you own any personalised golf gear? Send us pics on our social channels
Jake O'Reilly specilaises in equipment coverage, and joined the Golf Monthly team in 2013. Before this he graduated from the University of Huddersfield with a Sports Journalism and Media degree, and worked at a number of British golf magazines. Follow Jake on Twitter
@jake0reilly