Q-School Stage 2 golf blog from Ross Biddiscombe
GM's Ross Biddiscombe gives us the latest updates after Stage 2 of European Tour Q-School concluded on Sunday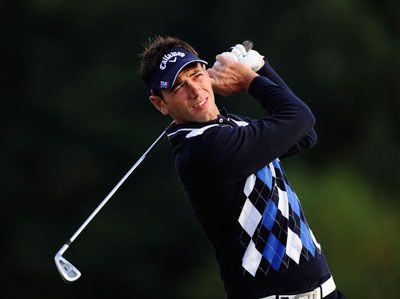 Golf Monthly Newsletter
Golf tips and expert instruction, golf club reviews and the latest golf equipment.
Thank you for signing up to Golf Monthly. You will receive a verification email shortly.
There was a problem. Please refresh the page and try again.
The latest journey towards what many people call "The Ultimate Tournament of Pain" has just finished on the European Tour. Qualifying School dumped another 230 players into pro golf's wilderness this weekend in four Second Stage events.
On the same weekend Rory McIlroy won the Race To Dubai, four courses in southern Spain were the venues for this halfway stage in the annual Q School process. This one is a real terror because exiting at Second Stage leaves you just about nowhere on golf's professional ladder - no Main Tour or Challenge Tour status, not even assistance into next year's Q School. It's time to start all over again for British players likes Robert Dinwiddie, Michael Stewart, Gary Houston, Jonathan Caldwell, Benn Barham, Jamie Moul, Elliot Saltman and David Griffiths. The EuroPro Tour maybe?
All those names have floated in and out of the Main Tour over the last few years (Dinwiddie even finished 72nd on the money list in 2008) or have starred in the amateur game in recent seasons (Moul and Stewart were Walker Cup players not so long ago). They are just a few of the men whose dreams have been shelved or crushed once more.
Second Stage of Q School starts to sort the men from the boys. First Stage - which took place back in September over eight courses across Europe - is like a multiple choice test that you can guess your way through. But get to Second Stage and it's more like a written exam that requires real talent.
However, if you're Lloyd Saltman, then you have to wonder whether you will ever emulate your contemporaries or reach your potential. Saltman - one of four talented Scottish golfing brothers from Edinburgh - was, of course, a Walker Cup teammate of McIlroy's in 2007 and even won the Open Championship Silver Medal as best amateur. But Lloyd is now 27 and, although he scaled the Q School mountain in 2010 and played a full season on the Main Tour, he's now back at base camp. His Second Stage experience this year was dreadful - he could not recover from an opening 79 and withdrew after three rounds.
So while Saltman licks his wounds, British counterparts including Liam Bond, Zane Scotland, Graeme Clark, Jamie McLeary, Simon Thornton, Iain Pyman, Warren Bennett, Wallace Booth, Sam Little, Sam Hutsby, Luke Goddard and Callum Macaulay are off to PGA Catalunya in northern Spain for Q School Final Stage from 24-29 November and will play six more rounds to decide on Tour Cards for 2013. And it gets tougher this year because a rule change means that only the top 25 and ties (it's been top 30 and ties for years) from the field of 152 will be celebrating. They get Category 11b status on Tour for 2013 (good for 20 or more tournaments next year).
The Catalunya field also includes those just outside the Main Tour's top 115 from this season and exempt players such as those with a European Tour win in the last 10 years, like Nick Dougherty. Others destined for Catalunya (although the field is not quiet fully confirmed because of the UBS Hong Kong Open this week) are Alastair Forsyth, Johan Edfors (3-time Tour winner), Oliver Wilson (a Ryder Cupper in 2008), Tommy Fleetwood and Gary Orr.
We should wish all these guys the best of luck and celebrate the fact that the European Tour still has a Q School - the US PGA Tour's version dies this year. So much for tradition!
Ross Biddiscombe is a golf journalist and author of two books about the European Tour Q School titled Golf On The Edge.
Ross is a Q-School expert.