Fergus Bisset: Career-defining day
Fergus Bisset achieves a first in the North East Alliance and has a dream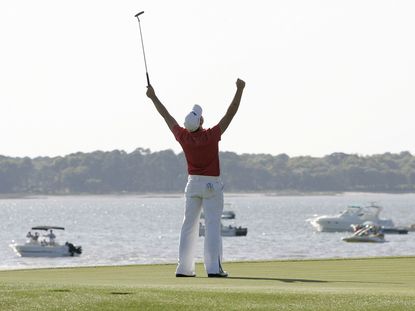 Yesterday Fergus realised a couple of key golfing ambitions in the North East Golfer's Alliance but there are also a couple of caveats, as he reluctantly reveals.
This morning seemed an opportune one to restart writing my golfing blog. I feel no shame in admitting the reason for the renaissance is because I wanted to indulge in some gratuitous self congratulation.
Yesterday, after 10 years of trying, I won a meeting of the North East Winter Alliance outright and I posted a gross score of 58… Yes, yes… of course there are caveats. I'll come on to those later. But for now, let's just call it a winning score of 58.
The North East of Scotland golfers' Alliance meets every Wednesday through the winter months and travels to different venues around the area. It's competed in by professionals and amateurs and there are prizes for best scratch scores plus best nett in two handicap categories. Those brave (or foolish) enough to participate are hardy types who will battle on in all weathers over any surface deemed open for play.
I've been chapping away in the Alliance since 2005 and, although I've had quite a few reasonable rounds over the years, I'd never managed to win on my own. I tied for 1st place about eight years ago on a day that was so wet that the entire course was casual water and almost everyone gave up; I think the chap I shared top spot with had gills.
Yesterday at Montrose though was rather a pleasant one, not too much wind and only a very occasional flake of snow. But, here come the caveats, there was a frost in the ground so the summer greens were out of play. The winter course at Montrose is good fun, but quite short compared to the normal layout and two of the par-3s are not in use. So there you go: it was only 16 holes and winter greens. At least I managed to delay by 200 words before owning up, I'll always have that.
It was the same for everyone though and I did have a pretty miraculous round: The winter surfaces at Montrose are decent as the links fairways (which they're marked out on) are firm and relatively un-bumpy. There are some fairly whacky undulations mind you and a bit of luck is required to get the ball on, or even near, them. I'll confess that I did enjoy a small amount of good fortune yesterday: Think the Bishop in Caddyshack before he is forsaken on the final green.
Basically whenever I got the putter out (and I was doing that anytime I got within about 60 yards of the pin) the ball seemed magnetically drawn towards the cup. It was quite bizarre actually. Normally, even on the purest of putting surfaces, I stand over the ball with the flat-stick thinking I have scant to no chance of holing out. Yet, on these rolling and uneven winter surfaces I managed to convince the man in my head that everything was going to drop and, generally speaking, it worked.
A key reason for my improved putting is that I've gone to the claw grip. As something of a golfing puritan it wasn't an easy decision but when I missed a putt the length of a fun sized Mars Bar in a Medal towards the end of last season I decided desperate measures were required.
Short putting on winter greens video:
It's been a revelation – basically taking the right hand out of the equation has allowed me to start making a proper putting stroke again and that means I can concentrate on getting line and pace right rather than simply hoping to make reasonable contact with the ball. Watching Adam Scott last weekend it seems he's discovered the same thing. Me and Scotty – yet another golfing trait we have in common… I'll work out what the other ones are later.
I had a dream the other night that I won the Ryder Cup. Not single handed, but I secured the winning point at least. It was a bit weird as I was playing for Europe but in the singles I was up against a better-ball of Thomas Bjorn and Graeme McDowell. I claimed the match on the 16th at Aboyne GC (where I'm a member) when McDowell sky-blocked his drive into the forest and Bjorn got stuck in the rough under the big tree on the corner of the dog-leg.
Initially there was a good deal of back-slapping and Sam Torrance appeared in the gallery to congratulate me personally. But I then found myself leaving the celebration to go home and tell Jessie (wife) about my success. Unfortunately, when I got back she was busy ordering something on the computer, and wasn't that interested. I opened the fridge to see if there was any beer with which to toast the triumph in solitary splendour, but it was empty. I then walked outside and met my old golfing pal big Stu who was a little more animated when I told him what had just happened so we went to try and find a pub, but none were open. It was all a bit anticlimactic.
Luckily Jessie remembered me recounting this dream when I phoned her excitedly to tell her of my victory yesterday. She at least seemed to be very happy and even went to the extent of speed chilling a bottle of fizzy wine (not champagne – that was noted) and defrosting a steak… Heady days indeed!
Next week and for the two weeks following Golf Monthly will be title sponsors of the North East Alliance for the "Golf Monthly Final Series."
Fergus is a golf obsessive and 1-handicapper. Growing up in the North East of Scotland, golf runs through his veins and his passion for the sport was bolstered during his time at St Andrews university studying history. He went on to earn a post graduate diploma from the London School of Journalism. Fergus has worked for Golf Monthly since 2004 and has written two books on the game; "Great Golf Debates" together with Jezz Ellwood of Golf Monthly and "The Ultimate Golf Book" together with Neil Tappin (also of Golf Monthly)... Fergus once shanked a ball from just over Granny Clark's Wynd on the 18th of the Old Course that struck the St Andrews Golf Club and rebounded into the Valley of Sin, from where he saved par. Who says there's no golfing god?