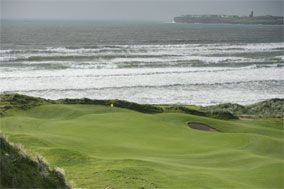 11. Lahinch Old Course (2004 ranking - 13)
6613 yards; Par 73; SSS 73
Green fees E145
Tel: 00353 65 708 1003
www.lahinchgolf.com
A superb natural links course, where there are several spectacular holes playing towards or alongside the sea. The most talked about holes are the par-5 4th, where the second shot is played blind over a very large sand hill, and the par-3 5th, which is again played blind over a hill to a wide yet shallow green that slopes sharply from left to right. Apart from these blind approaches, this is a very fair course where you can see the challenge facing you. You?ll have a very enjoyable round of golf as long as the wind isn?t too strong. This is a very heavily played course, especially in the summer months, but it remains in remarkably good condition.
12. Carnoustie Championship Course (16)
6941 yards; Par 72; SSS 75
Green fees £55-£105
Tel: 01241 853789
www.carnoustiegolflinks.co.uk
Forget the 1999 Open?s fabled waist-high grass, for most of us The Championship links would be a stern enough test if they stripped the rough bare ? which is what makes it such a great course. It boasts the most masterful bunkering and though you can almost always see what must be avoided, avoidance is the hard part. True, it lacks the dramatic surroundings of other links, but this may be a good thing as you need as few distractions as possible here ? nowhere more so than over the fearsome closing stretch from the 14th to the end. Very tough, very fair and very capable of finding your game?s Achilles heel.
13. Royal Liverpool (18)
6921 yards; Par 72; SSS 74
Green fees £60-£115
Tel: 0151 632 5868
www.royal-liverpool-golf.com
A links course that demands accuracy, patience and a slice of luck. Many of the par 4s are very difficult, including the unusual 1st, where out of bounds threatens along the hole?s entire length. The par 3s are very testing as well with some very long one-shotters and the wonderful, short 15th. There is a lot of fairway bunkering that requires careful course management due to a depth that can cost you at least a shot. The clubhouse is full of historic memorabilia, the rooms are superbly furnished and the welcome is very warm.
14. Loch Lomond (14)
6675 yards; Par 72; SSS 73
Visitors only permitted with a member
Tel: 01436 655555
www.lochlomond.com
If you had to pick one course that summed up the beauty of Scottish golf this could be it, with its lush fairways and beautifully manicured greens framed by towering hills and the loch. There are views all over the course you will remember forever ? the majestic clubhouse seen from the 8th green, the view down the Loch as you drive along the entrance road, and the view towards the green as you play what is hopefully your second shot from the 10th fairway. I could go on forever, but if you can?t get to play then visit their website to get a flavour of what I?m talking about.
15. The European Club (23)
6720 yards; Par 71; SSS 72
Green fees E80-E150
Tel: 00353 40 447 415
www.theeuropeanclub.com
This course has enormous appeal. No matter what the weather?s like or how badly you are swinging you?ll still love the challenge and experience of it. It is great fun to play as well as a true test of golfing ability. The location in the sand dunes beside the sea brings out the true links factor at its most natural and it's a very fair test. You can see every hole in front of you and the difficult questions are asked on every hole before you play your shot. Local knowledge is very important here and is willingly provided by the welcoming Ruddy family.
16. Royal St Georges (17)
6609 yards; Par 70; SSS 72
Green fees £65-£120
Tel: 01304 613090
www.royalstgeorges.com
Royal St Georges? difficulty stems not just from its yardage, which is stiff for a par 70, but from the difficulty in hitting undulating greens often raised above the fairway and protected by fall offs at the sides. Despite the fairway bunkering the course gives the player a sporting chance off the tee. Above all the course rewards accurate approach shots, particularly in any sort of breeze. This is a shot-maker?s course and there are options to go in high or low as bunkers at the front of the greens aren?t a constant presence. The cumulative quality of the golf is outstanding ? you?ll struggle to find a weak hole here.
17. Royal Portrush Dunluce Course (15)
6641 yards; Par 72; SSS 73
Green fees £60-£120
Tel: 028 7082 2311
www.royalportrushgolfclub.com
A magnificent links, the Dunluce course is a very fair test as there are very few blind shots and it?s playable by all if you hit it straight. The course has a great variety of holes with long, tough par 4s as well as some short, tricky ones. The views from the course are stunning - on a clear day the Scottish Isles are visible to the north, and the chalk and basalt cliffs that come into view along the coast towards Dunluce Castle only add to a wonderful golfing experience.
18. Old Head/Kinsale (12)
6476 yards; Par 72; SSS 72
Green fees E275
Tel: 00353 21 477 8444
www.oldhead.com
This is an extraordinary piece of land on which to build a golf course and focusing on your golf is difficult with such breathtaking scenery. It?s a most enjoyable golf course to play and an excellent test of golf. The course was in remarkably good condition when I played it ? beautifully presented, and the new tees and greens built last winter looked as if they were as old as the rest of the course. The salt in the air makes the course upkeep a challenge but it was in really nice shape. All of the course signs and direction markers are very nicely presented too.
19. Woodhall Spa Hotchkin Course (29)
6921 yards; Par 73; SSS 75
Green fees £38-£65
Tel: 01526 352511
www.woodhallspagolf.com
The density of the heather and trees guarding the fairways of Woodhall Spa?s Hotchkin course are an ever-present danger. The bunkers must also be avoided as they are designed to properly punish an ill-judged shot. Your driver must be used intelligently off the tee as the fairways are narrow in places and also well protected by the beautifully maintained bunkers. The club boasts an excellent range of facilities including a very useful pitch and putt course that helps to fine-tune your short game before you tee off.
20. Royal Troon Old Course (25)
6649 yards; Par 71; SSS 73
Green fees on application
Tel: 01292 313281
www.royaltroon.com
Host of the Open on eight occasions, Troon is the most recent club to receive the ?Royal? prefix, being awarded it on their centenary in 1978. The ever-present wind combines with tight fairways, punishing rough, treacherous bunkers and swathes of gorse to make Troon one of the most testing links in the British Isles. The most famous hole is the par-3 8th. It was named ?Postage Stamp? following a description of the putting surface by Willie Park and will always be remembered for Gene Sarazen?s hole-in-one during the 1973 Open.
Betting experts, writers and video producers. Couple of guys in our early 20's looking to bring the sport that we love into a new era.'