New Dye-Designed Portugal Links Opening Soon
West Cliffs in Portugal, which has views of the Atlantic from every hole, has been designed by Dye Designs Group and is scheduled to open in June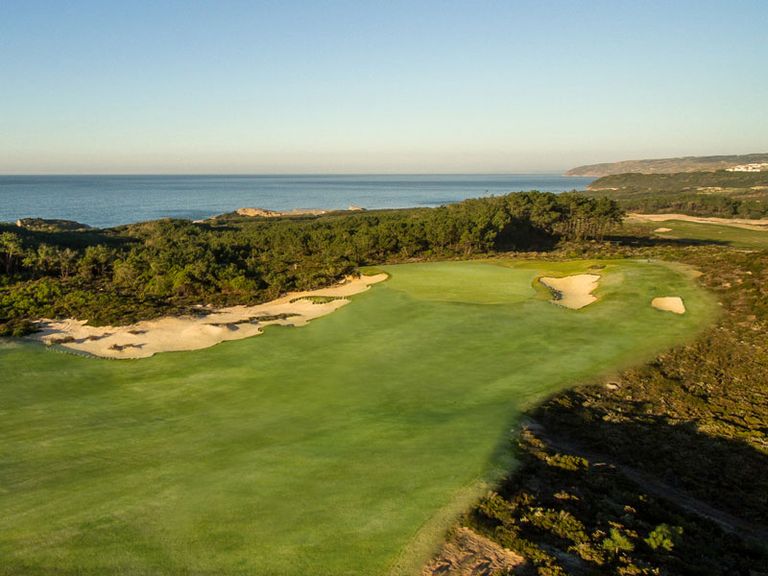 West Cliffs in Portugal, which has views of the Atlantic from every hole, has been designed by Dye Designs Group and is scheduled to open in June
New Dye-Designed Portugal Links Opening Soon
Europe's most eagerly-awaited new golf course design project will officially open in Portugal this summer.
Situated less than an hour north of Lisbon – on Portugal's magnificent Silver Coast – West Cliffs has been designed by golf course architect Cynthia Dye ASGCA, of the world-renowned golf architecture firm Dye Designs Group, and is set to be unveiled to a worldwide audience in June.
Offering sweeping views of the Atlantic Ocean from each hole, the spectacular par-72 seaside links has been created over 200 hectares of natural landscape, rolling sand dunes and coastal vegetation.
Related: Golf in central Portugal
The first Dye golf course in Portugal – and only the fourth in Europe – West Cliffs is predicted to quickly become one of the most talked-about design projects in the world.
Cynthia Dye, niece of legendary golf designer Pete Dye, said: "With the Atlantic visible from every hole, West Cliffs is the most natural golf course site imaginable.
"One of the most impressive characteristics of the course is just how anchored it is to the native coastal environment.
"The terrain at West Cliffs is amazing. On the vast majority of the holes, it was only necessary to site the green complexes with a bit of shaping and then define the limits of grassing. For the most part, the course was already there waiting for us.
"The most distinguishing architectural feature on the course is the collection of bunkers with irregular perimeters blending into and dictated by the native vegetation. It will be a very dramatic experience for the players."
Related: Amendoeira to host 9th World Kids Golf Championship
Construction work on West Cliffs began in February last year, with Dye and her team working in close collaboration with the local government to ensure minimum disruption to the environment, and to create a harmonious and sustainable links in an enviable location.
Proposed changes to the rules of golf from 2019:
Fitting seamlessly into its natural surroundings, West Cliffs will measure a testing 7,003 yards in length but, with its modern design and a choice of several sets of tees, it will guarantee accessibility to golfers of all abilities.
Away from the course, the West Cliffs golf academy will provide the ideal atmosphere for players to warm-up, learn and improve, while a stylish and eco-friendly new clubhouse will offer panoramic views of the Atlantic links and provide the perfect environment to relax after 18 holes.
Francisco Cadete, director of golf at West Cliffs, said: "Our vision when we started the West Cliffs project was to build a golf course that fitted perfectly into the natural environment and offers a truly wonderful golfing experience. We believe we have just perfected nature.
Related: Portugal names World's Best Golf Destination
"The beauty and challenge of this remarkable and rare ocean links course grows with each hole that you play. It is thrilling and dramatic but, at the same time, has been designed in such a way that it can be enjoyed by players of all levels.
"Featuring one of the most spectacular golfing locations anywhere in Europe, the course is going to be tremendous fun to play and I can't wait to see golfers' reactions when they get here and see what we have created."
Offering a privileged and exclusive location, the West Cliffs course will sit at the heart of a new resort, which will offer select real estate possibilities and a future five-star hotel, adjoining a 2.5km stretch of golden cliffs and Atlantic coastline.
For further details about West Cliffs, go to www.westcliffs.com