Ryder Cup Betting Picks and Predictions
This week we head to Rome, Italy, for the Ryder Cup. OddsChecker's golf handicapper and expert Andy Lack gives us his best picks for the 2023 Ryder Cup.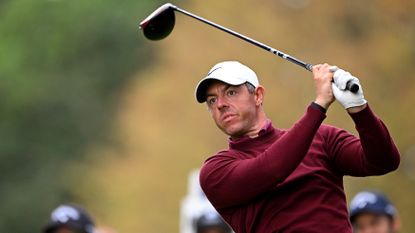 (Image credit: Getty Images)
We've finally made it to the biennial tradition of golf's greatest spectacle, and for the first time since 2018, the Ryder Cup returns to European soil. Much will be made about the 2018 massacre at Le Golf National, and the fact that the United States hasn't won outside of their territory in over 30 years, but a new guard provides optimism. Gone are the teams of Tiger Woods and Phil Mickelson, and a squad lead by Justin Thomas, Jordan Spieth, Xander Schauffele, and Patrick Cantlay, amongst others hope to re-write a troubling history across the pond.
The European side is flush with an influx of talent as well. The days of Ian Poulter, Sergio Garcia, and Lee Westwood are over, as rookies such as Nicolai Hojgaard, Robert MacIntyre, and Ludvig Aberg hope to ring in a new era of European dominance on their home turf. Not only are the debutants intriguing, but the top-end of the European team may be the strongest we've seen in years. Rory McIlroy is statistically playing the best golf of his career, Viktor Hovland is fresh off a FedEx Cup victory, Tyrrell Hatton and Tommy Fleetwood are coming off career years, and we haven't even mentioned the reigning Masters champion in Jon Rahm.
The United States top end is nothing to scoff at either, as Scottie Scheffler remains the best ball-striker in the world, Brooks Koepka is the reigning PGA champion, and Patrick Cantlay and Xander Schauffele have proven their meddle as a force to be reckoned with when paired together in team competitions. After back-to-back non-competitive Ryder Cups, I'm expecting an extremely close affair in Rome.
Before we get into our picks for the Ryder Cup, make sure to take a moment to check out these awesome sports betting offers for this week. We have teamed up with OddsChecker to ensure that you claim $1000s in first-bet bonuses so that you can bet on these 2023 Ryder Cup selections with more confidence this week.
Ryder Cup: Course Preview
Marco Simone Golf Club
The stage will be set this year at Marco Simone Golf Club, in beautiful Italian farmland just outside of Rome, a venue we have never before seen host a Ryder Cup. Marco Simone was designed in 1991 by Jim Fazio, with a complete renewal in 2018 by Tom Fazio II, Jim's son. TFII worked on Marco Simone while attending Mississippi State, and along with Trump Westchester, it was one of his first projects. Many of the design qualities can be placed in context given the lack of experience from its leading architect, but whether Marco Simone is an architecturally sound golf course is of little relevance when assessing a Ryder Cup venue.
What TFII produced was a completely new routing from what was originally laid out by his father. The goal for Marco Simone was not solely to host future Ryder Cup, but also be utilized as a regular staple on the DP World Tour. Following TFII's renewal, Marco Simone debuted the DS Automobiles Open in 2021, won by none other than captain's selection, Nicolai Hojgaard. The following 2022 and 2023 renditions were claimed by Robert MacIntyre (another member of the European Ryder Cup team), and Adrian Meronk (an almost member of the European Ryder Cup team). Marco Simone immediately developed a reputation as one of the more challenging courses on the DP World Tour, featuring a cumulative scoring average of over half a stroke over par.
Marco Simone is set amongst mountainous, rolling terrain, with water hazards abound, and thick native grasses that frame narrow fairways. It will be interesting to track whether either team rolls out their stars for all five matches, as Marco Simone is far and away the most hilly and physically imposing Ryder Cup venue in recent memory. While the course feels a bit overbaked, Ryder Cup is only event where we should be willing to sacrifice logical design for enrapturing theatre. Marco Simone's intrigue as a viewing experience is inarguable. The course features a very TPC-esque routing. The first tee atmosphere will be raucous, and the back-nine utilizes plenty of stadium-style, risk-reward holes with a varying degree of outcomes. While certainly hilly, there are some magnificent high points for spectators to view multiple holes at once. The noise will reverberate through the rolling valleys of the stunning Guidonia countryside.
Ultimately, it will be fascinating to see what tricks the European side has up their sleeves in terms of course set-up. A recent interview with the Marco Simone groundskeeper suggested that course conditions will not differ greatly from what we have seen the last three years at the Italian Open, a tournament that many members of the European side have had a great deal of success at. This may also be the first Ryder Cup in recent memory where the European side possesses a clear advantage in terms of their power off the tee. On the contrary, the U.S. side possesses the two shortest and most accurate players heading to Rome in Brian Harman and Collin Morikawa. I can gather in certainty that Marco Simone's set-up will be in stark contrast to what we saw in 2018. A Le Golf National set-up that heavily favors accurate driving would be counter-productive to the cumulative skill of the the squad that Luke Donald has assembled. How much Donald chooses to trick up the venue remains a massive question, but given its penalty for wayward driving, and plethora of risk/reward holes, plenty of drama is sure to await.
Marco Simone Key Stats
Total Driving
Birdies or Better Gained
Proximity 175 yards plus
Predict the top five points scorers in order at this week's Ryder Cup for a chance to win this Golf Monthly x OddsChecker free-to-play golf contest.
How to Enter the $10,000 Ryder Cup Free-to-Play Game
1. Make your selections using the widget above - Ensure you have selected each player in your chosen finishing position e.g. Rory McIlroy top point scorer, Scottie Scheffler 2nd etc.
2. Enter your email address
3. Check your inbox and follow the instructions to create your Oddschecker account
The Ryder Cup: Prop Bets
Top United States Points Scorer: Patrick Cantlay (+600) (Bet $100 to collect $700) Head to DraftKings for the best Patrick Cantlay Top United States Points Scorer odds
The sole United States pairing that heads to Rome with zero uncertainty is Patrick Cantlay and Xander Schauffele. The duo went undefeated at Whistling Straits and backed it up with a 2-1 record in last year's Presidents Cup. I would not be surprised if both Cantlay and Schauffele played all six matches, and there would be few combinations the Europeans could put together that would be favored in a single-round matchup. While Jordan Spieth and Justin Thomas are another formidable duo sure to get a lot of runs, I have major questions about both players' current form and course fit. Scottie Scheffler is the best American player, but I have concerns about his potential playing partner in Sam Burns, who could severely mitigate Scheffler's advantage based on his wayward driving and poor long iron play.
Cantlay and Schauffele are without a shadow of a doubt the United States' safest bet, and both carry identical odds in the top points scorer market. To break the tie, I far prefer Cantlay's course fit at Marco Simone. I still have doubts about Schauffele's driver, while Cantlay finished the 2023 season ranked first in total driving, the most essential skill at Marco Simone. Few players in the world blend distance and accuracy with more ease than Cantlay, and he should be right at home on Bent-grass greens. Over the last two years, Cantlay has been far and away the best Bent-grass putter the United States have at their disposal. I expect the eight-time PGA Tour winner to build upon his flawless record at Whistling Straits, and he remains a crucial component to the Americans retaining the cup.
Swipe to scroll horizontally
Patrick Cantlay's Top United States Points Scorer Odds Comparison via OddsChecker

| Sportsbook | Odds | Payout ($100 Wager) |
| --- | --- | --- |
| DraftKings | +600 | $700 |
| FanDuel | +600 | $700 |
| BetMGM | +600 | $700 |
| Bet365 | +550 | $650 |
As you can see, it is imperative that you compare the Ryder Cup USA top points scorer odds at OddsChecker.
Patrick Cantlay is now best-priced at +600 at FanDuel, DraftKings, and BetMGM, and +550 at Bet365, a stark $50 difference in returns. Make sure to pick the best sportsbook for your Patrick Cantlay pick with OddsChecker.
Top European Points Scorer: Rory McIlroy (+450) (Bet $100 to collect $550) BetMGM has the best Rory McIlroy Top European Points Scorer Odds
There may not be a player heading to Rome this week more stricken with vengeance than Rory McIlroy. After an incredibly disappointing performance at Whistling Straits, McIlroy does enter this Ryder Cup a far better player than he was in 2021. Over the last 12 months, McIlroy ranks third in true strokes gained off the tee, second in driving distance, 12th in true strokes gained approach, and third in weighted proximity from 175 yards plus. I've already alluded to the importance of total driving at Marco Simone, and few are capable of what McIlroy can do off the tee. His short game remains underrated, and Bent-grass is far and away his preferred putting surface. If looking to compare Marco Simone to a PGA Tour course, I would point to PGA National or Bay Hill, both Florida tracks with trouble at every turn that emphasizes long and accurate driving.
While PGA National and Bay Hill both feature far more water than Marco Simone, the Fazio design's thick native grasses act as a hazard in their own right. Marco Simone is target golf at its finest, a style that McIlroy has excelled at over the years. The four-time major winner is the only player on both sides to win at both PGA National and Bay Hill, and his experience in this format should prove dividends as well. I'm not totally sure who McIlroy will be paired with, but practice rounds indicate a potential grouping with Viktor Hovland or Ludvig Aberg. If Donald does choose to go in that direction, McIlroy feels the safest bet to accumulate all five points, an accomplishment that would take away some of the sting of another major-less season.
Swipe to scroll horizontally
Rory McIlroy's Top European Points Scorer Odds Comparison via OddsChecker

| Sportsbook | Odds | Payout ($100 Wager) |
| --- | --- | --- |
| BetMGM | +450 | $550 |
| Bet365 | +450 | $550 |
| DraftKings | +450 | $550 |
| FanDuel | +430 | $530 |
Once again, OddsChecker odds comparison tool for the Ryder Cup Top European Points Scorer comes to the fore, as there is a difference of $20 in returns when you bet $100 on Rory McIlroy at BetMGM, Bet365, and DraftKings rather than FanDuel.
Get the Golf Monthly Newsletter
Tips on how to play better, latest equipment reviews, interviews with the biggest names and more.
A PGA Tour writer and podcaster from Manhattan, New York, Andy Lack has contributed to sites such as Golf Digest, GolfWRX, OddsChecker Rotoballer, the Score, and now Golf Monthly. Andy is also the host of a golf betting and daily fantasy podcast, Inside Golf Podcast, as well as "The Scramble" with Rick Gehman, and a recurring guest on the Pat Mayo Experience. When he's not writing, Andy can likely be found somewhere on a golf course pursuing his lifelong dream of qualifying for the U.S. Amateur.