2023 US Open Betting Picks and Predictions
The PGA Tour is heading to Los Angeles, California, for the US Open. OddsChecker's golf handicapper and expert Andy Lack gives us his best picks for the 2023 US Open.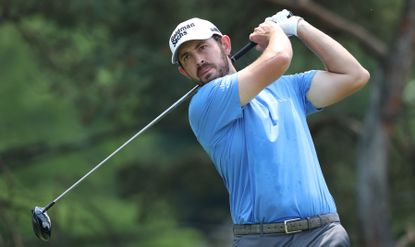 (Image credit: Getty Images)
Get the Golf Monthly Newsletter
Thank you for signing up to Golf Monthly. You will receive a verification email shortly.
There was a problem. Please refresh the page and try again.
The US Open returns to Southern California at a spectacular venue right in the heart of Los Angeles. The George Thomas designed Los Angeles Country Club is an oasis that sits right off Wilshire Boulevard, one of the busiest streets in the country. Yet the club nicknamed "L.A.C.C." rarely lets the public in to see its majesty, as this will be the first Men's professional major champion held at the ultra-private venue.
We, as fans, have had very limited exposure to the Thomas masterpiece, as it has only hosted five L.A. Opens over 50 years ago, the 1930 U.S. Women's Amateur, the 1954 U.S. Junior Amateur, and the 2017 Walker Cup. Los Angeles Country Club is not just a unique venue due to its location and exclusivity, it's a singular golf course that does not even remotely resemble many US Open venues that we have seen in the past. With some fairways measuring over 80 yards in width, a large barranca traversing through the property, and molar-shaped greens, Los Angeles Country feels like an Australian Sand-belt course placed in the heart of one of the biggest metropolitan cities in the country.
As is the case with any major championship, storylines are abound this week, and the recent PGA Tour-LIV merger will be a conversation topic on the grounds that will be hard to avoid. From a golf standpoint, many intriguing questions remain as well. Can Brooks continue his momentum and pick up major number six? Can Scottie Scheffler finally capitalize on what has been a historic ball-striking season? Can Jon Rahm pick up both his second major of the year and his second major in California? Can players with Los Angeles ties, such as Collin Morikawa, Max Homa, and Patrick Cantlay, deliver for the hometown fans? All of this remains to be seen, but fireworks are sure to ensue at what will be one of the most anticipated major championships in recent memory.
Before we get into our picks for the US Open, make sure to take a moment to check out these awesome sports betting offers for this week. We have teamed up with OddsChecker to ensure that you turn $6 into $400 worth of guaranteed bonuses, or you can use one of the HUGE first bet offers to wager with more confidence on your 2023 US Open selections this week.
US Open: Course Preview
Los Angeles Country Club
Los Angeles Country Club is a one-of-one. Designed in 1928 by George Thomas and later restored by Gil Hanse, Jim Wager, and Geoff Shackleford, the sacred venue is finally opening its gates to Men's professional golf. Playing as a par 70 and tipping out to just over 7,400 yards on the scorecard, Los Angeles Country Club is a beast, but length is far from the defining feature here. With the firmness of the tough and the elevated changes, I would still expect the Thomas design to play shorter than it's scorecard yardage. Let's also consider the multitude of set-up options that Los Angeles Country Club provides. For example, in the Walker Cup, the 133-yard 15th hole played as short as 78 yards one day.
USGA officials have already been open about the fact that they may set the course up very differently from day to day. Unlike previous US Opens, I do not believe this venue can be reduced to a long-drive contest. The width in the fairway and the brutal consequence of big misses should favor more accurate driving than sheer power. Many mistake wider fairways as being advantageous for a bomb and gauge strategy, but it's actually the golf courses such as Torrey Pines, Bay Hill, Oak Hill, and Winged Foot, with incredibly narrow fairways but little consequence for large misses that give way to the aforementioned boring style of golf.
Los Angeles Country Club is far more about angles and certainly more of a second-shot golf course than we have seen from US major venues in the past. There will still be an extremely large plurality of long iron approach shots here, and those who miss greens will be penalized by incredibly deep bunkers and comically thick greenside Bermuda rough. The putting surfaces also have far more tilt and character to them than recent major venues such as Torrey Pines and Oak Hill, and players will be hard-pressed to find a flat putt on the entire golf course. This week, I am primarily looking for players that avoid wide misses off the tee, are elite with their long irons, possess tremendous creativity around the greens, and have a proven track record of success on firm golf courses.
US Open Key Stats
Strokes Gained Total: Firm Golf Courses
Proximity 200 yards plus
Strokes Gained Around the Green: Firm Golf Courses
US Open: Outright Winner
Patrick Cantlay (+1700) (Bet $100 to collect $1,800) FanDuel has the best Partick Cantlay odds
I understand that many golf bettors have become frustrated with backing Patrick Cantlay at such short notice, particularly in major championships where he has failed to truly contend. Yet I would exercise patience and look at the track record of many of the world's best prior to their big breakthrough. Winning has actually not been the problem for Cantlay, who already owns eight PGA Tour victories, with five of them coming in extremely strong fields. Yet his major record still leaves much to be desired. On the surface, with 12 top-25s in 25 major starts, Cantlay has been an incredibly consistent performer in these events, but it's the lack of truly high-end finishes that leaves bettors frustrated.
I am far from deterred, and I have a strong feeling that Cantlay is going to make a major statement this week on a golf course where he has already fired a 62 before in the PAC-12 Championships when he was at UCLA. There are many reasons for my bullishness on Cantlay this week, but his driving ability deserves the first mention.
Cantlay has morphed into a top-three driver of the ball in the world, gaining over 3.5 strokes off the tee in seven of his last nine starts. His ball-striking has allowed him to develop an extremely high floor, with 12 top-30 finishes in 13 starts, including six top-10s. Cantlay has also vastly improved his long iron play this year, ranking ninth in proximity from 200 yards plus this season. Of the elite players, I also still trust his putter the most.
Cantlay has remained the number one Bent-grass putter in the world over the last two years, and he ranks seventh in putting from five to ten feet, an incredibly underrated skill that is crucial to keeping rounds from de-railing at golf courses this challenging. Cantlay is too good of a player to remain major-less for much longer, and I would actually wager that this is the first of multiple major victories for the former UCLA standout.
Swipe to scroll horizontally
Patrick Cantlay's Outright Odds Comparison via OddsChecker

| Sportsbook | Odds | Payout ($100 Wager) |
| --- | --- | --- |
| DraftKings | +1400 | $1,500 |
| Caesars | +1600 | $1,700 |
| BetMGM | +1600 | $1,700 |
| FanDuel | +1700 | $1,800 |
As you can see from OddsChecker's odds comparison above, Patrick Cantlay's odds range from +1400 to +1700. Cantlay is +1400 on DraftKings but +1600 at Ceasares and BetMGM and +1700 at FanDuel. Claim an additional $300 in profit just by betting your $100 on FanDuel this week rather than other popular sportsbooks.
Xander Schauffele (+2000) (Bet $100 to collect $2,100) Go to FanDuel for the best Xander Schauffele odds
Many of my same frustrations present with Cantlay likely apply to Xander Schauffele. The key difference is that Schauffele's record at US Opens has been second to none, with five top-10s in six appearances. While I do believe that this will be unique from previous USGA set-ups, the one recent US Open venue I would point to as a strong reference point is Shinnecock Hills, where Schauffele finished sixth. A contending performance at Carnoustie, a 13th at Southern Hills, and a sterling track record at Augusta National leave me feeling incredibly optimistic about his ability on firm golf courses.
In fact, the San Diego native ranks third in this field on golf courses that I would categorize as firm. From a statistical standpoint, the case for Schauffele is incredibly simple. He remains one of the most well-rounded players in the world and is now returning to a firm golf course in his home state at a major that he is always relevant at. Xander ranks 13th in good drive percentage on firm golf courses, fifth in overall approach play, second in proximity from 200 yards plus, top-40 in every short game metric I am looking at, and 15th in Bent-grass putting. He's done just about everything but cross the finish line this year, with 11 top-25s in 14 starts. Schauffele's numbers look a whole lot similar to last year right before he reeled off back-to-back wins, and if he continues to put himself in the mix, I'm extremely confident the cards will break in his favor at one of the big ones.
Swipe to scroll horizontally
Xander Schauffele's Outright Odds Comparison via OddsChecker

| Sportsbook | Odds | Payout ($100 Wager) |
| --- | --- | --- |
| Caesars | +1800 | $1,900 |
| DraftKings | +2000 | $2,100 |
| BetMGM | +2000 | $2,100 |
| FanDuel | +2000 | $2,100 |
Once again, you can see the power of odds comparison. OddsChecker has flagged that Xander Schauffele is +1800 at Caesars but +2000 at DraftKings, BetMGM, and FanDuel. Claim an additional $200 in profit just by betting your $100 on FanDuel this week.
Get the Golf Monthly Newsletter
Tips on how to play better, latest equipment reviews, interviews with the biggest names and more.
A PGA Tour writer and podcaster from Manhattan, New York, Andy Lack has contributed to sites such as Golf Digest, GolfWRX, OddsChecker Rotoballer, the Score, and now Golf Monthly. Andy is also the host of a golf betting and daily fantasy podcast, Inside Golf Podcast, as well as "The Scramble" with Rick Gehman, and a recurring guest on the Pat Mayo Experience. When he's not writing, Andy can likely be found somewhere on a golf course pursuing his lifelong dream of qualifying for the U.S. Amateur.