What Is Tommy Fleetwood Wearing?
We take a look at what five-time European Tour winner is wearing out on the golf course.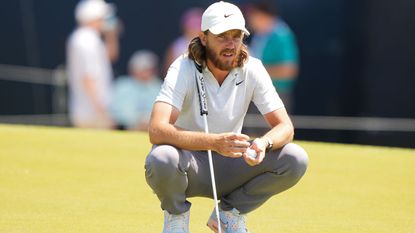 (Image credit: Getty Images)
We take a look at what five-time European Tour winner is wearing out on the golf course.
What Is Tommy Fleetwood Wearing?
A force to be reckoned within world golf, Tommy Fleetwood has five wins on the European Tour and is a Ryder Cup regular.
However, he is yet to win on the PGA Tour and is yet to win any of golf's four Majors.
The Englishman has been with Nike since turning professional in 2010 and has continued to wear their clothing even after the company stopped making equipment in 2016.
He was a free agent until the end of the 2020, when he signed a lucrative deal with TaylorMade to use its equipment.
Related: Tommy Fleetwood What's In The Bag
This week at the PGA Championship, Fleetwood will be displaying some of Nike's newest golf apparel.
What Is Tommy Fleetwood Wearing?
Nike Dri-FIT Vapor Texture Polo
We believe on a couple of days play Tommy will wear the Dri-FIT Vapor Texture polo in blue and orange colours. It's been made using predominately polyester (59% & 41% Nylon), which allows it to be both breathable and moisture-wicking.
The other two days he will go for a more unique polo, the Colour Block which is available in a couple of different colours. Tried and tested Nike Dri-FIT technology keeps you cool and comfortable while the hem vents offer the possibility of wearing this polo either tucked or untucked.
Nike Golf Dri-FIT Crew Jumper
On all four days, if the wind picks up and it gets a bit chilly Fleetwood will wear this jumper from Nike. Once again Dri-Fit technology keeps you feeling cool, dry and comfortable on the inside – while the rib knit cuffs ensure the sleeves sit exactly where they should. It looks like he will wear it in three different colours for the week, in white, black and a light blue design.
We believe he will be wearing Nike Flex golf trousers throughout the week in a couple of different colours. While these trousers offered a classic, tailored look they provide a great amount of comfort and stretchiness thanks to the Flex fabric Nike use.
The slightly tacky texture on the inner waistband also keeps the shirt tucked in nicely, a lovely bit of attention to detail by the designers at Nike.
Nike Air Max 90 G NRG Shoes
Throughout the week, Fleetwood will be wearing the Nike Air Max 90 G shoes, one of the best spikeless shoes currently on the market. His version though will be the special edition NRG design specifically made for the PGA Championship.
This is, as Nike describe it, the OG icon from Nike's shoes range with a few additions for golf. The integrated traction and waterproof lining make this classic streetwear look ideal for golf and the new PGA colourway offers a truly unique aesthetic.
Nike Heritage86 Washed Golf Cap
We think Tommy will stick with the black and white versions of this classic cap for the week.
Fleetwood will also wear this Nike Stretch Woven Men's Golf Belt which is incredibly stretchy for a comfortable fit on the course.
TAG Heuer Connected Golf Edition
Fleetwood is also wearing a Golf Edition watch made by TAG Heuer. A model that made our guide on the best golf GPS watches, this premium, luxury design features an ultra-lightweight 45-mm black titanium case and a matte black ceramic bezel with 18 engraved and lacquered graduations that serve as a reference for the performance at each hole.
For all the latest from the golf world, follow our social media channels Facebook, Twitter and Instagram
Have you thought about taking out a subscription to Golf Monthly magazine?
Subscriptions are available in both print and digital editions through our official online shop Magazines Direct and all postage and delivery costs are included.
Golf Monthly is packed with all the information you need to help improve your game.
Take your game to the next level with tips, drills and advice from top Tour Pros and the UK's top coaches.
Impartial in-depth reviews of the latest equipment will ensure you buy the best whatever your budget
If you are looking to venture away with friends Golf Monthly will give you plenty of ideas of where to play and stay.
Get the Golf Monthly Newsletter
Tips on how to play better, latest equipment reviews, interviews with the biggest names and more.