Rafa Cabrera Bello's Driver Masterclass
The three-time European Tour winner shares his tips on how to find fairways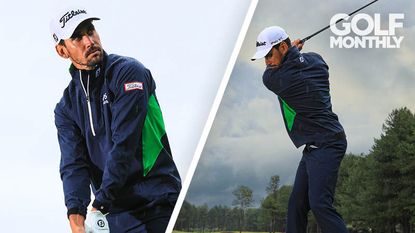 Three-time European Tour winner Rafa Cabrera Bello reveals the secrets behind his effortless power and consistency.
Tip 1: Width in the backswing
This is very important for me and something you should think about too. My weight is split fairly evenly at address.
Related: Best Golf Drivers
Some may go 40/60 or 60/40, but for me, what's more important is that at the top of the backswing I have 95 per cent of my weight on my back foot. That's why width in the backswing is key.
Focus on a wide takeaway and get as far back as you can with a solid coil, without swaying off the ball.
From here, the downswing starts with the hips. The unwinding of the hips is where you get the elastic band feel and you end up generating more speed.
Tip 2: Upward attack
Most good drivers attack the ball on the upswing rather than hitting down. This helps to create high launch and low spin.
You can set up for this at address by having the ball forward in the stance but not outside the left foot. The low point of the swing comes a few inches before the ball, so at the point of impact, the club is on an ascending path.
It's hard to hit up on the ball from a low tee, so tee it up higher. Modern clubs are designed to have a higher sweetspot.
Tip 3: Stay connected
It's important that everything is in sync during the swing. My hands and arms are connected with the movement of my body. I manage to harvest energy and then deliver it to the ball with a fair amount of consistency.
Related: Best Drivers For Distance
I see so many club golfers go at the ball too hard, forgetting that the best way to maximise distance is to hit the ball with the sweetspot of the club.
I never get tired of saying this – you will hit it longer and get more carry and roll by finding the sweetspot rather than going at it at 110 per cent and become crooked.
The key to this, and to finding more fairways, is rhythm. I'm a big fan of the way Ernie Els and Retief Goosen swing the club – it's so elegant.
Their tempo is something I've tried to replicate.
Tip 4: Be target-orientated
A common fault that I see a lot – not just in mid-handicappers, but even low-handicap players – is forgetting the target, and not only with the driver. I see players take their line, set up and look at the ball, but then never look up again.
Related: How To Create Lag For More Power
I really want to emphasise how important it is for the brain to learn to be target-orientated. Look at the ball, at the target, back at the ball, and then look at the target again, making any small adjustments.
Some players don't want to start their swings from a static position so hovering the driver can release a bit of tension. For some, it's easier to start the movement if you have a counter movement first.
With Jack Nicklaus it was his knee. I have a little bit of a shoulder shrug and then I take the club away. This just keeps me moving and prevents any tension creeping in.
Tip 5: Every swing is different
People often ask whether it's possible to swing the club back too far. The answer is no, so long as you stay connected.
Martin Kaymer sometimes swings a little past parallel, but he's not swinging too long because he's still coiling and is very flexible.
John Daly's swing is unique. He has a huge shoulder turn but his hands and arms are still connected to the body.
So don't worry about how far you swing back – just make sure your arms are working in sync with your body.
Similarly, you can work with strong and weak grips but you don't want the club to fall out of your hands, and neither do you want to strangle it.
The key is to keep pressure consistent throughout as you can get subtle movements of the clubface when grip pressure changes at different points.
Expand 4 Tour Pro Iron Play Drills Guaranteed To Improve Your Striking
4 Tour Pro Iron Play Drills Guaranteed To Improve Your Striking
Englishman Paul Waring picks out four drills to…
Expand Matt Wallace Driving Tips: How To Hit It Long And Straight
Matt Wallace Driving Tips: How To Hit It Long And Straight
Matt Wallace discusses his impressive driving and what…
Expand 4 Drills To Hole More Short Putts
4 Drills To Hole More Short Putts
Try these on the practice putting green and…
In his current role, Neil is responsible for testing drivers and golf balls. Having been a part of the Golf Monthly team for over 15 years and playing off a handicap of 3, he has the experience to compare performance between models, brands and generations. For 2022 he thinks the main trend in drivers is: "In a word, consistency. Whilst all the brands are talking about ball speed (and the new drivers are certainly long), my biggest finding has been how much more consistent the ball flights are. Mishits don't seem to be causing the same level of drop-off or increase in the spin numbers. This means that more shots seem to be flying the way you want them to!" As far as golf balls are concerned the biggest development is in the, "three piece, non-Tour, urethane-covered section. For regular golfers, these models offer superb performance at both ends of the bag without denting your wallet quite as much as the premium Tour-played options."
Originally working with the best coaches in the UK to produce instruction content, he is now the brand's Digital Editor and covers everything from Tour player interviews to gear reviews. In his time at Golf Monthly, he has covered equipment launches that date back well over a decade. He clearly remembers the launch of the Callaway and Nike square drivers as well as the white TaylorMade driver families, such as the RocketBallz! If you take a look at the Golf Monthly YouTube channel, you'll see his equipment videos dating back over a decade! He has also conducted 'What's In The Bag' interviews with many of the game's best players like Rory McIlroy, Dustin Johnson and Jon Rahm. Over the years, Neil has tested a vast array of products in each category and at drastically different price-points.

Neil is currently playing: Driver: TaylorMade Stealth Plus Fairway Wood: Titleist TSR2 Hybrid: Titleist TS3 Irons (4-9): Mizuno JPX 919 Forged Wedges: Titleist Vokey SM7 46˚, 50˚, 54˚, 60˚ Putter: Odyssey Triple Track Ten Ball: Titleist Pro V1X