The unusual history of Chambers Bay Golf Course
Chambers Bay is a most unusual course to host the 115th US Open.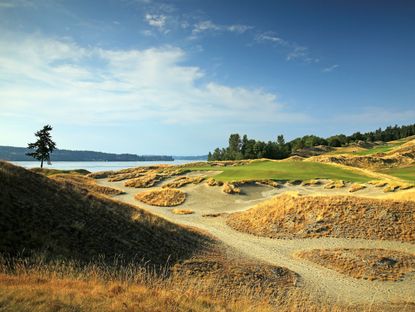 (Image credit: Getty Images)
Chambers Bay is a most unusual course to host the US Open. Bu then it is a most unusual course in many ways.
Chambers Bay is a most unusual course to host the 11t5h US Open. But then it is a most unusual course in many ways.
The history of Chambers Bay Golf Course is not a long one, all of it in this century.
It was built with the aim of hosting the US Open (opens in new tab). This showed huge ambition - the course was opened in 2007 and modern layouts do not host US Opens.
Yet Chambers Bay secured its US Open after it had been opened only eight months.
In 2001 John Ladenburg, Pierce County Executive, had learnt that the county owned 1,000 acres, which at the time contained a sewage plant and gravel and sand mine, by Puget Sound. There was a 50-year plan to turn the land into a public-use area.
"We had two miles of beach down there with exposure to the Puget Sound, and no one could get to it," Ladenburg recalled. "We needed to do this in eight years, not 50."
"The only thing that would generate revenue was a golf course, and it really was a unique property, with all the sand making it even more viable for a golf course."
Then Mr Ladenburg read an article about Bethpage Black in New York being the first municipal course to host a U.S. Open, in 2002. An idea was born - they would build a golf course on this land which would host the US Open.
The leases on the gravel and mine operations were not renewed and Ladenburg began the process of hiring a designer for this new course. Seventy-eight companies were invested, cut down to five for interview.
When Robert Trent Jones Jr. came for his interview he brought with him bag tags reading "Chambers Bay, Home of the 2030 U.S. Open." He got the contract.
The county's idea had been for 27 holes, but Trent Jones persuaded them to go for only 18. "Let's do 18 great holes rather than 27 good ones," Trent Jones reasoned.
The history of Chambers Bay Golf Course is entwined with the US Open. The aim from the start was to secure the US Open, and everything was built with that in mind.
Having 18 holes rather than 27 would give plenty of room for variation in the way the layout was set up, and plenty of room also for the spectators and the corporate tented village and the rest of the infrastructure needed for a US Open.
Robert Trent Jones Jr. envisaged a course modelled on the traditional linksland ones. To this end he moved over 1.4 million cubic yards of the existing terrain. The course cost £20 million to construct.
"We are a true links course," says PGA Professional Brent Zepp of Chambers Bay Golf Course. "There are many courses that either claim to be a links type course or at least look the part, but really, very few in North America really play that way. This course does."
However the course has come in for some criticism (opens in new tab) from Tour players un the run-up to the US Open.
Ron Read, the USGA director of regional affairs for the West contacted Mike Davis, the executive director of the USGA (opens in new tab) responsible for setting up US Open venues. Read told him he thought Chambers Bay would be a suitable future Tour venue.
"He told me that it was in the Pacific Northwest, which was interesting, because we had never had a U.S. Open out there," Davis recalled "Then he told me it's on Puget Sound, which is an added benefit being on the water, and that it's going to be on sand."
The sand part interested Davis: "It's always better when courses are built on sand because the fairways are hard and fast. It adds a wonderful element," Davis believes
Davis was also attracted by a design which would allow for changes to the layout. For this US Open he plans to alternate Chambers Bay's 1st hole (opens in new tab) and its 18th between par 4 and 5.
Meanwhile Ladenburg had determined the best way to get the US Open was to get the US Amateur first, to allow the course to earn its spurs.
Soon after the course opened on June 23, 2007, Pierce County sent an application in to host the 2010 US Amateur Championship.
In December 2007, Ladenburg was contacted by Davis. Winged Foot in New York, which had been expected to host the 2015 US Open, had withdrawn. The club has hosted five US Opens and the membership had voted against holding another one in 2015 so soon after its last one in 2006.
Davis wanted to know if Ladenburg wanted to apply to host this US Open. "I told Mike we would get a letter in the mail that day," Ladenburg said.
Contributing Writer Golf courses and travel are Roderick's particular interests and he was contributing editor for the first few years of the Golf Monthly Travel Supplement. He writes travel articles and general features for the magazine, travel supplement and website. He also compiles the magazine's crossword. He is a member of Trevose Golf & Country Club and has played golf in around two dozen countries. Cricket is his other main sporting love. He is the author of five books, four of which are still in print: The Novel Life of PG Wodehouse; The Don: Beyond Boundaries; Wally Hammond: Gentleman & Player and England's Greatest Post-War All Rounder.