Oliver Wilson: new Golf Monthly columnist
Golf Monthly is delighted to announce that 2014 Dunhill Links champion & 2008 Ryder Cupper, Oliver Wilson, will be writing a regular magazine column in 2016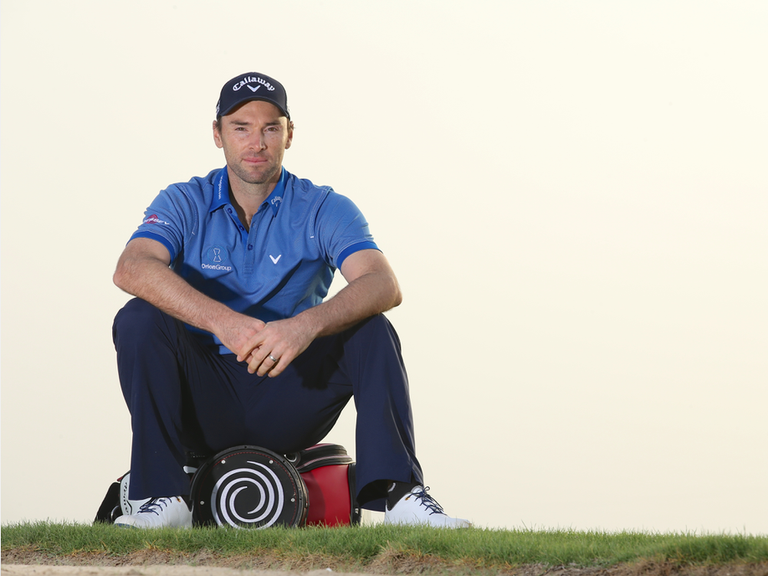 Golf Monthly Newsletter
Golf tips and expert instruction, golf club reviews and the latest golf equipment.
Thank you for signing up to Golf Monthly. You will receive a verification email shortly.
There was a problem. Please refresh the page and try again.
Golf Monthly is delighted to announce that 2014 Dunhill Links champion & 2008 Ryder Cupper, Oliver Wilson, will be writing a regular magazine column in 2016
After playing in the 2003 Walker Cup, and then enjoying a good first Challenge Tour season in 2004, Oliver Wilson found himself out on the main tour in 2005, where he would go on to enjoy five straight years of rapid improvement, rack up nine runners-up finishes and make Nick Faldo's Ryder Cup team to take on the Americans at Valhalla in 2008.
It seemed merely a matter of time before an overdue first victory would come along, but things took a very different path over the next five years, with illness, injury and other factors contributing to a dramatic tumble down the rankings.
Then, at the tail end of 2014 with his future looking decidedly uncertain, things took another dramatic turn. Entering October's Dunhill Links Championship 252nd on the Race to Dubai, 104th on the second-tier Challenge Tour rankings, and 792nd in the world, Oliver finally delivered the now somewhat unlikely tour victory that his early years on tour had suggested would be a formality.
It was a fairytale victory for a popular player, and over the coming months we look forward to Oliver sharing his thoughts on the game and life on tour, with his first contribution featuring in our May 2016 issue.
In the meantime, GM's Jezz Ellwood caught up with Oliver in Abu Dhabi last year, just a few months after that maiden tour victory in the Dunhill Links, to find out more about his incredible week there…
Can you describe your emotions as the week progressed and you found yourself still leading after three rounds?
Surprise really. Relief when it was over, but surprise before. Once I started working with Rob the week before, it was the first time ever in my career that I'd improved each day with my swing for a week. Ever! So I turned up at the Dunhill swinging it well with some good feelings, and it was at three courses that I know really well and where I've had good results before. I feel like I know how to play them at that time of year. So there were a lot of things to feel positive about, but at the same time, I hadn't made many cuts and confidence was low. So I thought, "I'm capable of having a big week, but chances are I won't, so let's just try to make the cut and build some momentum and confidence for Q School."
You got off to a great start, didn't you?
Yes, I got off to a flier. I hit good shots into the first two holes at Carnoustie and holed a couple of ten-footers, and just played really well. Tee-to-green it was the best tournament I've ever had in my life by a mile. That said, those courses allow you to do that because they're not that tight. It was exactly what I needed at that time as a step to moving forward. My short game and putting were fine, although actually I didn't putt great all week, but I hit the ball so well and it just escalated from there.
Having not been there for quite a while, how did you keep it going?
As each hole went by at Carnoustie I was thinking, "We're doing alright here – just hang on in there." Then I'd make a birdie, then another one, and with four holes to go I was thinking, "Let's just get through this without any major disasters." I then managed to birdie 16 and 18 too which was fantastic. So to get Carnoustie out of the way with a low score and to be leading the tournament was a massive confidence boost. The next two rounds I played really well, but didn't really hole many putts. I was very happy to be leading by three with a round to go, but genuinely frustrated because I felt like I'd left so many putts out there.
Even though you'd shot 65 round the Old Course?
Yes. It was probably the best ball-striking round I've ever had. I created so many chances. But I was in a great position, so then it was about navigating 18 holes to see if I was going to finish nowhere, top 10, do just enough to get my card or win. I played well on the front but missed a couple of short putts and lost my confidence in my putting. But I managed to turn it round on 10 and 11, where I holed two good putts. Being the last man out on the course, once those two went in I knew that there weren't that many birdies to be made on the back nine into the wind, and that if I could par in from there I would quite possibly secure my card. But I managed to do a bit better than that. I hit some great shots, picked up a few, and you know the rest.
How did you stamp out fatalistic thoughts as others made runs and the 17th didn't seem to be going so well?
I guess it depends who you are and where you're looking at it from, because for me 17 was fine. The 16th obviously got me right in the mix, and there was other stuff that happened on 17 that I wasn't really aware of. There was a massive scoreboard in front of me on the 17th tee and I spent 15 minutes there waiting, looking in completely the opposite direction to the scoreboard. I knew that if I could get through the 17th with a par, I was in good shape. I bailed out a little on the tee-shot, but that was because the wind had picked up and it was playing very hard. The only bad thing about it really was that it finished on a downslope so I wasn't able to then hit enough club to get it close to the front of the green.
And the second shot…
I hit a good shot, but just bailed out right, and because I was coming in from so far left, the wind moved it a little further right than I wanted. But as long as I missed right, it gave me a good angle up the green. So my course management was perfect really, and I then managed to hit one of the best lob wedges I've ever hit. It finished about a foot further away than I wanted, mind you, but it did the trick! Because I was swinging the club so well, my mind was pretty quiet so I was surprisingly at ease with the situation. I've had plenty of chances before and haven't taken them and I just said to myself, "You haven't taken your chances before; you've got to take this one because you don't know how many more you're going to get."
But of all the tees in the world to wait 15 minutes on…
I know! There was a lot of self-talk about not looking at the leaderboard, because it's so easy in that situation to catch a glimpse of it out of the corner of your eye and get the whole situation wrong. The only thing I was telling myself was, "All you've got to do is find a way to make par up this hole. That's the only thing that matters." And that's been the way I've played a lot of my golf over my career. It doesn't have to be pretty – it just has to get the job done.
When you did then get the job done after 11 years of trying, how much champagne was consumed?
Not as much as I thought, but there had been a lot waiting on ice for the last seven or eight years! I think we got through two or three bottles on the night – but it was only me and my wife and my mother-in-law, so it wasn't a night of partying like you might expect. I don't think Sunday nights after winning ever are really. You think there's going to be an incredible party, and then you realise everyone has gone home and you're just left on your own. We made a good effort at it, but there was a lot consumed at Christmas. It was definitely one of my best Christmases ever!
Jeremy Ellwood has worked in the golf industry since 1993 and for Golf Monthly since 2002 when he started out as equipment editor. He is now a freelance journalist writing mainly for Golf Monthly across the whole spectrum from courses and Rules to equipment and even instruction despite his own somewhat iffy swing (he knows how to do it, but just can't do it himself). He also edits The Golf Club Secretary Newsletter, has authored or co-authored three books and written for a number of national papers including The Telegraph and The Independent. He is a senior panelist for Golf Monthly's Top 100 UK & Ireland Course Rankings and has played all of the Top 100 plus 89 of the Next 100. He has played well over 900 courses worldwide in 35 countries, but put him on a links course anywhere and he will be blissfully content. On his first trip to Abu Dhabi a decade ago he foolishly asked Paul Casey what sort of a record he had around the course there. "Well, I've won it twice if that's what you mean!" came the reply...
Jezz can be contacted via Twitter - @JezzEllwoodGolf