Ian Woosnam: US Masters champion and Ryder Cup captain
Looking back at some of the great contests at Augusta, Bill Elliott speaks to Ian Woosnam about his famous 1991 US Masters win.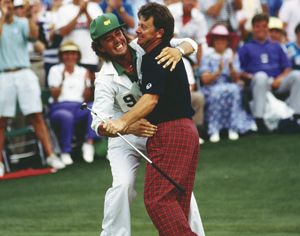 He will have turned 51 by the time he makes it to Augusta for this year's Masters. He finally made the cut again last year – his first since 2000 – finishing 44th. Illness meant he skipped 2007 just six months after captaining Europe to a record-equalling Ryder Cup win. It surely was no coincidence that this outbreak of ME so swiftly followed events at The K Club (opens in new tab), such was his commitment to the team in 2006.
"I'm still not right you know," he said. "Not 100 per cent anyway. I reckon I'm 75 per cent recovered because I still get tired. It can be difficult to focus over the last few holes, but I'm working on it. Mind you, now that I've given up smoking [he quit a year ago] I've piled on the weight, about a stone. If I carry on like this I'll be 20 stone by the time the Ryder Cup comes to Wales and Celtic Manor."
Still, he is in better shape than usual for this Masters. He does not expect to win of course, but he does expect to have a good time. Augusta welcomes its past champions and a week of back-slapping does no one any harm unless, I suppose, you suffer a spinal rheumatic disease which, as it happens, Ian does.
It is, of course, his 1991 Masters victory that properly defines him as a player. He was on fire that year. "I'd won down in New Orleans just before and then on the Monday of that Augusta week I was announced as the world No.1. I felt brilliant, ready for anything."
What he wasn't ready for was his opening 72 and especially his putting. Putting always has been his problem, unsure, occasionally unable and frequently unhinged by his inability to capitalise on a dream tee-to-green game. "I putted horrendously in that first round, so I switched to a Tad Moore putter and that seemed to do the trick."
It meant that he was challenging two-time winner Tom Watson come Sunday, with Jose Maria Olazabal also in the frame. A lot of this final round remains a bit of a blur, but parts of it are crystal clear. He remembers, for example, the gloating cheers that greeted his hooked drive into Rae's Creek at the long 13th. "That was bad," he says. "Very disappointing."
His only recovery was to hit his dropped ball up towards the crowd. Fuelled by adrenalin he overcooked it and it went into the crowd. No one was hit, but somehow Woosie felt better about things. From there it was too close to call between him and Watson. "Tom was brilliant that day," he says. "He told me to ignore the idiots and get on with trying to beat him. Nice man."
Bill has been part of the Golf Monthly woodwork for many years. A very respected Golf Journalist he has attended over 40 Open Championships. Bill was the Observer's golf correspondent. He spent 26 years as a sports writer for Express Newspapers and is a former Magazine Sportswriter of the Year. After 40 years on 'Fleet Street' starting with the Daily Express and finishing on The Observer and Guardian in 2010. Now semi-retired but still Editor at Large of Golf Monthly Magazine and regular broadcaster for BBC and Sky. Author of several golf-related books and a former chairman of the Association of Golf Writers. Experienced after dinner speaker.