Ian Woosnam 1991 US Masters champion
Looking back at some of the great contests at Augusta, Bill Elliott speaks to Ian Woosnam about his famous 1991 US Masters win.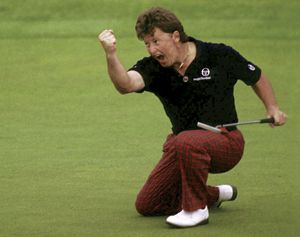 The more I think about Ian Woosnam, the more remarkable he becomes. I mean who could have guessed that a Welsh farmer's vertically challenged son would become the number one golfer in the world, would win the Masters, would win 28 other European Tour titles and lots more besides?
Certainly, there was no real clue originally that Woosie was destined to be more than a half-hearted pro. He simply did not look like a bloke who was headed for success on the fairways. Too much can be made of size, but in Ian's case it was always too little. At 5ft 4 1/2ins tall he cut an often incongruous sight on the more significant fairways.
Like a lot of smaller blokes, however, he has always felt compelled to make big points. What a different Europe it would be now if Napoleon had been 6ft tall and so less inclined to prove he was, one way or another, the biggest man in town. Any town that is from Marseilles to Moscow.
I've known Ian for 30 years now, watched him grow as a player and then watched him suffer the inevitable decline that age brings. "Don't forget the half inch again!" he once warned me after I had written that he was 5ft 4ins. Half inches are important things I now know although, as it turns out, I can now forget this rule where "Wee Woosie" is concerned.
"Yeah, it's not a problem now, I reckon I've lost that half inch," he giggled when we spoke. To demonstrate how far he has come – and, I suppose, how far I haven't – Ian was speaking from his winter home at Royal Westmoreland in Barbados, while I was in Surrey.
Bill has been part of the Golf Monthly woodwork for many years. A very respected Golf Journalist he has attended over 40 Open Championships. Bill was the Observer's golf correspondent. He spent 26 years as a sports writer for Express Newspapers and is a former Magazine Sportswriter of the Year. After 40 years on 'Fleet Street' starting with the Daily Express and finishing on The Observer and Guardian in 2010. Now semi-retired but still Editor at Large of Golf Monthly Magazine and regular broadcaster for BBC and Sky. Author of several golf-related books and a former chairman of the Association of Golf Writers. Experienced after dinner speaker.