What a sizzler!
Bill Elliott wiles away another spring day at Augusta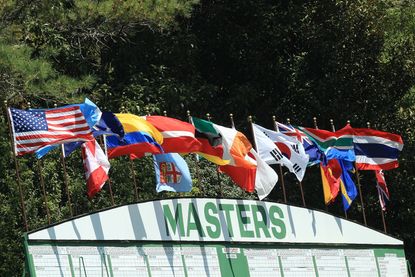 Golf Monthly Newsletter
Golf tips and expert instruction, golf club reviews and the latest golf equipment.
Thank you for signing up to . You will receive a verification email shortly.
There was a problem. Please refresh the page and try again.
Cor blimey guvnor, what a sizzler. Just had a look at a temperature gauge here and in the sun it's now over 100. The even better news is that many of the girls' shorts on view are even shorter than yesterday. Why do I feel I should pass this news on to Tiger?
Talking about the sex-addict formerly known as Mr Woods, I've just taken part in a round-table discussion for CNN. First question up was: Can Tiger win this Masters? NO, we all replied then we all swiftly qualified our answers by saying stuff like...mind you, if anyone can, he can. That's the trouble with this bloke, not only did we not know what he was doing all that time, we've no idea what he is going to do in the future. Ah well.
Spent a pleasant hour up on the lawn in front of the clubhouse today. This is a special place for apparently special people - no, I've no idea how I get in - and it is where all the deals are done for the year. Managers, players and reps from most of the manufacturers mill around talking lots and looking very serious. Me? I had a glass of dry white wine and chatted with Tony Jacklin.
Jacko is in good shape and heavily involved in the Concession course he shares with Jack Nicklaus. There is now a new owner so apparently a few tweaks are to be expected. Interesting, isn't it - 41 years after Nicklaus conceded that final putt in the Ryder Cup both these old boys are still making money out of this gracious gesture. Good for them.
Has anyone mentioned the pollen yet? It is unbelievably bad this year. Watching a few shots up the 18th I saw the biggest puff-cloud of pollen suddenly explode from the trees immediately above the players. It looked totally surreal. Of course, this being the Masters even the flaming pollen is a sort of Augusta green.
Meanwhile, the practice ground has to be seen to be believed. It is sited where we used to park our cars but looks like it has been there forever, complete with mature trees that have been planted over the winter.
Padraig Harrington is in his element on it. Says he can practice every shot he needs to play out on the course such is the ingenuity of its design. Says he may stay there all week. Hope he doesn't because my money has been on him to win this for some time now. Mind you, he is such a merry obsessive I wouldn't put it past him.
Bill has been part of the Golf Monthly woodwork for many years. A very respected Golf Journalist he has attended over 40 Open Championships. Bill was the Observer's golf correspondent. He spent 26 years as a sports writer for Express Newspapers and is a former Magazine Sportswriter of the Year. After 40 years on 'Fleet Street' starting with the Daily Express and finishing on The Observer and Guardian in 2010. Now semi-retired but still Editor at Large of Golf Monthly Magazine and regular broadcaster for BBC and Sky. Author of several golf-related books and a former chairman of the Association of Golf Writers. Experienced after dinner speaker.