As Watson Departs Masters, DeChambeau Arrives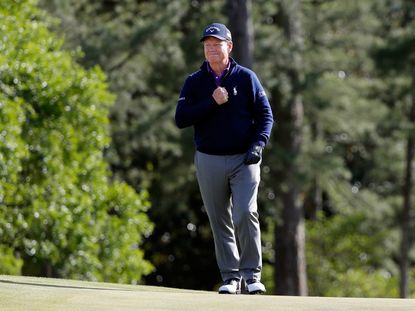 (Image credit: Getty Images)
Tom Watson has played in his 43rd and final Masters while amateur Bryson DeChambeau is beginning what could be a long Masters career
As amateur Bryson DeChambeau begins what could be a great Masters career this week, so a chapter that has certainly been great came to an end, as Tom Watson bowed out of the Masters for the 43rd and final time.
And so the circle of life continues to turn at Augusta National.
DeChambeau, the 22-year-old U.S. Amateur champion, had a chance to share the halfway lead with Jordan Spieth this afternoon before he drove into deep trouble on the last.
A triple bogey brought him and a few broken branches back down to Earth, to level par after two rounds and into a share of eighth place. Still, he leads the amateur race for the Silver Cup by three while Spieth leads his Masters defence by one.
Moments before that final-hole drama, for Watson the end to his round and his Masters career had more serenity to it.
That last, long walk up the steep 18th fairway was made to a long and heartfelt standing ovation from the Masters patrons. Watson shot a creditable 74-78 this week, to finish eight over par, missing the cut by two, but that was immaterial.
At 66 - three times the age of DeChambeau - the two-time Masters champ has had his glory days here and plenty elsewhere too, in a career that brought him eight major titles.
"When I was a little kid I used to watch the Masters on TV," said Watson after his round. "I'm lucky to have been able to play in it. It's just one of those dreams that came true for me.
"I watched Arnold Palmer win and Jack winning and I had dreams that maybe someday I could play in the Masters. And lo and behold, 43 times."
Watson made his Masters debut in 1970 as an amateur and won it for the first time in 1977, shooting a final-round 67 to defeat Jack Nicklaus by two.
He won the Green Jacket for a second time in 1981, again winning by two from Nicklaus, with Johnny Miller tied for second.
"There's some melancholy to it to a degree," added Watson after his round today. "But I can't play this golf course anymore. I'm a realist. If I could still play this golf course, I wouldn't be retiring and that's the honest fact."
Robin Barwick travelled to the 2016 Masters with Mercedes-Benz. Mercedes-Benz is global sponsor of the 2016 Masters Tournament
Robin has worked for Golf Monthly for over a decade.