US Masters winner: Trevor Immelman Q&A
Iain Carter talks to the reigning US Masters champion, Trevor Immelman, on how he overcame a cancer scare as well as the world's best golfers to scoop the 2008 title and Green Jacket at Augusta.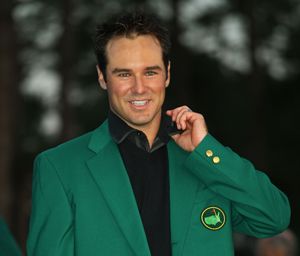 Iain Carter talks to the reigning US Masters champion, Trevor Immelman, on how he overcame a cancer scare as well as the world's best golfers to scoop the 2008 title and Green Jacket at Augusta.
Last year must have been the most amazing time of your life as you went from white coats to a green jacket? That's a pretty dramatic way of putting it, but it's fairly true. Out of the blue I got a pain in the right side of my rib cage. I was struggling to breathe. We did all the scans and you could see this tumour clear as day. Two days later the doctors pulled it out and it was just smaller than a tennis ball. I was in tremendous pain. I had an epidural for five days and morphine. We had to wait two more days to get the results and were all very relieved when they came back and it was benign. When you come back you're not 100 per cent sure whether it is all going to be there. I didn't want to go too hard because I had this six or seven-inch incision across my back. I definitely think my perspective on life and golf changed, so I don't feel like the same person really. To go from that situation to winning at Augusta was just really mind-boggling. I don't think I have 100 per cent dealt with the two craziest things in my life: going from having a tumour to winning the Masters. But if I'd had the wrong results on the tumour then I'd have been getting alternative treatment and as a result probably wouldn't have even been able to compete in the Masters.
Is making sure you don't compromise your golf the most difficult thing about being a Major champion? You've got to take hold of the opportunities that come your way, but make sure your game stays in decent shape. You've got to be disciplined. Padraig Harrington admitted he wasn't disciplined enough after his first Major win and I've tried to learn from that. Hopefully by the time this year's Masters rolls around I'll be energised and ready to go again.
Is it true you asked Harrington about how to handle life as a Major winner? Paddy is a nice guy to talk to because he's very smart and he can get his point across to where you can understand it. I quizzed him quite a bit and picked his brains, and he gave me some valuable advice. To be honest Padraig has always done that ever since I joined the Tour. Golf is slightly different because you are playing against other guys, but the course is really your main opponent. Not all guys are as up front as Paddy. I knew he was a guy who wouldn't shy away from helping me out and I really appreciated his honesty.
What was the best tip he gave you? He just said you have got to be patient and you can't be too greedy. At the end of the day you are going to make your living playing the game and playing the game well, and so you need to do the things that are going to help you play well. That ounds pretty simple, but it is easier said than done.
What do you remember about your final round 75 at Augusta last year? I remember going to the 18th tee knowing that I was doing well and if you can get that last tee shot away you're probably not going to make a double bogey. I really knuckled down and focused on that shot, and hit one of the best drives of my life. I walked down there and my ball was in a divot; it was all just crazy stuff. I hit my second to the lower level to about 20 feet and only then asked my caddie how we stood.
So it's true that you had to ask your caddie on the last hole where you stood in the tournament? Well the whole back nine I knew I was doing well, getting nice ovations from the crowd. I knew I was leading, but then I hit it into the water at 16, which was my worst shot of the week. I two-putted to make my 5 and everybody was still applauding me, so I figured maybe I was still in the lead. My caddie said: "You're doing fine." So I had a sneaky suspicion that if I parred the last two I'd win. After getting it up and down at 17, people were congratulating me and after I hit the green on 18 he said we were three ahead and that I could go and enjoy the walk. What did that victory mean to you? It is so surreal for a young guy from South Africa who is such a sports fanatic. I've taken so much joy out of people getting to the top level in sport, so for me to win a Major really was something quite incredible. I've always respected guys who have won Major championships because that's how we are remembered in this sport. It took a while for me to get used to being in that same league. It just shows that anyone from any corner of the globe can go and do it. I've always had this theory that every person can have their moment in the sun and I think you just have to be dedicated enough and patient enough to wait for that moment. People also look at you in a different light. It took me a little while to get comfortable with that. The Masters is such a huge tournament, everybody is aware of your victory and so you do feel that extra bit of pressure.
What will it be like driving down Magnolia Lane for this year's Masters? There will be a lot of emotion. There will be a lot of memories – you've just got to enjoy it. But I still feel my best golf is ahead of me. I don't mean that to sound arrogant, but I've just turned 29. I'm still gaining experience and I feel like my best golf will be in my thirties. The nicest thing is that in the back of your mind you know that your best golf is going to be good enough in the big events – and that's something that I can take with me to every Major.
Where next?
- Augusta hole-by-hole guide - Pictures of the main contenders for the 2009 Masters - Latest US Masters news
The leading website from the world's oldest golf magazine, we're the go-to destination for amateur and keen golfers alike who are keen to up their golfing game. As well as expert course reviews, news and tips to improve your handicap our golf-focused travel content will help you pair teeing off with your travels in some of the best destinations around the globe.